UnExquisite Corpse, a dance, music and theatre extravaganza held outside the Martha's Vineyard Museum on Halloween night, defied the pandemic with flair in a socially distanced production that blended stand-up comedy, Shakespearean tragedy and classic horror themes beneath a full moon.
The show, performed in a series of scenes that circled the museum grounds, was the brainchild of two leading dance advocates on Martha's Vineyard, Abby Bender of Built on Stilts and Jesse Keller Jason of the Yard, who gathered a wide group of other Island performers for the spooky revue.
"We had certain people that we saw as. . . being part of the story chain," said Ms. Keller Jason. These included musician Rob Myers, who contributed a sea chantey and a chilling tale about a monster from the deep; Roberta Kirn, as a circle-singing mummy whose shrieks were looped into an electronic chorus; and actress Brooke Hardman Ditchfield, appearing as Lady MacBeth in a graveyard.
There was also a chicken werewolf (Xavier Powers), just because.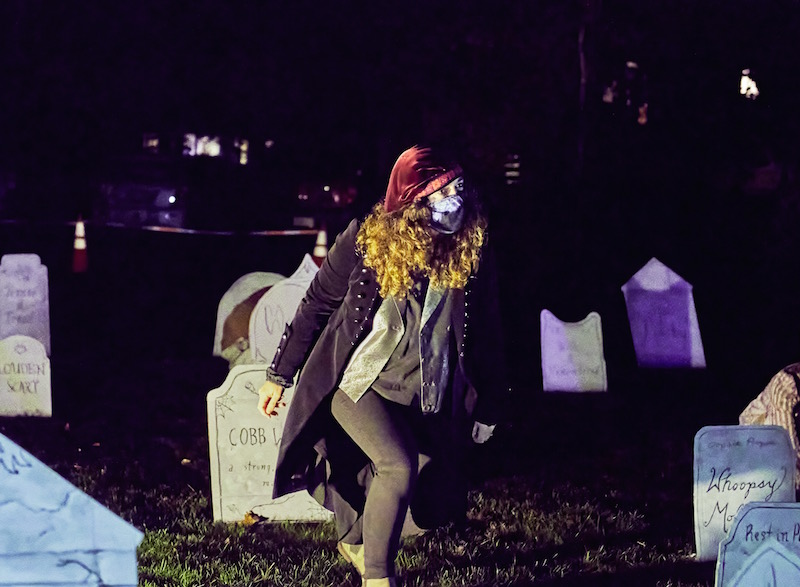 "It was perfect for this time of Covid," Ms. Keller Jason said. "We didn't need to come together all the time. I think we came together as a full group for three rehearsals."
Other highlights in UnExquisite Corpse included a stirring version of the Cranberries' song Zombie, performed on the museum porch by musicians Avery Lazes and Darby Patterson, and Ms. Keller's turn as Dr. Frankenstein's renegade nurse, spouting rhymes as she reanimated a new dance partner (Yard marketing associate Joshua Bristow, in a non-speaking role).
Dressed as a black cat, Ms. Keller also headed the technical aspects of the show, while Ms. Bender's contributions included writing most of the comedy bits and appearing variously as a stand-up vampire, Bejesus Scaring Sea Noodle Monster, and a fortune-telling triplet whose rhyming prognostications made frequent reference to the upcoming election.
The show's peak, more exhilarating than comic, came after seven zombies lumbered across the museum lawn, then began lifting their feet and arms higher and faster until they were dancing with all their might.
"You show any dancer an open field, and we're ready to jump and turn and put something in it," M. Keller Jason said.
The UnExquisite Corpse producers also made the most of the museum's Lew French-designed Rose Styron Garden, where witches danced and vampires joked amid the rocks and plants.
Even the unlighted slope along the steep stairs to Lagoon Pond Road below inspired a site-specific scene, as witches wearing headlamps crawled creepily up the hill and onto the lawn before dashing off through the distanced crowd.
To take in the show, about 40 warmly-clad audience members—some with costumes atop their outerwear—followed a trio of silent ushers dressed as plumbers and carrying plungers that doubled as flashlights. At each stop, the plumbers indicated where to stand.
The evening's finale came with a mass cast dance on the lawn to the Monster Mash—first Bobby "Boris" Pickett's 1962 original, then the Misfits' speeded-up punk version from four decades later.
Ms. Bender and Ms. Keller Jason had been talking together about a site-specific Halloween event for some two years, each told the Gazette. They joined forces with the museum through the weekly Zoom conversation held by local arts leaders.
"They had a good handle on a way to create a safe space, and people feel safe going there," Ms. Keller Jason said. "When we approached them, they were super-psyched and willing to help us any way they could
UnExquisite Corpse was sold out for a three performances during the weekend engagement at the museum, but wound up holding only two performances due to the weather.
"It's so heartbreaking," Ms. Bender said. "There were about 70 people who missed it."
But she's already looking ahead to working with Ms. Keller Jason again, Ms. Bender added.
"We both think stupidly big," she said. "There's no 'oh, that can't be done.'"