As dawn rose over Inkwell beach in Oak Bluffs Sunday morning, dozens of jubilant Islanders — many of them Polars Bears — spontaneously gathered as one, plunging into the sea to celebrate the historic announcement of Joe Biden's election as the 46th president of the United States and Kamala Harris as vice president.
"It's been a long week," Oak Bluffs selectman and Polar Bear Gail Barmakian said. "People came down each day, but it wasn't official. We didn't want to jinx it. We wanted it to be official. And this, with all the angst [of the past week], this is special."
The Polar Bears — a group of Islanders who historically gather at the seawall from the Fourth of July until Labor Day to swim and join hands early in the morning — had to cancel their season this year, the pandemic making the storied tradition of exercise circles and group swims impossible.
But on Sunday, with the sun rising in the east over a picture-perfect November morning, a celebration — and a swim — was in order.
As the group of families, friends and Islanders — some longtime swimmers, some first timers — descended the steps to the beach and prepared for the plunge, each one said they felt grateful for the community and country around them.
None of them feared the cold water. It was a welcome cleanse.
"Let's plunge to hope, optimism and a brighter future," Polar Bear Dan Henry, 2nd told the group, right before they all rushed into the water, hands and spirits raised. A few in wetsuits swam down to the jetty. Others in bathing suits simply jumped and cheered. All celebrated, in unison.
After they emerged, nearly half the group went in a second time, one plunge not sufficient on this morning.
"It was brilliant, just fantastic," first-time swimmer Elaine Cashin said. "I'm just so happy."
Mr. Henry 2nd is the father of D.J. Henry, a Pace University football player who was shot and killed by police 10 years ago. Mr. Henry said the Polar Bear tradition is about health, wellness and community. For him, and others, the morning swim and tradition can be a needed antidote during trying times. But it can also serve a different, more exultant function, he said, helping him look toward a "more perfect union."
"I'm thankful that this army of goodness can overcome hate," Mr. Henry 2nd said. "The swim is this great way to have a release. I can't wait to see what tomorrow brings."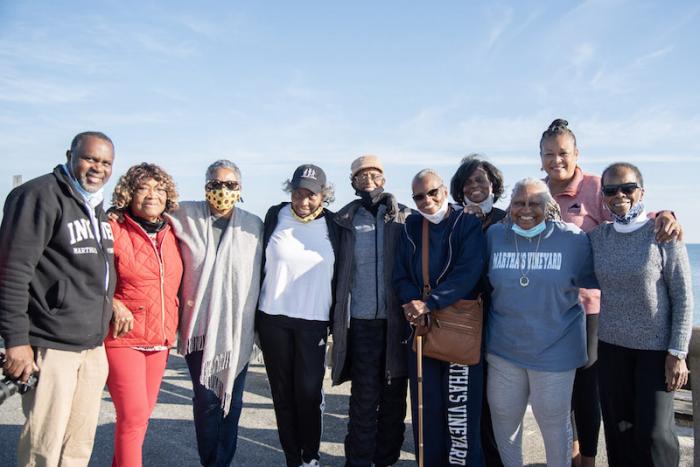 Back on the seawall, a large group prayer broke out, with its leader, Lauren Mattox, expressing gratitude for the past week and hope for the wellness of all. Air hugs were given, and what little champagne was left from Saturday night found its way into glasses.
And as the group dispersed around 9 a.m., a promise was made — to be back on Jan. 20, 2021.
Doctor Frances Gaskin, one of the group's matriarchs and longest members, has been swimming nearly every morning of the summer for decades. But she couldn't remember a swim quite like Sunday's.
"Incomparable," Ms. Gaskin said. "The only thing we can do now is to go forward."