A spiraling northeast storm brought heavy rain and strong winds to the Vineyard Saturday, flooding roads, eroding beaches, shuttering ferries and causing scattered power outages up-Island.
The storm arrived early Saturday morning and stayed, drenching the Island with rainfall and battering coastlines with gale-force gusts all day. The National Weather Service issued a dangerous weather advisory, with a forecast for winds between 25 to 35 miles per hour and gusts up to 60 miles per hour.
Most ferry service to the Vineyard was canceled by mid-afternoon.
Traditional flood-prone spots on the Island, like the Chappy Ferry in Edgartown, Five Corners intersection in Vineyard Haven and Ocean Park in Oak Bluffs, saw dramatic flooding throughout the morning and into the afternoon.
The Trustees of Reservations have closed Norton Point beach and Wasque on Chappaquiddick to oversand vehicle travel. The Cape Pogue Wildlife Refuge has also been restricted to essential vehicles.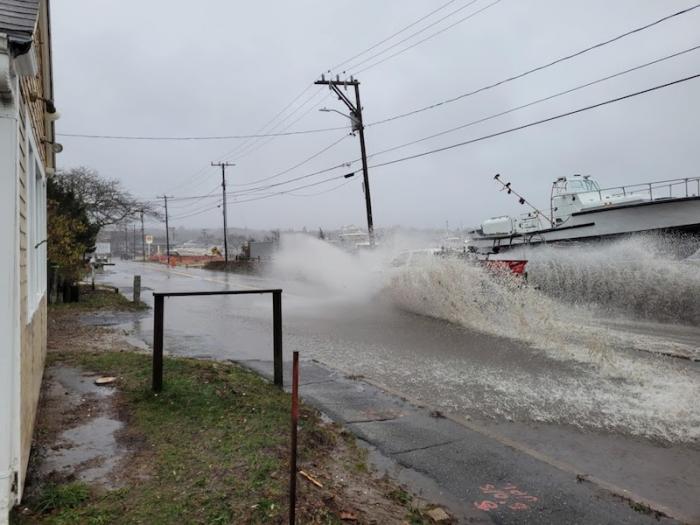 "It will take some sunshine and wind to dry out flooded areas for safe passage," a post from the Trustees stated.
Eversource reported between 250 and 1,000 up-Island homes without power at approximately 2:45 p.m. Saturday.
Heavy rain continued throughout the afternoon and evening, with the weather advisory remaining in effect until early Sunday morning.
Rainfall from the storm totalled 3.70 inches in Edgartown and 3.49 inches in Vineyard Haven, according to data from weather stations in both towns.
Martha's Vineyard and Cape Cod, as well as parts of mainland Massachusetts, have been in a level two, or significant drought, since summer, according to the state Executive Office of Energy and Environmental Affairs.
The storm's cumulative rainfall total surpassed the entire recorded precipitation for the month of November on the Island, as well as June, July, August and September, which all recorded less than two inches of rainfall.
The storm also brought heavy snow to central Massachusetts and northern elevations in New England. The Island's first dusting of snow for the 2020 season is possible for Monday night, according to the National Weather Service.