Whether you are looking out your window or taking part in an outdoor activity, you never know when the unexpected shows up. Three sightings show how true this is.
Beth Biros was looking at her Chappaquiddick bird feeder on Dec. 13 and noticed something very different. The bird was bright yellow with black wings, two prominent wingbars and some red on its head. She figured out that it was a western tanager, a species that normally stays west of the Great Plains and strays eastward in the fall. There are only four other sightings in the northeastern U.S. so far this month. It is a rare transient on the Island, with only nine sightings here over the past 100 years or so.
Another unusual visitor is the evening grosbeak, which are irrupting from their northern haunts this year. Most recently, two showed up at David Vanderhoop's Aquinnah feeders on Dec. 8.
An Iceland gull is an annual but infrequent visitor to the Island. After a morning of not seeing very much in the state forest, I drove up Sanderson Road toward the high school. First, I saw a large flock of 185 starlings on the baseball field. Then, between the tennis courts and the football field I saw three gulls: a herring gull, a ring-billed gull, and one very pale gull that lacked the normal black wingtips. It was an Iceland gull, which I do not recall seeing there before.
These three sightings show the importance of getting complete coverage of the Island, as unusual birds will show up anywhere. It would have been very easy to miss these three species. Complete coverage is especially important for the upcoming Christmas Bird Count on Jan. 2. Our field observers cannot visit every location. Your participation on the count as a feeder watcher (visit biodiversityworksmv.org for more information) will help us to document these and other unexpected species that may well show up in your yard.
Additional Sightings
Small numbers of snow geese continue to show up. Karyn Caliri has seen two snow geese — one white phase and one blue phase — within a flock of Canada geese at Sweetened Water Farm starting around Dec. 10. Stuart Norton saw them there on Dec. 14, while Walt Looney found a white phase snow goose at Eel Pond on Dec. 13.
There is something about the parking lot at the right fork of South Beach that attracts snow buntings. Large flocks of them can be found there in the winter, and Jeff Bernier spotted a flock of more than 70 of them there on Dec. 11. The trio of Luanne Johnson, Margaret Curtin and Nancy Weaver found 12 of them at nearby Katama Farm.
Now that lakes, ponds and rivers are starting to freeze over up north, our winter resident waterfowl are becoming more abundant. A flock of over 100 scaup — not identified to species — are now in Edgartown Great Pond, and have been seen by Hans Goeckel on Dec. 11 and on Dec 13 by both Luanne Johnson and Jeff Bernier. And in Sengekontacket Pond on Dec. 13 I found a flock of 90 bufflehead along with 14 common goldeneye, five greater scaup, and 11 black ducks.
At Black Point Pond on Dec. 11, Bob Shriber Geoff Muldaur, and Laura Wainright found two ruddy ducks and a greater yellowlegs, as well as a variety of waterfowl including gadwall, American wigeon, mallard, black duck, green-winged teal, bufflehead, and both hooded and red-breasted mergansers. They also report seven meadowlarks, a Lapland longspur and a horned lark in a Chilmark meadow. In Aquinnah on Dec. 13, Bob Shriber added a dovekie,
32 razorbills, one Bonaparte's gull, two northern gannets, great cormorants, 22 red-throated loons, three common loons and two tree sparrows. Allan Keith also reports that red-throated loons still outnumber common loons at Squibnocket, where he counted 20 red-throated loons and only six common loons. He also spotted 32 hooded mergansers and three purple sandpipers, and a remarkable flock of 150 ring-billed gulls at Chilmark Pond on Dec. 10.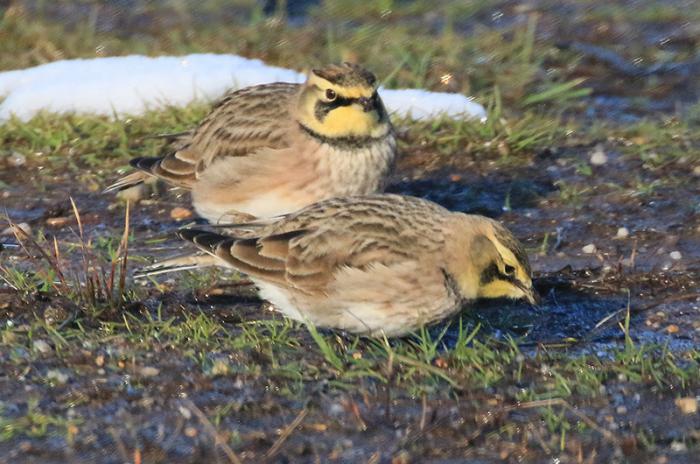 John Nelson found 23 American pipits and 11 eastern bluebirds at Katama Farm on Dec. 13, the bluebirds were also spotted by Luanne Johnson, Margaret Curtin, and Nancy Weaver that same day. Walt Looney found the Virginia rail at Sheriff's Meadow Sanctuary's Butler's mudhole on Dec. 12, and the next day he spotted five lingering American oystercatchers at Eel Pond.
Susan Whiting reports both pine and yellow-rumped warblers at her feeders in early December, as well as one white-throated sparrow on Dec. 6, and a dark-eyed junco daily but four on the Dec. 9. Her regular visitors include both nuthatches, three woodpecker species, 24 mourning doves, eastern bluebirds and an occasional Carolina wren.
There are several more feeder reports. In Oak Bluffs on Dec. 7, Jim Suozzo and Ann Ellery had a pine warbler, three red-breasted nuthatches, two white-breasted nuthatches, six tufted titmice, lots of chickadees, a brown creeper, and four species of woodpeckers: red-bellied, downy, hairy and flickers. Gus Ben David spotted a tree sparrow on Dec, 9 and seven robins a few days later. And Francesca Zeta observed a hermit thrush in West Tisbury that same day, while Alan Keith saw 35 brown-headed cowbirds on Dec. 7.
Please email your sightings to birds@mvgazette.com.
Robert Culbert is an ecological consultant with Nature Watch LLC living in Vineyard Haven.