We all have bird feeders to provide nutritious food for our feathered friends. Likely the feeders are fairly close to our houses, so the birds can be seen up close and personal. All well and good, but we can all do more! They need water to drink and to bathe in. To be most effective, the water needs to be shallow for the smaller birds like the chickadees, and deeper for the larger birds. A small pile of pebbles reaching up to the surface can provide the necessary varied depths.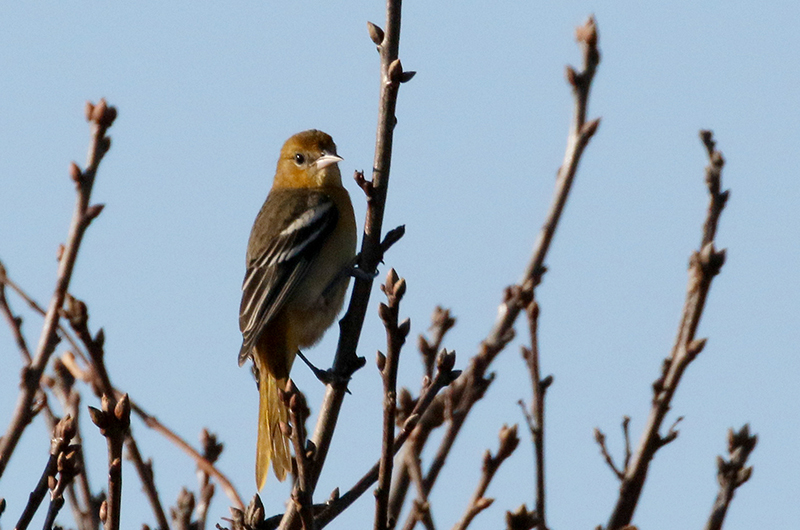 A winter-time problem is that water tends to freeze; the ice regularly needs to be removed and the water replenished, a sometimes daily chore. One solution is to place a heater in the bird bath, which is convenient if you have an outdoor electrical outlet. A bubbler will also keep the water moving and prevent freeze ups.
Sarah Carr spotted a flock of robins at her heated birdbath on Jan. 10, while Daisy Kimberly had bluebirds visiting hers on Jan. 9, as did Holly Mercier.
Bird Sightings
The 61st annual Christmas Bird Count was held on Jan. 2, as reported in last week's column. The review of the data will soon be completed, and the complete list of species will be reported in this column. Of course birds continue to move around, so it is not surprising that this week's sightings include reports of three species that we did not see on the Count.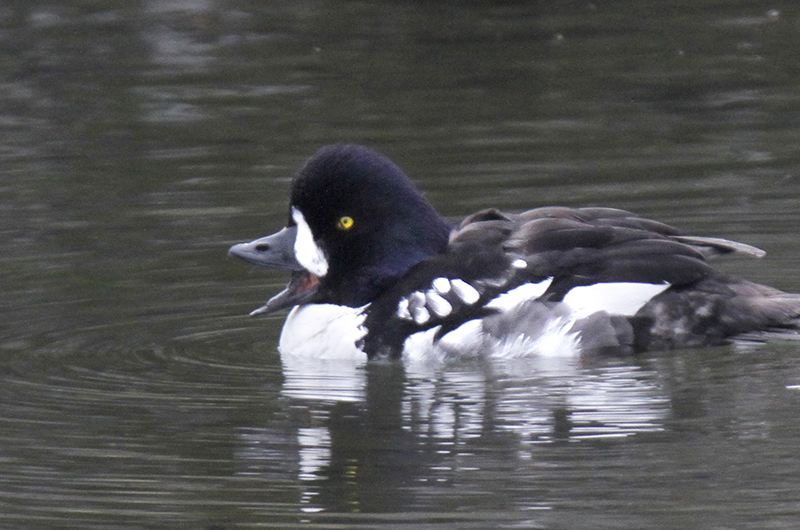 A common murre is anything but common in our waters, and can be difficult to distinguish from the more common thick-billed murre. Its rarity makes Allan Keith's sighting of a common murre on Jan. 7 exciting. He spotted it off the Gay Head Cliffs fairly close to another sea-loving alcid, a razorbill. Speaking of the latter species, we saw 21 of them across the island on the Christmas Bird Count, and an amazing flock of 37 dovekies was spotted off Aquinnah. This is a surprising abundance of alcids.
The second new-for-the-year species is a Barrow's goldeneye. I spotted a male off the Fuller Street Beach on Jan. 10. The white crescent on the side of its face is what distinguishes it from its near relative the common goldeneye. This time the moniker common is appropriate as indeed the common is more common than the Barrow's.
A third new-for-the-year species is a Lapland longspur, spotted by Lanny McDowell near a snow bunting at Katama on Jan. 10. The former species was also spotted in December, so its sighting is not really a surprise.
If you want to see a long-tailed duck up close, now is the time to visit Sheriff's Meadow Sanctuary. This species normally is in the Sound or the Ocean, but one is hanging out in the shallow pond there. Observers who have seen this bird include Warren Woessner and Lanny McDowell and I have spotted it as recently as Jan. 10. The late-lingering great egret continues to be seen there as well, and Francesca Zeta found a northern pintail there on Jan. 3. I spotted a catbird, hermit thrush, golden-crowned kinglets, and robins there on Jan. 10. The latter two species were also seen there by Laurie Meyst. And Sheila Muldaur got a rare view of a golden-crowned kinglet from above, as it was on the ground at her house on Dec. 9, feeding on peanut butter and sunflower seeds dropped from a pine cone feeder.
Hawks, owls and eagles are also in the news. Claire Ganz spotted an adult bald eagle on the North Shore east of Cape Higgon on Jan. 8. Warren Woessner visited Katama Farm on Jan. 4 and spotted a merlin, kestrel, and a northern harrier; I spotted the latter two species there on Jan. 10. And there are two snowy owls on Edgartown beaches, as reported by Cookie Perry, Tony Lima and Ann Floyd.
Sweetwater Pond has hosted some good birds, as Sharon Pearson spotted a phoebe there on Jan. 8 and Jeff Bernier found seven green-winged teal there on Jan. 7.
Lingering Baltimore orioles have been seen by Penny Vaughn and Sande Weinstein at feeders. They are not signs of the coming spring, as climate change has not yet done away with winter.
Another feeder favorite is the northern flicker, which has been seen by Laura Hilliard, Holly Mercier, and Sue Mead. Kenneth Lavigne spotted a male red-winged blackbird at his feeder on Jan. 3.
The troika of Margaret Curtin, Nancy Weaver and Luanne Johnson visited Long Point on Jan. 10, where they found two eastern meadowlarks. At a different part of Tisbury Great Pond, Bob Shriber spotted a snow goose within a flock of 25 Canada geese on Pond View Farm on Jan. 4. Off Lambert's Cove Road, Francesca Zeta spotted a ring-necked duck at Blackwater Preserve on Jan. 7, and a red-throated loon on Seth's Pond on Jan. 3.
Finally, four birders that came over for our count—Alan Kneidel, Janel diBaccari, Alex Lamoreaux and Laurel diBaccari—had to leave the next day. Before they left they spotted 8 red crossbills at the Biodiversity Works headquarters, at the right fork parking lot they found snow buntings and savannah sparrows, and from the ferry they found five red-necked grebes and one razorbill.
Please email your sightings to birds@mvgazette.com.
Robert Culbert is an ecological consultant with Nature Watch LLC living in Vineyard Haven.