Nothing feels normal about playing high school sports in a pandemic. The crowds are sparse and the adjustments are abundant due to social distancing.
But the competition remains fierce.
After losing their home opener to Sandwich on Thursday, the boys basketball team rebounded on Friday to beat the Falmouth Clippers 68-55.
Mike Trusty led the Vineyarders with 21 points. Aiden Rogers sank four three-pointers on his way to 16 points, and Josh Billings contributed 15 points while also knocking down three threes.
Coach Mike Joyce said his team's patience on offense and their defense in the final quarter were instrumental in earning their first win of the season.
"We took better shots and didn't settle for the first shot that came up," he said. "We took our time and worked for good ones."
The girls basketball team was defeated by Sandwich 51-25 on Thursday, but head coach Sterling Bishop said he saw improvements from their first game against Nauset.
"One of the things I think is key for us is getting our younger players on board, motivating them and building that confidence, teamwork and trust," Coach Bishop said.
The boys hockey team earned their first win last week as they put on a clinic against St. John Paul II, winning 10-2 in South Dennis. Graham Stearns earned the win in net, and Hunter Meader led the Vineyard in scoring with two goals and three assists. Liam Marek also had a pair of goals and an assist. Jake Scott, Aiden Marek, Pete Gillis, Nick BenDavid, Cam Geary and Finn Lewis all contributed goals in the Vineyard's triumph.
On Saturday, the boys traveled to Barnstable. Head coach Matt Mincone said his team had a hard time finding their focus to start the game and that led to an early 4-0 Red Raider advantage.
The Vineyarders battled back to make it 4-3 but couldn't convert the tying goal as time expired.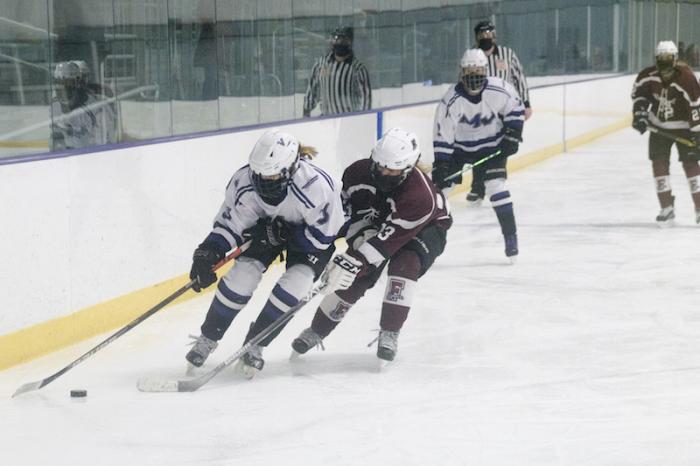 On Saturday, girls hockey had their home opener against Falmouth after starting the season with three road games where they tied Nauset and fell to Sandwich and Barnstable.
Vineyard head coach John Fiorito said his goalie Sarah Hartenstein played her best game of the year against the Clippers. Hartenstein made a flurry of saves from the opening whistle to the final horn as the Vineyarders did their best to weather Falmouth's relentless offense.
In the end, two Vineyard goals from Paige Anderson and Ava BenDavid were not enough as the home team fell 4-2 to Falmouth.
Coach Fiorito said he was happy with the team's effort and is thankful they could play in front of their home crowd.
"It's great for the kids, they need it," Coach Fiorito said. "Hockey wise, we are so much better than we have been so it would have been a shame to not at least participate in this season because we've been waiting for this moment."
The swim team also competed against Sandwich this week but both the girls and boys fell short despite eight Vineyard swimmers posting personal best times.
For the girls, Gabby Carr qualified for state sectionals in the 200-meter freestyle with her winning time of 2:10.18. She also had a hand in the Vineyard's first-place 400-meter freestyle relay with Olympia Hall, Delilah Hammarlund and Lily Jones.
On the boys side, Nathan Cuthbert won the 50-meter freestyle and trailed only his teammate Ruari Mullin in the 100-meter freestyle. The boys 400-meter freestyle relay team of Mullin, Simon Hammarlund, Andy Carr and Christian Flanders also finished first to wrap things up for the Vineyard.
Home games this week include: girls basketball against Dennis-Yarmouth on Tuesday at 4:30 p.m. and Nantucket on Saturday at 2 p.m.; and boys hockey against Dennis-Yarmouth Wednesday at 4 p.m. The swim team competes virtually against Nantucket on Friday at 5:45 p.m.
Away games this week include: boys basketball at Dennis-Yarmouth, Tuesday, 3:30 p.m.; girls hockey at Dennis-Yarmouth, Wednesday, 4 p.m.; boys basketball and girls hockey at Nantucket, Saturday, 1 p.m. and 2 p.m., respectively; and boys hockey at Nauset, Saturday, 4:30 p.m.