As winter sports continues its season for regional high school students, plans are also being made for the Fall Sports II season. Last week, the Massachusetts Interscholastic Athletic Association approved fall sports II practices to begin on Feb. 22.
Martha's Vineyard Regional High School athletic director Mark McCarthy said the school is proceeding with preparations for football and cheerleading. Mr. McCarthy said they are still working on the possibility of a unified basketball team and are continuing to look for a facility to use for indoor track.
This past week, the basketball and hockey teams took to the hardwood and ice for several games, while the swim team postponed their meet against Nantucket.
The girls basketball team secured their first win of the season over Nantucket at home Saturday with late-game heroics from freshman guard Paige Malowski and senior forward Kylie Estrella.
With less than four minutes remaining and the score tied at 34, Malowski took the ball and dribbled up to the three-point line. The ball sailed high and came swooshing down, hitting nothing but net. The limited home crowd erupted with cheers as the Vineyarders pulled ahead.
With under a minute remaining, Estrella then weaved through the Whalers' defense, drove to the basket and laid it in with a Nantucket defender draped all over her. Estrella sank the free-throw, and the Vineyard went on to win 44-39.
"I think we came out a little bit flat in the first half but overall I think we picked it up, turned it around and didn't give up. That's the most important part, we kept our energy going," Estrella said after the game.
Head coach Sterling Bishop agreed, saying the girls worked hard to battle back and earn their win.
"I'm really proud of the leaders that stepped up and the freshmen that stepped up today," Coach Bishop said. "Paige Malowski, give her credit, she played some solid JV minutes and hit a huge three for us."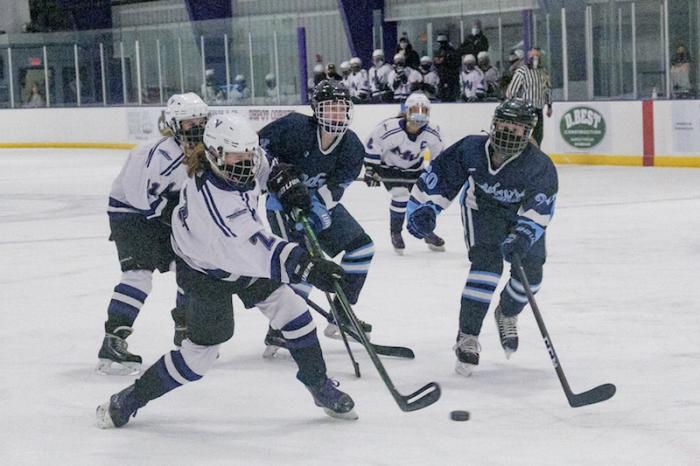 The boys basketball team also played the Whalers Saturday at Nantucket and came away with a 56-43 win. Senior center Rammon Dos Santos led the way for the Vineyard with 24 points and 13 rebounds.
"He was a force inside all game," Vineyard head coach Mike Joyce said.
On Wednesday, the boys basketball team defeated Dennis-Yarmouth 49-36. Mike Trusty led the way for the Vineyard with a game-high 16 points.
Girls hockey was also in action Saturday, taking on the Sandwich Blue knights at home. Sophomore defender Paige Anderson put the Vineyard on the board in the first period as she capitalized on a Sandwich turnover in the offensive zone to give the Vineyarders a 1-0 lead.
That would be the only time the Vineyard found the back of the net Saturday, though, as Sandwich mounted a third period comeback to leave victorious by a 4-1 margin.
"We put ourselves in a tie game against a really good team," said Vineyard head coach John Fiorito. "Then nerves take over and all of a sudden you start running around in your own zone and you're out of position. We just have to work on those things because it doesn't get easier with Barnstable and Falmouth."
The boys hockey team won both of their games this week. On Wednesday, goalie Graham Sterns earned his second shutout of the season against Dennis Yarmouth, and on Saturday, Oliver Lively held down the net for the victory over Nauset.
Against the Dolphins at home Wednesday, Mike Wallace scored with an assist from Finn Lewis. Hunter Meader notched the Vineyard's two other scores, both unassisted.
"I thought we did well, all three forward lines did a good job," said Vineyard head coach Matt Mincone. "We tried something new and it seemed to get us moving a little bit better."
Home games this week include: boys hockey against Saint John Paul II at 4 p.m. on Wednesday and against Nantucket at 1:30 p.m. on Saturday; girls basketball against Sandwich at 4 p.m. on Friday; and the swim team competes virtually against Nantucket on Wednesday at 5:45 p.m.
Away games this week include: boys basketball at Barnstable Thursday at 5:30 p.m. and against Sandwich Friday at 3:30 p.m.; girls basketball plays Barnstable Thursday at 3:30 p.m.; and girls hockey plays Nantucket Sunday at 11 a.m.