Wow, on Tuesday thunderstorms are forecast with temperatures climbing into the 50. Unfortunately, it is forecast to get cold again after that. But another potential sign of spring is Olsen Houghton's sighting of a grackle eating peanuts from his tube feeder on Feb. 13, only eight feet from his kitchen window. Is this a northbound migrant or is it an individual that has survived all that winter has thrown at us?
It is mid-February now, and northbound migrants will soon be appearing. Likely early arrivals include red-winged blackbirds, grackles, killdeer and American oystercatchers. Please remember that these early sightings need to be documented by photographs or multiple observers. Hearing what sounds like an osprey is not sufficient, nor is seeing any large bird sitting on an osprey pole., as red-tailed hawks, crows, gulls and eagles like to perch there.
Bird Sightings
As recently as the 1970s, short-eared owls used to be common year-round residents. Now a sighting gets priority in this column. On Feb. 13, Gus Ben David spotted one near Oyster Pond that flew within 20 feet of his truck. Is this the same individual that Larry Hepler spotted at Quansoo on Jan. 27? We will never know, but the distance between these sightings is not great as an owl flies. Other news from Mr. Ben David is that an adult bald eagle flew over his house on Feb. 6, and he still has eight to 10 eastern bluebirds and a solitary yellow-rumped warbler frequenting his feeders.
Also noteworthy are eastern meadowlarks. John Nelson spotted four of them in the Katama airpark, while Jill Bouck spotted a flock of seven at Nat's Farm field the same day. They seem to be more common than in past winters, though they too were regular year-round residents as recently as the 1970s.
Mr. Nelson also reports nine turkey vultures and three long-tailed ducks near the Katama Bay boat launch ramp on Feb. 13. Long-tails have also been seen by Jeff Bernier in Eel Pond on Feb. 12, and Tom Chase saw and heard one calling off East Chop on Feb. 14.
Cynthia Bloomquist and Thaw Malin continue to host two fox sparrows and three eastern towhees near their small pond and feeders. The former species is never common.
Reports of American robins are widespread this week, but they are not yet a sign of spring — check back here in a month or two for that. These over-wintering robins breed far to our north, and their almost all black heads contrast with their grayish/brownish backs. Mary Volpe spotted a flock eating holly berries on Feb. 11, while Suzanne Warren watched as they cleaned out the berries in her trees a few days before that. Cynthia Bloomquist and Thaw Malin had a flock of 82 robins roosting in the trees near their pond on Feb. 13, and on Feb. 14 I spotted a flock of at least 45 at the end of Eastville avenue in Oak Bluffs near Vineyard Haven outer harbor, the same day that Penny Uhlendorf spotted five of them alongside the head of the Lagoon and Olsen Houghton found a flock of 35 along Katama's Mattakesett Way. Jill Kratish saw six robins (and seven bleubirds) at Farm Neck, and I have seen a dozen or so of them along the road to my Vineyard Haven house the past few weeks.
Luanne Johnson spotted a swamp sparrow in an unusual location — her yard — on Feb. 14. She points out, however, that it was only 30 feet from the dense wet shrub thickets that it prefers.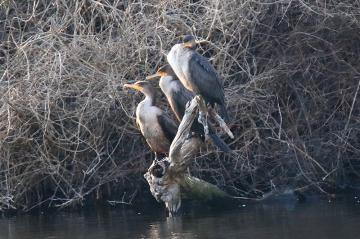 I found a female Barrow's goldeneye in Nantucket Sound near the Farm Pond/Harthaven end of the seawall. Fortunately, the bird was with four common goldeneyes so the different shape of the head and its yellow bill really stood out.
Margaret Curtin, Luanne Johnson and Nancy Weaver spotted 24 ring-necked ducks at the western end of Edgartown Great Pond on Feb. 14, the same day I spotted a flock of five of them at the Oak Bluffs pumping station. While there, I also saw a great blue heron perched on the ice. It ducked its head when a black-crowned night-heron flew by just above its head. And at that location, Penny Uhlendorf adds four fish crows and a double-crested cormorant.
Maureen Brodoff spotted a horned grebe in Oak Bluffs harbor on Feb. 13, and the next day Olsen Houghton spotted one in Vineyard Sound from the flagpole at West Chop.
A variety of other sightings concludes this column. Allan Keith spotted a flock of five chipping sparrows at his feeder on Feb. 10, and he regularly spots six brown-headed cowbirds at his feeders. Nancy Weaver spotted an unusually large flock of 200 snow buntings in Katama on Feb. 11. The next day Penny Uhlendorf found a catbird at Pilot Hill Farm, and Amy Judith found a yellow-rumped warbler in Vineyard Haven. Two brown creepers were spotted by Sarah Carr in her yard on Feb. 13, the same day that David Stanwood spotted a yellow-bellied sapsucker drilling those horizontal lines of holes in tree trunks. They eat the dripping sap and catch the bugs that get stuck in it.
Finally, Pat Ingalls spotted both a pine warbler and a flicker in her yard on Feb. 14.
Please email your sightings to birds@mvgazette.com.
Robert Culbert is an ecological consultant with Nature Watch LLC living in Vineyard Haven.