Community service has been important to Jim Newman all his life. First as a camper and leader at a summer camp in Maine and then as a member of the Peace Corps living alone in a mud hut in Liberia, he discovered that community drives him.
After 18 years as an Aquinnah selectman, Mr. Newman has decided the best way to continue to serve the tiny up-Island town he loves is to step aside for someone new to take his seat.
"I'm getting older," he told the Gazette in a phone interview Friday. "I think it's not fair to have an old guy who's been there 18 years. You need change. We need younger people involved in the management of this town, not somebody my age."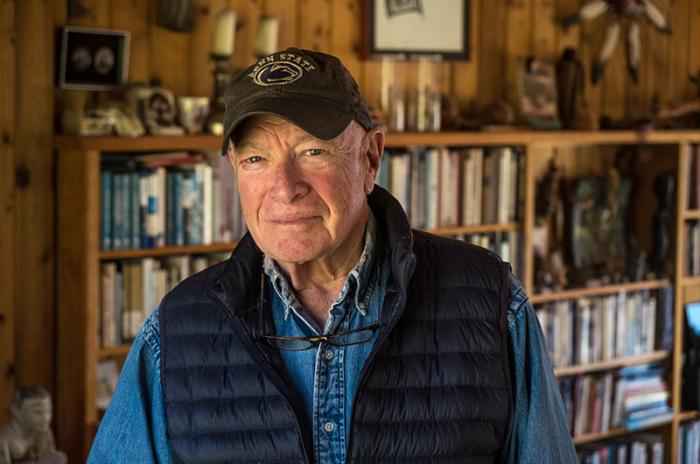 Mr. Newman became a selectman in 2002 after he and his wife Kathy moved to the Island year-round in 2000 from their home in New Jersey. They first came to the Island in 1974 with their children when a neighbor invited them to spend the weekend at their house in Aquinnah.
"We fell in love with the place," Mr. Newman said. "I think living on an Island is the coolest."
In New Jersey, he had worked as a reading specialist in an inner-city school in Newark. He was also an EMT and a member of the Berkeley Heights and Union County school boards. He decided he wanted to run for selectman in Aquinnah after witnessing a disagreement at a selectmen's meeting over scalloping rights on tribal lands. "It seemed like an unfair situation and that prompted my wanting to get involved," he said.
After winning a seat on the board, Mr. Newman admitted the job was not like his previous positions on the school boards in New Jersey. "From a classroom to Aquinnah, that was a big learning curve. We summered here, but we didn't know the community," he said.
His knowledge and love for the town grew with each passing year. "Being a selectman got me totally involved with the community and I started to understand it as best I could," he said.
"If you're not born here, it's not in your blood but you have an affection for it and I learned a lot," he continued.
Asked what accomplishments he's most proud of in his time as a selectman, Mr. Newman emphasized that everything the board did was because of the support they got from the community.
"Moving the lighthouse, that was because of the community. Everything was done in consensus," he said.
He said another accomplishment of the town has been preserving its sense of place, largely unchanged from when he first visited nearly 45 years ago. "It's not that different," he said."There hasn't been that much development. If you look at Moshup Trail, you can't build down there which is wonderful. It will never look like New Jersey. It's really being respected and it's so important."
As for what's next in Aquinnah, Mr. Newman hopes the respect and preservation of the land will continue as the town uses its green community designation to combat the effects of climate change. "I think that's essential, respecting the way it is and the way it got here to where we are today. That's really important," he said.
"We have to respect the nature of this town and not look to change it. We need the right person who does not have an agenda other than a positive one." said Mr. Newman.
As for what's next for Mr. Newman, he's looking forward to the warmer weather when he can visit his grandchildren at the same camp in Freedom, Maine where he and his children spent their summers as kids.