A nearly 10-year effort to significantly overhaul the Island's oldest town school is headed back to voters in Tisbury, where in June they will be asked to approve a $55 million bond measure for renovations and new construction at the Tisbury School.
School officials, selectmen and volunteer members of the school building committee are hoping for a better outcome this year than in 2018, when a $46 million plan for a completely new school was defeated by 21 votes.
"I cried a lot that spring. I'm not ashamed to say that," school principal John Custer told the Gazette in a recent interview. "It was such a crushing outcome."
With the defeat that year, Tisbury was forced to withdraw from a competitive state school construction program that would have provided $14 million in funding for the project.
It had taken two tries to get into the Massachusetts School Building Authority grant program, in a process that began when the town first formed a facility needs assessment committee in 2011.
This time around the town is going it alone, asking voters to take on debt with a series of 30-year bonds to modernize and expand the 1929 brick school building and its 1995 addition.
Mr. Custer, a 1984 Tisbury School graduate who has been principal since 2011, said the building has long been insufficient to the needs of its nearly 300 students in kindergarten through eighth grade.
"Our classrooms, in many cases, are undersized and that restricts a lot of what we are able to do," he said. "The number of spaces, and the size of most of the spaces, is not adequate."
Harold Chapdelaine, who chairs the school building committee that has shepherded the latest proposal, continued the litany of shortcomings.
"Overcrowding, antiquated facilities, compromised and living-on-their-last-legs mechanical systems, it goes on and on," Mr. Chapdelaine said.
"Storage in the hallways. Special needs space compromised at every level. The nurse's area doesn't provide individual privacy for students."
The cafeteria is so small that before the pandemic suspended communal meals, it took five lunch periods — 25 minutes long for the youngest children, 20 minutes for the rest — to cycle all the students through.
English learners are taught language in the basement, Mr. Chapdelaine said.
"It's substandard," he said.
The proposed renovation and addition coming before voters at a special town meeting June 13 would expand the school from its current 56,000 square feet to more than 74,000 square feet.
Two separate space needs assessments by different firms have concluded the school needs at least 70,000 square feet, with enrollment projected to increase significantly over the next decade.
According to annual forecasts used by the school district, the Tisbury School is expected to grow from about 290 students at present to 390 in 2029, before declining slightly to 386 in 2030.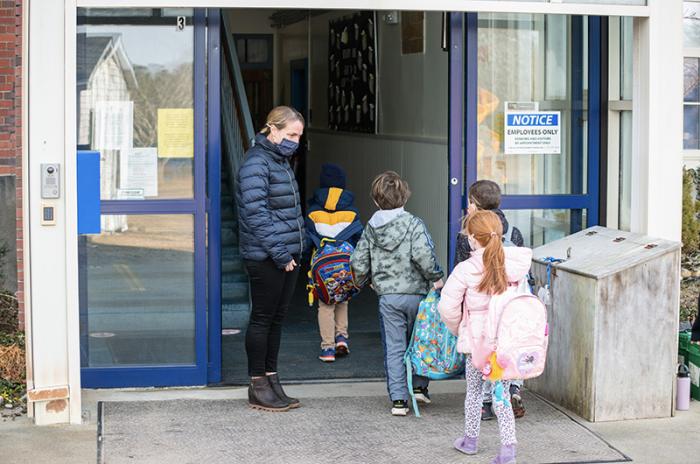 "Those kindergartners are in that school for eight years, so we're about 400 [students] for conceivably 15 years plus," Mr. Chapdelaine said.
Opponents of the previous school bond measure cited higher property taxes, a lack of support from the town selectmen and a reluctance to demolish the nearly century-old building as reasons they voted no in 2018.
Some may also have been swayed by unfounded suggestions that an adequate school could be built for much less, Mr. Chapdelaine said.
The new proposal has the support of selectmen and preserves the original school, but the property tax price tag is higher this time around.
"It costs more money to renovate completely than to build new," Mr. Chapdelaine explained.
If the new plan is approved, the school will also have to educate students in temporary classrooms while construction is under way.
The latest project, designed by Chris Blessen of Tappé Architects of Boston, calls for completely modernizing the original four-story school with two additions.
Developing the design with Mr. Blessen over the past year and a half was a laborious and detailed process for the
building committee, whose members often differed with one another.
Controlling costs was one of the committee's toughest challenges. The design was originally more than 75,000 square feet, Mr. Chapdelaine said.
"I think every one of us felt we can't do that," he said, citing the estimated construction cost of nearly $719 per square foot.
After working with Mr. Blessen to trim the square footage, Mr. Chapdelaine said all nine committee members endorsed the plan that will come before voters in June.
That's a striking contrast with the previous building committee, he said.
Reade Milne, a member of the building committee who is a parent and Tisbury School graduate herself, agreed. "The [current] committee has been much more hands-on and intimately involved in the decision-making," she said. "I feel like it's way more of a project for our community [this time]."
In addition to increasing educational space, the proposed design expands the school's cramped and ancient gymnasium/auditorium and relocates it to the parking lot level from its current uphill position.
"That was a big piece for me," Ms. Milne said of the gymnasium, where among other things annual town meetings are usually held. "This is a community space," she said.
Along with making the gym more accessible, she said, the design minimizes its visual impact on the neighborhood.
"[It's] respecting the community of residents around the school, and not putting a huge towering structure in their faces," Ms. Milne said.
As designed, the new school is solar-ready and designed to be energy-neutral. Photovoltaic panels have been budgeted but are not part of the bond measure, Mr. Chapdelaine said, as alternative funding is expected to pay for their installation.
Despite the higher cost of this year's proposal, Mr. Chapdelaine said there is no alternative for improving conditions at the crowded and dilapidated school.
"If there's anything we learned from the previous go-round, it's the problem hasn't gone away," he said, adding: "The student population is growing and a round three will cost more money than this one, that's for sure."
Mr. Custer said he is "cautiously optimistic" that town voters will support the chance to bring the school up to date and provide for future generations of students.
"There's no more important building in a community than a school," he said.