Traffic and revenues are inching up by the month, expenses are comfortably down and advance car reservations for the summer are going like hotcakes. After enduring its first budget deficit in 58 years, the financial news was mostly good at the monthly meeting of the Steamship Authority governors held Tuesday by Zoom.
Two and a half months into the new year, SSA general manager Bob Davis and treasurer Mark Rozum presented numbers that paint a steadily improving picture after the pandemic rocked the boat line hard in 2020.
Through January on the Vineyard route, car traffic was essentially flat compared with 2020, while passenger traffic, which has been stubbornly down since the coronavirus outbreak began, was off 20.7 per cent. Truck traffic was up overall 4.2 per cent on the Vineyard route in January, especially for non-excursion fare trucks under 20 feet (which includes most SUVS), which were up 18.4 per cent. The breakdown in excursion and non-excursion fares for vehicles continues to point to shifting trends this year, with far fewer excursion fare travelers (originating on Island) and far more regular fare travelers (originating off-Island).
On a net operating basis, the boat line ended January ahead of budget. Fuel, maintenance, administrative and legal expenses are all down.
In his report to the board, Mr. Rozum said advance automobile reservations for the coming summer are up.
Against that backdrop, Mr. Davis recommended that the board put on hold a proposal recently floated by the port council to consider amending the SSA enabling legislation to allow for the creation of a rainy day fund.
"I am recommending that you put this aside," Mr. Davis said, noting that there is room within the present enabling act to accomplish the same goal as a rainy day fund. "There is leeway," he said, adding that the likelihood of dire financial straits in the future is slim.
"It took a pandemic for us to end up being in the situation we've been in for the past year," Mr. Davis said.
Barnstable governor Robert Jones concurred. "There's danger in doing this as we all know," he said, speaking about opening up the enabling legislation, which would give state legislators the ability to make other changes too.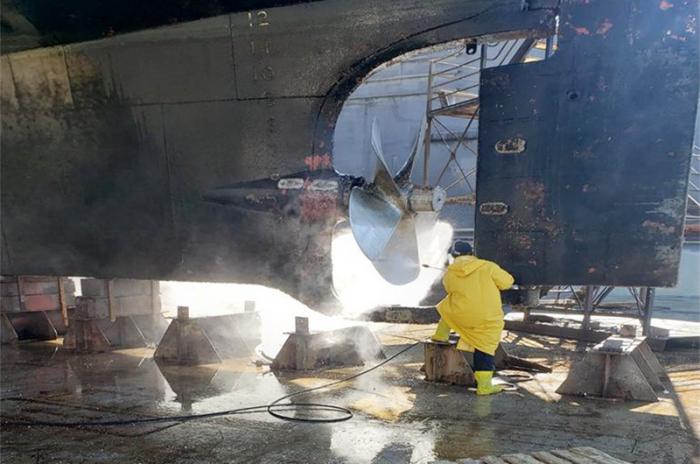 "Since I've spent the better part of the last year getting to know the current enabling act, I would agree," said Vineyard governor Jim Malkin, who was appointed to his seat in March 2020.
In Covid news, Mr. Davis quietly marked a year later, and said he was hopeful that boat line employees will be included in the next round of vaccine eligibility. Compliance with the state and federal mask mandates on board ferries continues to be a challenge, Mr. Davis said.
He also said senior managers are in talks with Centerplate, the company the SSA contracts with for food concessions, about bringing back some kind of food service for the summer. Food trucks in Woods Hole, vending machines or possibly pre-packaged foods on board the ferries with a requirement that food can only be consumed on outside decks or inside cars are all under discussion, Mr. Davis said.
Nantucket governor Rob Ranney expressed particular interest in making some kind of food available on the longer, two-hour-plus ferry ride between Hyannis and his island.
"It would be nice to have a little something," Mr. Ranney said.
Governors had questions about whether food service would increase the risk for the spread of Covid-19, and Mr. Davis conceded it could add another risk factor. He said Centerplate also has the contract for food service on the Washington state ferries, which are using only vending machines.
In other business, governors heard a detailed technical report on the $60 million marine side Woods Hole terminal reconstruction project, which has involved massive rebuilding and repositioning of slips, driving new spiles and other marine construction, and is due to be complete this spring. Next up will be the land side of the project, which includes a new ticket office, redesigned parking lot and other work, at a price tag yet to be determined. Preliminary design work is already under way. A series of public meetings begins next week in the port towns to hear public feedback.
The design of the new ticket office was an earlier sticking point with both Vineyard and Falmouth residents, and has since been redrawn by architects.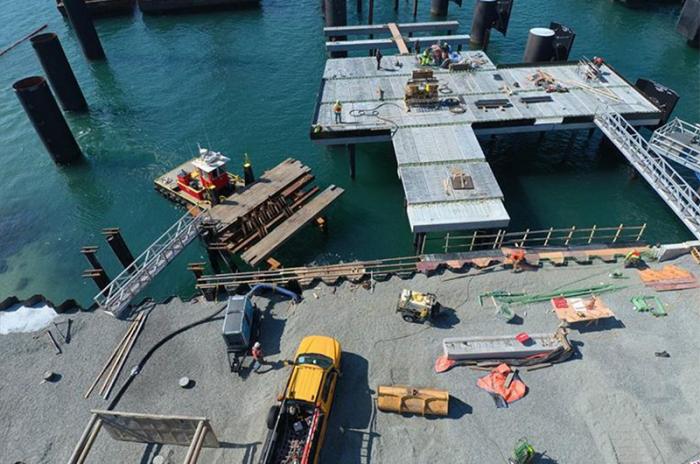 Governors also heard detailed reports on winter drydock maintenance and repair work on the freight ferries Woods Hole and Governor. The Woods Hole overhaul cost $900,000, while work on the 70-year-old Governor cost $800,000. "She's an old workhorse," remarked Falmouth governor and board chairman Kathryn Wilson, viewing pictures of freight ferry being hydro-washed from underneath. Director of marine operations Mark Amundsen agreed. "There's a lot of steel on that boat," he said.
Draft operating schedules for spring and summer sparked a rehash of the ongoing debate over the 5:30 a.m. freight ferry to the Vineyard, an ongoing point of contention with residents on the Woods Hole Road.
And with capital budget planning for the next new ferry coming onto the horizon, there was brief discussion about whether it would include a shift to a hybrid electric model.
Mr. Davis said a task force had been appointed to study the issue, and Mr. Malkin noted that the Martha's Vineyard Commission was working with the SSA too.
But Mr. Jones said he has been following the industry and while he believes electric ferries lie somewhere in the future, the time is not there yet.
"The public is clamoring for this clean power in vessels," he said. "But in my opinion it's basically a long way off."
Mr. Malkin agreed.
"From my experience in business, you don't want to be on the cutting edge because there's a lot of blood on the cutting edge," he said. "You want to be right behind it."