Birds singing in the morning are described as the dawn chorus because their singing is louder and more frequent in the early morning. More birds are singing then but is it a chorus? One definition of chorus is a large organized group of singers, but perhaps it is more like an orchestra, with all sorts of instrumentation. Thrush songs are flute-like, sandhill cranes and some swans trumpet. Woodpeckers are often described as the percussion section of the orchestra. I am sure musically inclined birdwatchers can think of other examples.
Woodpeckers joined the dawn orchestra this past week. A downy woodpecker was drumming on the side of my house, and the "quirrr" call of the red-bellied woodpecker is now heard regularly.
Matt Pelikan and I have heard the following parts of the avian orchestra: mourning dove, downy woodpecker, red-bellied woodpecker, black-capped chickadee, tufted titmouse, white-breasted nuthatch, Carolina wren, song sparrow, white-throated sparrow, house finch, red-winged blackbird and northern cardinal. We have also heard a variety of not-very-musical calls from American crow, common raven, blue jay and house sparrow.
Bird Sightings
Jeff Peters is the first to report an American oystercatcher, seeing one alongside the Vineyard Haven harbor near the Shell station on March 8. Joe Jims was the next to see one, near the drawbridge in Vineyard Haven on March 10. On March 13 three people (Bob Shriber, David Padulo and myself) saw a pair of oystercatchers on nearby Ferryboat Island, in the Lagoon next to Tisbury Marketplace. The next day, Lanny McDowell spotted one on Sarson's Island and Jeff Bernier spotted a pair of them at Little Beach.
Another recent arrival is the tree swallow, a bit ahead of its anticipated arrival. Luanne Johnson, Margaret Curtin and Nancy Weaver spotted two of them on March 14 at the Oak Bluffs pumping station. Also arriving are more killdeer. David Padulo spotted three of them at Katama Farm on March 13. Mute swans are not arriving but their behavior is changing. Jeff Bernier spotted one building on a nest on March 14.
Elsewhere on the waterfowl front, Mike Zoll spotted some wood ducks at Priester's Pond on March 14. That same day, John Nelson saw four lesser scaup on Crystal Lake. At the pumping station the troika of Luanne Johnson, Margaret Curtin and Nancy Weaver spotted American wigeon, ring-necked duck, greater scaup, common goldeneye and red-breasted merganser, along with four double-crested cormorants, 44 crows and one raven. The red-necked grebe continues to hang out there, as the troika spotted it the next day, as did Jeff Bernier.
Speaking of lingering, the drake Barrow's goldeneye near the drawbridge is still there, seen on March 11 by Matt Pelikan, Hans Goeckel and David PaduIo.
On March 14, John Nelson spotted an immature bald eagle over Sengekontacket Pond. Eagles have also been seen by Donna Grant on March 12, and Francesca Zeta spotted an adult at the pumping station on March 11. Mr. Nelson also spotted grackles in Harthaven and the flock of at least 30 horned larks at Katama Farm (a flock that was also spotted by Allan Keith on March 12). The next day he found a woodcock in Menemsha and at the West Basin there were turkey vultures and the greater yellowlegs that has apparently been there all winter. Lanny McDowell also saw the yellowlegs on March 11.
Allan Keith found a yellow-bellied sapsucker at Sheriff's Meadow Sanctuary, five eastern meadowlarks at Katama Airpark and a flock of savannah sparrows, including one Ipswich sparrow in the right fork parking lot.
The barred owl continues its presence near Edgartown, from Planting Field Way to Dark Woods. It has been in that area for years and so must be nesting, although this has never been confirmed. But the barred owl was heard this week by Stephanie Tilton, Debra Gaines, Morgan Muir and Michael Ditchfield. The latter teamed up with Kaela Vecchia-Zeitz on March 7 and their highlights included golden crowned kinglets, brown creeper and a murder of crows chasing a pair of ravens.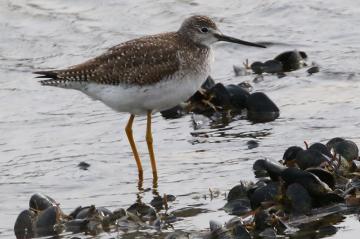 Bob Shriber observed 25 razorbills off the Gay Head cliffs on March 11. In normal winters that would be considered a lot of razorbills, but they seem to be more abundant than usual this winter.
Also still present are the fox sparrow and the eastern towhee that have been visiting the yard of Thaw Malin and Cynthia Bloomquist. Their most recent sighting was on March 15.
Danguole Budris spotted a great blue heron and heard a belted kingfisher at Sepiessa Point on March 14.
Jo Maxwell got great looks at a northern flicker that visited her feeder on March 14. Betty Burton, Sharon Simonin and Sharon Pearson also comment that they have been seeing this woodpecker. Here is to hoping that this largish woodpecker does not take to participating in the dawn orchestra by drumming on their houses.
Please email your sightings to birds@mvgazette.com.
https://vineyardgazette.com/photography/bird-sightings-marthas-vineyard-march-2021More bird pictures.
Robert Culbert is an ecological consultant with Nature Watch LLC living in Vineyard Haven.