A food waste recovery project begun four years ago on the Vineyard is ramping up again after the pandemic interrupted the bulk of the collections.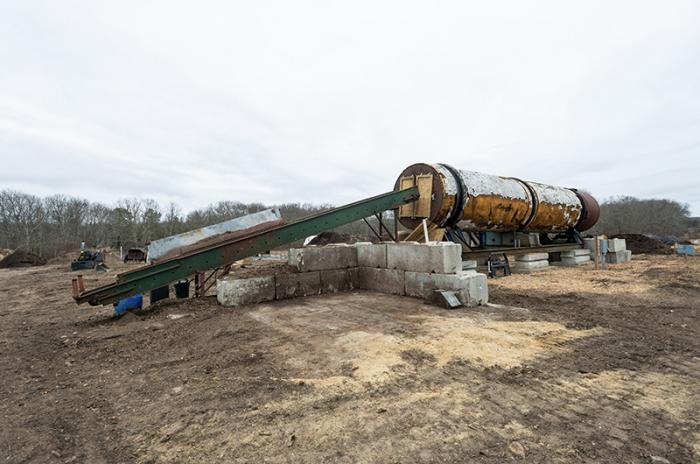 When restaurants and school cafeterias closed last year, the Martha's Vineyard Food Waste Recovery Initiative lost the main source of the food scraps it turns into compost at Island Grown Initiative's Thimble Farm.
Volumes dropped dramatically, project director Eunice Youmans told the Gazette in a recent interview.
"We had planned to collect 540 tons in 2020. We ended up collecting 200 tons," she said.
Begun in 2016 as a pilot project with a borrowed pickup truck, seven businesses and a grant from the Betsy and Jesse Fink family foundation, the initiative set an ambitious goal of reducing food waste on the Vineyard by 50 per cent by 2030.
The project quickly expanded. In the first year, 17 tons of food waste were processed. Two years later the number was 360 tons.
And while last year's total was less than half the pre-pandemic goal, it represented a significant increase in household participation — from five per cent in 2019 to 25 per cent in 2020, Ms. Youmans said.
"That's a huge shift in the percentage of our sources of waste, but still only a fraction of residential food waste," she said. Nationwide, 43 per cent of food waste comes from households, Ms. Youmans said.
Today the food waste project has collection barrels at all Island transfer stations, as well as at the Chappy Point ferry landing and outside the gate at Thimble Farm. There is a small fee to drop the waste at transfer stations; the dropoff at the farm is free.
IGI contracts with Bruno's Roll-Off to collect the food waste from the landfills and take it to Thimble Farm. There the scraps are fed to the farm's large flock of chickens and converted to nutrient-rich, garden-ready compost in a railroad-car-sized contraption.
In earlier years, Island Grown sold the compost, finding a ready market.
"We collected 160 tons of food waste in 2018, and sold 160 tons of compost in 2019," Ms. Youmans said.
Last year was a different story. As the pandemic lockdown forced more Island families into food insecurity, Island Grown shifted its efforts to growing more food at Thimble Farm, creating an in-house demand for compost.
"What we usually sold, we ended up diverting to regenerative agriculture," Ms. Youmans said.
Nonetheless, she said, past compost sales have proved that food waste recovery is a viable business on the Vineyard.
"There's a market for food waste collection," she said. "There's a market for compost sales."
A law enacted by the Massachusetts Department of Environmental Protection in 2015 prohibits any organization that produces a ton or more of food waste per week from disposing of it as trash.
The threshold will drop to half a ton in 2022, according to Ms. Youmans.
"You have an inherent demand for food waste recycling infrastructure," she said.
There is no comparable statewide law applying to residential food waste, but Ms. Youmans hailed a recent decision by the town of Hamilton to require composting as a condition of residential trash collection.
"I think it's fantastic," she said. "Now we have a model. Hamilton has showed us you can actually do it through your select board. I think that's something we should pursue, lobbying our select boards to mandate food waste separation."
With early indications of a busy Vineyard season in 2021, Ms. Youmans said she has high hopes for this year's haul from households and businesses alike.
"My official goal is 360 tons [the amount collected in 2019] but I think we can do 500 tons this year," she said, also noting that food waste represents a significant source of greenhouse gases, from food production, packaging, shipping and storage to disposal and decay.
Composted soils, meanwhile, take up carbon dioxide from the atmosphere.
"It's a double benefit," Ms. Youmans said.