The intensity and volume of migrating birds is increasing, which will continue to do so as the season progresses. After all, it is still March as I write this. Reported here are some first sightings and the increased numbers of individuals seen after the first sighting.
Remember that a great egret stayed into January, unusually late into the winter? The cold weather eventually forced it to move further south, but now they are returning. Shea Fee garnered the first sighting on March 24 on Cape Pogue. More birds appeared later in the week — an anonymous birder reports one in Manemsha on March 27, the same day that Ann and Jim Swozzo found three of them in Lobsterville. And Allan Keith spotted two of these large egrets on March 29 at Quitsa Pond.
Piping plovers were first sighted on March 27 on Little Beach by the same anonymous birder mentioned above. These same two birds were also reported there by John Montes Jr. the same day, and Shea Fee found them on Norton Point. On March 29, John Nelson and Allan Keith spotted a flock of eight at Red Beach in Aquinnah.
A rusty blackbird is a great find, as their population has declined by 99 per cent since the 1960s! Bob Shriber found one near Allan Keith's driveway on March 29. It did not stay around long enough for Mr. Keith to race down his driveway to see it.
A lesser yellowlegs was spotted by Bob Shriber on March 29 along the shores of Town Cove, right next to a greater yellowlegs. The latter species also had an individual spend the winter in the West Basin salt marsh, and Ann and Jim Suozzo found it there on March 27.
The first ospreys were reported in last week's column, and they rapidly are becoming widespread as their breeding population of about 100 pairs returns. Brian Willingham and James Frietas saw one at Tisbury Great Pond on March 25. March 27 was a busy day — Myron Garfinkle saw one at Watcha Pond and Valerie Woodring saw them at Wasque and Lobsterville, and Danguole Budris saw one at Sepiessa. Dylan Thornton and Leslie Pearlson also observed one that day. David Damroth found one the next day at Squibnocket, Ruth Ambrozaitis found one at Lobsterville, and Luanne Johnson and Shea Fee found one at Lucy Vincent. Rooster Crow also found one.
Eastern phoebe continue their arrival. John Montes Jr. spotted one on March 23, Luanne Johnson saw one along Katama Road on March 25. Luanne and Shea Fee also found one along South Road near the Allen Farm on March 28, while David Stanwood observed a pair of them in his Lambert's Cove yard.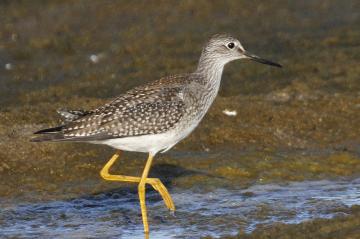 Other migrants include Shea Fee's kestrel, which she observed at Wasque on March 24. A flock of tree swallows were observed by Anne Whiting at Farm Neck on March 27, and two were reported by Martha Moore along Middlepoint Cove on March 28. On March 29, David Damroth reports that large numbers of gannets were migrating with the strong westerly winds of that day.
Most pine siskins have already left our region, but Thaw Malin and Cynthia Bloomquist spotted two of them in their yard on March 27. The flock of red crossbills also returned to their yard that day, after an absence of one week. Shea Fee also saw some red crossbills — a flock of 17 at Long Point on March 24 and two flew over her head at Mytoi on March 27.
A different sign of spring was reported by Holly Mercier — male American goldfinches are almost all yellow after a winter of drab greenish-yellow.
Other sightings include an immature Iceland gull found by John Nelson at Eel Pond on March 27. It was also spotted by Valerie Woodring, who also reports eight double-crested cormorant have returned to their nesting colony on Sarson's Island.
Male ring-necked pheasants have been spotted by Bridget Dunnigan and Sea Williams at Pennywise Path on March 25, and by Chris Connors along Moshup Trail on March 28.
On March 24, I spotted a rough-legged hawk as it hovered, flapped and glided its way over the empty playgounds at the Edgartown school. And Lynn Fraker spotted a bald eagle on March 25 over the Longview section of Lambert's Cove Road. On March 27, Lanny McDowell observed a pair of ravens at the Gay Head cliffs and wondered if they were nesting up there. So far the only confirmed nesting is at the Verizon building in Vineyard Haven, but other locations where pairs have been observed (the Edgartown cell phone tower and now Aquinnah) need to be monitored for nesting. Maybe Cape Pogue too, as Shea Fee saw one raven at the lighthouse on March 29.
Finally, Brian Athearn spotted a perfectly camouflaged American woodcock on the ground in the leaf litter on March 24. It probably was on eggs, otherwise the bird would have flown off. Holly Mercier also saw one that day in the Boldwater subdivision near Edgartown Great Pond, and Shea Fee heard one displaying at Wasque Reservation on March 23.
Please email your sightings to birds@mvgazette.com.
Robert Culbert is an ecological consultant with Nature Watch LLC living in Vineyard Haven.