The arrival of migrant robins is considered by many to be a harbinger of spring. But is that true? Judging by the number of reports of robin sightings, some migrants have arrived, but are they the robins that pair up, nest and forage around our yards all summer?
The flock of robins I hear singing around the Edgartown School every morning are staying in the surrounding trees and are not foraging on the playground. They are behaving like they are en route to more northern climes to nest. Data from the website ebird for the past month shows that the robin's winter range has expanded northward into southern Canada and some higher elevations in the Appalachian Mountains. My harbingers of spring are coming soon, when our breeding robins are found in pairs, hopping around our yards and singing from the treetops.
Bird Sightings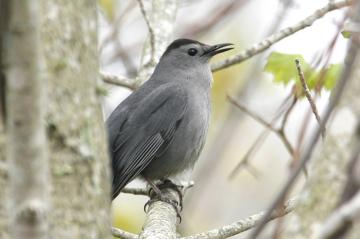 The most exciting sightings are two reports of red-shouldered hawks. Shea Fee and Jim Olney spotted one at the Oak Bluffs pumping station on April 3, and the next day Cornelia Dean reported a possible sighting. This species breeds throughout the state, including a couple of locations near Falmouth. It could nest here too.
Three people report arriving catbirds. Susan Shea spotted one in her yard on March 30, as did Kathleen Kinsman. Penny Townes had one at her house last week.
Phoebes are pouring in this week. Peter Enrich saw one at Fulling Mill Brook and two at Tea Lane Farm on March 29, the same day Thaw Malin had one at his home. Bridget Dunnigan and Sea Williams found three at Duarte's Pond on March 31. And two returned to our yard on April 4, while Janet Sigler has also seen them.
Brown-headed cowbirds are abundant returnees. On March 30 there were cowbirds at four locations. Margorie Spitz, George Abellas, and Christy Edwards each had one at their feeders and Bob Shriber counted seven of them at Pilot's Landing, all on March 30. On April 2, Jim Olney spotted a flock of 10 at the state forest, and Phil Edmondson saw four cowbirds near Watcha Pond on April 3. The next day, Matthew Born saw some at Lobsterville and Polly Bassett saw some at her house.
Sharon Pearson found several tree swallows in the state forest on March 30, as did John Nelson at the Little Bridge. On April 1, they showed up in Gus Ben David's yard. On April 3, Bob Shriber reported seeing them from the Gay Head cliffs and Shea Fee and Jim Olney reported them at Felix Neck on April 3. Phil Edmundson saw five of them there
that day,while the She and Jim saw them the next day at Long Point.
April 3 was the day for great egrets. John Nelson saw one at Quitsa marsh, Lindsay Allison found one at Snow's Point on Chappy, and Shea Fee observed one at Lobsterville.
Lanny McDowell spotted a greater yellowlegs at Black Point Pond on April 2. And Margarita Kelly reports seeing the killdeer that nests at the high school on April 3.
The red crossbills that erupted southward in the late fall continue to pass through on their way back to their northern breeding grounds. Ken Magnuson found a flock of them at the Edgartown Golf Club on April 4. Similarly, Thaw Malin found two transient pine siskins in his yard on April 2.
Ken Wentworth observed a steady stream of gannets flying from Menemsha to the Gay Head cliffs on the morning of March 31, the same day that Bob Shriber counted 234 flying by the cliffs. Lanny McDowell points out that this is a normal pattern for gannets moving out of Vineyard Sound.
In news of avian predators, Leslie Pearlson spotted a bald eagle near Squibnocket on April 1, and Jason Flanders has seen one flying over his Music street house a few time, as it was flying toward Tisbury Great Pond. And Samuel Hall observed one flying near Quansoo Road on April 3. That day Bob Shriber found a merlin in Gay Head. The next day Shea Fee and Jim Olney spotted a merlin at Wasque.
Pine warblers are also arriving. Reports of pine warblers singing comes from Matt Pelikan, who heard them outside the BiodiversityWorks office on April 2, while Shea Fee and Jim Olney saw some bright yellow pine warblers at Long Point on April 4. Both sightings are likely of migrants rather than the drably plumaged birds that have been here through the winter.
On the nesting front, Sharon Simonin spotted a male cardinal feeding a female on April 4, as has Paulette Potter. One bird will not voluntarily give up its food to another unless they are paired up for nesting. Thaw Malin observed a male bluebird building a nest in one of his nest boxes. And ospreys across the Island continue to arrive, re-establishing their territories and adding sticks to their nests.
One final comment is about migrants that overshoot their intended destination and end up on the Vineyard. A likely yellow-throated warbler was briefly observed by Mariah Ben David on April 2, but she could not get a photo to confirm the identification. Other colorful species that regularly end up here include prothonotary warblers, rose-breasted grosbeaks, indigo buntings, orioles and tanagers. Maybe they will show up in your yard! Please photograph them for confirmation of their identity.
Please email your sightings to birds@mvgazette.com.
Robert Culbert is an ecological consultant with Nature Watch LLC living in Vineyard Haven.