A feature film with deep Martha's Vineyard roots is about to get its long-awaited streaming release, more than a year after the coronavirus pandemic derailed a live-audience world premiere at the South by Southwest Film Festival in Texas.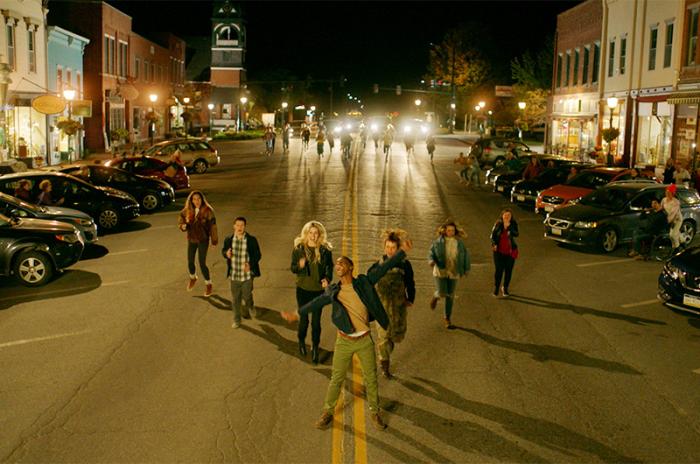 "We had Airbnbs booked, airline tickets, two venue spaces for parties — then everything was put on pause," said Ila Halby of Zeno Mountain Farm in Vermont, an Islander who is an executive producer and one of many former Camp Jabberwocky volunteers involved in the film Best Summer Ever.
But all was not lost. The feel-good musical — a recent review in the Hollywood Reporter called it "irresistibly likable" — wound up premiering at the online version of South by Southwest 2020, earning a special jury award and a screenwriting award, and was named an official selection of last month's 2021 SxSW virtual festival as well.
It's also making history. Best Summer Ever is the first feature film in Screen Actors Guild history, not to mention the first movie musical, to employ a majority of cast and crew with disabilities, from leading characters to boom operators and grips.
The result is an exhilarating entertainment that combines the Glee-style high school musical, complete with football drama, social peril and spontaneous dancing, and the sheer jubilation of a Jabberwocky summer show.
"What're [audiences] going to do when they see something that's a literal rock and roll musical, with wheelchairs?" asks actor and activist Lawrence Carter-Long in an upcoming documentary about Best Summer Ever titled Bigger Than Us.
Island viewers, of course, are likely to stand up and cheer, as they have done for the Jabberwocky shows every summer until the pandemic. The hope, Ms. Halby said, is that enough other viewers will also watch and talk about Best Summer Ever to make an impact on the movie industry itself.
About 20 per cent of Americans live with disabilities, Ms. Halby said, yet only about two per cent of screen roles depict disabled characters — and those parts have generally gone to non-disabled actors.
"Probably the last time we had such a large cast of disabled people starring in a feature film was 1932, and that film was a horror movie called Freaks," Mr. Carter-Long says in the documentary. "We can do better."
Off camera, disabled participation in the film industry is practically nil. Best Summer Ever producer and independent film maker Andrew Pilkington, who has cerebral palsy, said he is usually the only person with a disability working behind the scenes.
"This type of film is valuable," Mr. Pilkington told the Gazette, during a joint Zoom interview with Ms. Halby. Success for Best Summer Ever could help push the movie industry to hire more crew and cast members with differing abilities, he said.
When Best Summer Ever made its first Island appearance last October, at the Martha's Vineyard Drive-In behind the ice arena in Oak Bluffs, it was a homecoming for Ms. Halby, formerly Ila Briggs, who grew up on the Vineyard.
Ms. Halby met her husband Peter Halby and his brother Will Halby at Camp Jabberwocky in Vineyard Haven, where all three were longtime volunteers, she said.
After parting ways with the Vineyard camp in 2005, the Halby brothers and their wives founded Zeno Mountain Farm in Vermont, with a year-round take on what they learned at Jabberwocky about intentional communities of variously-abled people.
Zeno Mountain also has a bustling film studio, which was the subject of a 2014 documentary titled Becoming Bulletproof that brought wider attention to the farm.
"The movies are the next level of sharing the explosive power of that inclusion and the diverse creativity of that work," Ms. Halby said.
She called Best Summer Ever "a career-long dream for Zeno," which had never done a feature-length film with a nationally-recruited cast and crew of mixed abilities.
"Even in the music studio, we're fully integrated," Broadway actress and musician Madeline Rhodes, performing as MuMu, says in the upcoming documentary.
"I can honestly say that that has elevated this music in a way that I would not have been able to," continued Ms. Rhodes, who co-wrote the musical's catchy, big-hearted songs and appears as the story's villain, malevolent cheerleader Beth.
Sharp-eyed Islanders watching the movie may spot the late Bobby Bird, a longtime Jabberwocky camper who achieved media fame as a member of the How's Your News cast on film and television, as an assistant football coach.
Other cameos include Benjamin Bratt and his daughter Sophia and Maggie Gyllenhaal as a local television reporter.
More Hollwood (and Vineyard) names populate the list of executive producers, including Amy Brenneman, Jamie Lee Curtis, Ted Danson, Peter Sarsgaard and Mary Steenburgen.
The film's action begins at the end of the summer dance camp at which high schoolers Sage (Shannon DeVido) and Tony (Rickey Wilson, Jr.) have met and fallen in love. A quirk of fate then lands them both at the same high school, where each must keep a critical secret.
Adding to their troubles is the scheming Beth, played with Riverdale-worthy relish by Ms. Rhodes. But Sage's wheelchair never enters the plot.
"The story can just be the story," Mr. Pilkington told the Gazette. "The story doesn't have to be the disability."
On April 27, Best Summer Ever becomes available on streaming platforms such as iTunes and Fandango, where it can be pre-ordered now.
On April 29, the film heads back to the drive-in — this time in New York city, in front of 200 vehicles at the ReelAbilities festival, which showcases films by and about people with disabilities.
"I hope for a legacy of amazing conversations," Ms. Halby said — and she hopes, ultimately, that Hollywood will listen.
"There is something different created when you have this type of inclusiveness," she said. "It's an untapped resource for art and creativity and beauty and humanity . . . hopefully we can be a small part of that."