A two-building house fire in the wee hours of the morning Monday prompted a mass mutual aid response in the densely-packed Oak Bluffs downtown residential area, as all three down-Island fire departments battled flames just outside the historic Methodist camp ground.
The fire began at a shingled home on 42 Narragansett avenue in Oak Bluffs, with the Oak Bluffs department receiving a call at 2 a.m.
According to deputy fire chief Manny Rose 3rd, firefighters arrived and found the back of the home completely engulfed in flames. The fire was accelerated by the presence of a propane tank, Mr. Rose said, eventually expanding to the back of the a stately, yellow Victorian house known as the Crystal Palace on Pequot avenue.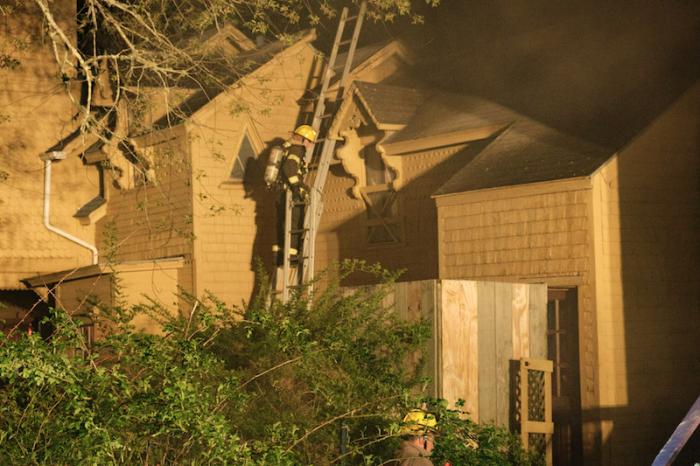 The close quarters and rapidity with which the fire spread prompted a call for broader assistance.
"There were two houses," Mr. Rose said. "That's why we struck a third alarm, for personnel. If you've ever been there on Narragansett the houses are like the Camp Ground, they are all about eight feet apart from each other."
Mr. Rose said Tisbury, Oak Bluffs and Edgartown departments worked quickly to quell the blaze, getting it under control in about 20 minutes. Firefighters stayed on scene for about two hours.
Individuals in the residences had already evacuated by the time emergency service personnel arrived, Mr. Rose said. He said one male was transported to the Martha's Vineyard Hospital for treatment of minor smoke inhalation.
The cause of the fire is under investigation, the deputy chief said.
Damage was confined mainly to the outside of the buildings, Mr. Rose said, with minor smoke damage inside as well. Considering the dangerous confluence of gusty winds, closely-built homes and the presence of the propane tank, the outcome could have been worse, he said.
"Definitely a lot better than what the outcome could have been, especially if we had the high winds that we'd had early in the day. That could have been a bad scenario," Mr. Rose said.
The Oak Bluffs fire department is currently being overseen by police chief Erik Blake and retired Tisbury fire chief John Schilling. Chief Schilling was on vacation Sunday.
The town recently hired former Chatham fire captain W.F. Nelson Wirtz as the new fire chief. Mr. Wirtz is set to begin work May 24.