After a slow 2020 season, advance booking numbers from the Steamship Authority are pointing to a gangbuster 2021 summer, with car reservations on the Vineyard route outpacing pre-pandemic levels by nearly 20 per cent in across-the-board increases.
According to vehicle reservation numbers provided by treasurer Mark Rozum, total advance vehicle reservations on the Vineyard route are up 18 per cent from 2019, including a 12 per cent increase in May, a 34 per cent increase in June, a 20 per cent increase in July and a 35 per cent increase in September. August numbers are currently up four per cent over 2019.
The advance bookings are current as of Sunday, May 16.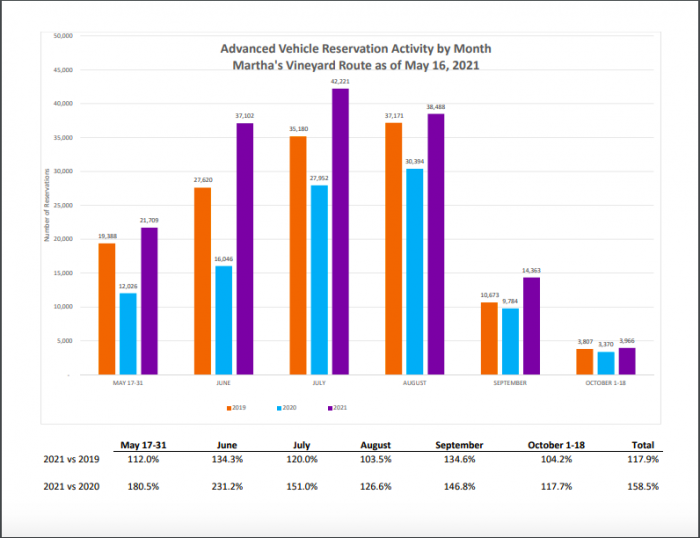 The increase follows a pandemic-colored 2020 season that saw SSA traffic crash in the spring and early summer, as visitors heeded inter-state travel advisories while the virus spiked across the country.
But this summer looks to be vastly different.
At the monthly SSA meeting Tuesday morning, senior managers said automobile reservations filled early — and fast.
"The automobile reservations are ahead of where we typically would be seen," general manager Bob Davis said.
More than 10,000 advance car reservations have been booked for June 2021 compared with June 2019, according to data provided by SSA spokesman Sean Driscoll, while more than 7,000 trips have been for July. Where about 10,000 trips had been pre-booked for September as of this time in 2019, this year has already seen more than 14,000 pre-booked September trips.
The 2021 advance booking numbers blow early 2020 numbers out of the water, with vehicle trips nearly doubled from pandemic levels in both late May and June.
"It's been tight," Mr. Davis said. "We're looking at all the allocations on the trips to make sure that we are allocating the spaces appropriately."
The numbers were presented in response to a question from Vineyard representative Jim Malkin, who said he had noticed difficulties in booking available vehicle reservations to the Island.
"I've been getting considerable pressure about the lack of vehicle availability," Mr. Malkin said. "Are we doing better than our budget preparations suggested?"
Mr. Rozum said yes, adding that preliminary automobile traffic numbers from April and May indicated that the spring had already been busier than the comparable pre-pandemic 2019 months. In April, the Vineyard route saw about 3,400 more vehicle crossings, or a 12 per cent increase from 2019.
"That would bear then with the pressure I'm getting," Mr. Malkin said.
Most of April and May increases came in the form of standard fare vehicles, Mr. Rozum said. While standard rate vehicles increased by 4,700, excursion rate vehicles decreased by 1,300 — indicating a substantial increase in travel from off-Island visitors, and a decrease in travel from Islanders.
Excursion rates are available to Islanders with an on-Island address, a state driver's license and a listing in an Island street book.
Overall, 2021 automobile traffic is up approximately 5.6 per cent from 2019. Passenger traffic continues to show a decrease from pre-pandemic levels, with passenger fares down 12 per cent year-to-date.
"It seems like we're on a more even keel," Falmouth governor Kathryn Wilson concluded.
In other business, director of marine operations Mark Amundsen and project manager Bill Clouthier said the multi-year, $54 million Woods Hole terminal reconstruction project was unlikely to finish by its June deadline.
"We're probably 85 per cent there, over the course of the four years," Mr. Clouthier said. "But there is still quite a bit of work to do on slip one."
Construction on the three terminal slips has taken place during the winters since 2018, with work pausing during the busy summer months to accommodate increases in ferry traffic.
The governing board approved an additional $180,000 change order on Tuesday for additional man hours related to monopile driving, bringing the total cost of change orders to $9.2 million. The change order was negotiated down with contractor Jay Cashman from an original cost of $279,000.
New Bedford governor Moira Tierney voted no on the change order.
On board vessels, Mr. Davis said the SSA would restart concession services, offering limited pre-packaged food available starting May 19. Broader concession services were still being mulled, Mr. Davis said.
Rounding out the meeting, governors also approved a $1.4 million dry-dock contract for the ferry Martha's Vineyard, and received an update saying the ferry Governor — a 67-year-old vessel — would be out of dry dock and return to service on Wednesday.
"She's been a workhorse, for sure," Ms. Tierney said.