Irises to orchids, daisies to hollyhocks and poppies to hydrangeas, a thousand flowers are blooming in the spring group show at Featherstone Center for the Arts in Oak Bluffs.
Still Fresh: The Art of Flowers features work that celebrates the floral, created by more than 100 Martha's Vineyard artists in a panorama of media. The overall effect is one of joyful abundance, a superbloom response to the waning pandemic and a throwing-open of the garden gates to summer.
It's a show meant for taking in slowly, as one does the flora at an arboretum. Paintings, drawings and photographs mingle on the walls of the center's Francine Kelly Gallery with textiles, mixed-media assemblages and even an inlaid wooden clock adorned with wampum shell, while simple floor stands hold ceramics and jewelry.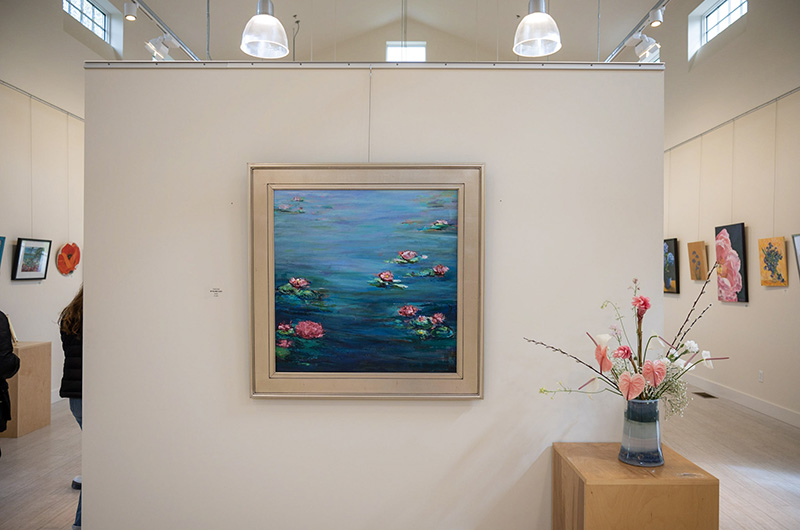 There is also a table of smaller merchandise, including needlecrafts, a petite mixed-media sculpture by Alisun Armstrong and ceramics decorated with hydrangeas by Candy Shweder and Helayne Cohen.
One of the joys of a Featherstone group exhibition is discovering the many ways different Island artists approach the theme, and how they occasionally comment on artistic conventions along the way.
Still life paintings in the current show range from Van Gogh-inspired irises (Ksenia Meleshko) to a psychedelic, O'Keeffe-scale orchid (Harvey John Beth), while other painters reclaimed Monet's water lilies for their own — Donna Straw rendering them in desert-camo hues tinged with blue, Chetta Kelly giving the iridescent water of the lily pond a larger role to play.
Steve Lohman's Flower Girl, in white steel mounted on green board, is a welcome blast of pop-art power, balanced by Sarah Moore's delicate Spring, a serenely blossoming tree in acrylic and tissue paper.
Among the photographic works, L.A. Brown's Forever Sunflowers and Alice June Thompson's Untitled — another view of sunflowers — provide early breaths of summer air. Ken McLean takes a prismatic view of the bloom in his angular print Mindflower.
Still Fresh: The Art of Flowers is on display through May 31, daily from noon to 4 p.m. Admission is free and reservations are no longer required, although the Francine Kelly Gallery has an occupancy cap of 10.
The experience of so much exuberantly blooming artwork can leave the viewer a little color-drunk, but Featherstone offers an unexpected palate cleanser in its Schule Chapel Gallery. A tiny treasure among the trees behind the center's Art Barn, the chapel currently holds a one-woman show of black and white floral photographs by Libby Ellis, titled Cosmosis.
Ms. Ellis's close-up images of Island cosmos in bloom offer a contemplative viewing experience very different from the floral fiesta in the larger gallery.
"Working in black and white invites form to reveal itself without the demand, or overwhelm, of color," she writes in her artist statement.
The lack of color also contributes to a sense of timelessness, Ms. Ellis adds — an impression that's only enhanced by the intimate Schule Chapel space, with its Gothic touches, wood stove and colored window.
Cosmosis is on display through June 27. More information about the current Featherstone shows is posted at featherstoneart.org.