Birding in early to mid-May can be good even though many migrants do not venture this far east, preferring a more direct path northward bypassing the Cape and Islands. Again this week we mostly feature migrants being spotted for the first time this year.
Spotted sandpipers have just arrived with multiple reports around the Island. Shea Fee spotted one at Wasque on May 10, and Walt Looney saw one at the small pond at the state forest on May 11. On May 15, Luanne Johnson found one alongside a pond near North Road. They were seen the next day by Jeff Peters at Lambert's Cove Beach and by the quartet of Susan Whiting, Bob Shriber, Lanny McDowell and David Stanwood at Black Point Pond.
A flock of 20 glossy ibis — a large dark glossy-plumaged birds with a long down-curved bill — was spotted by Hugh McCormick at the western end of Mattakesset Bay in the early morning of May 16. We are always happy to see a couple of them; 20 at once is amazing. While no-one else saw these birds, his photograph confirmed their presence.
The first red knot of the season was photographed by Jeff Bernier on Norton Point Beach on May 14. Another aptly-named sandpiper is the white-rumped sandpiper, spotted by Olsen Houghton near Sengekontacket Pond on May 15. The smallest sandpiper, the least sandpiper, was spotted by Julia Austin at Felix Neck on May 14, where she also spotted three semipalmated plovers and both black-bellied plovers and dunlins. At Little Beach on May 16, Rachel Baum spotted ruddy turnstone, laughing gull and roseate tern. I also had roseate terns at Eel Pond May 15, as did Rachel Baum and Dan Burton the day before.
Brightly colored songbirds have also been observed. Perhaps the brightest is the scarlet tanager, first spotted by Doug Gochfeld on May 14 while he was aboard a NOAA research vessel about 10 miles south of the Island. Luanne Johnson found one the next day near North Road, and Pam Goff saw one near Tea Lane Farm on May 16.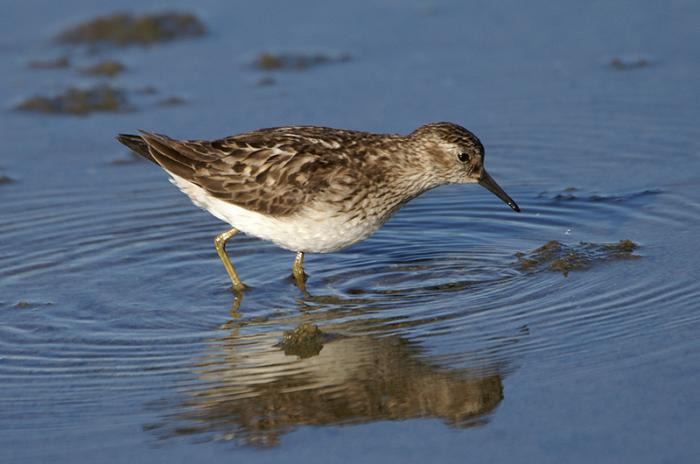 Warbler sightings include four species that do not nest here. Ken Magnuson found a bay-breasted warbler at the Edgartown Golf Course on May 14. A black-throated green warbler was spotted by Bob Shriber and Lanny McDowell on May 15 at Fulling Mill Brook, and by Rachel Baum and Dan Burton near Eel Pond on the same day. Jeff Peters adds both northern waterthrush and bay-breasted warbler at Fulling Mill Brook on May 16. Also reported are warblers that nest here: blue-winged warbler, American redstart, yellow warbler, common yellowthroat, black-and-white warbler, pine warbler and ovenbird.
Our first red-eyed vireos — a vocal and persistent woodlands songbird — of the season were spotted on May 15 by Lanny McDowell and Bob Shriber at Fulling Mill Brook, Luanne Johnson near North Road, and Will Harcourt Smith at Waskosim's Rock. Jeff Peters found one at Fulling Mill Brook the next day. Bob Shriber spotted a white-eyed vireo on Old South Road on May 13.
Wood thrushes have returned. Bob Shriber found one near Old South Road on May 13, and Will Harcourt Smith saw one at Seven Gates on May 14. A close relative, the hermit thrush, was spotted by Susan Whiting at Quansoo on May 12.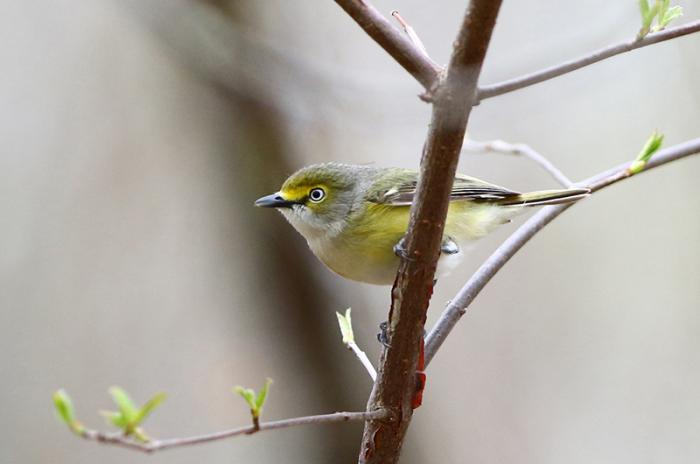 Two male bobolinks — a rather rare grassland specialist — was spotted by Hans Goeckel at Katama Farm on May 15.
Aerial insectivores are arriving! Chimney swifts showed up on May 11, spotted by Richard Price along the Boulevard in Ocean Heights and Craig Kesselheim that day at Farm Pond and at Felix Neck the next day. Shea Fee spotted them at Wasque on May 13, Rachel Baum saw three at Eel Pond on May 14 , and I saw a flock of five in downtown Edgartown on May 15. Bank
swallows were seen by Craig Kesselheim at Lucy Vincent on May 15 and the next day Danguole Budris also saw them there. Jeff Peters saw them at Fulling Mill Brook. Eastern kingbirds showed up on May 12, seen by Bridget Dunnigan and Sea Williams in the state forest on May 12. Two days later Susan Whiting saw one at Quansoo, and on May 15 Luanne Johnson saw one at Katama Farm. Will Harcourt-Smith saw one at Waskosim's Rock and Mike Tinus had one in his yard.
On May 12, Susan Whiting also reports a red-breasted nuthatch and two white-crowned sparrows at Quansoo. John Nelson counted 16 savannah sparrows along the road through Katama Farm on May 15 and several swamp sparrows in Harthaven on May 11. Lanny McDowell reports a flock of 13 red crossbills flew over his house on May 12, while Shea Fee is still hearing them on Chappaquiddick. And the latest sighting of an evening grosbeak comes from Rebecca Brown's feeder on May 15.
Winter resident waterfowl are still lingering. Craig Kesselheim observed red-breasted mergansers at Farm Pond on May 11. On May 14, Julia Austin observed three greater scaup, and a few common eiders at Felix Neck. And Will Harcourt-Smith had 130 white-winged scoters and seven black scoters flying by off Moshup Trail on May 15, the same day I had smaller numbers of both species off East Beach.
Finally, two very timid and skittish greater white-fronted geese were found at the Katama Airpark on May 15, observed separately by John Nelson, Rachel Baum and Gary Look. These geese are part of Gus Ben David's captive but free-flying flock which regularly ventures around the Island, They are not wild birds.
Please email your sightings to birds@mvgazette.com.
Robert Culbert is an ecological consultant with Nature Watch LLC living in Vineyard Haven.