The Vineyard high school girls tennis team capped a perfect 12-0 regular season with a 4-1 win over the Whalers on Nantucket last Friday as they and the rest of the high school spring sports teams gear up for the playoffs.
After sweeping Barnstable 5-0 on the Cape last Wednesday, the Vineyard's first and second singles players along with their two doubles teams took care of business after the long trek to Nantucket to complete their undefeated regular season.
"It was a great regular season, they did very well and played a nice match over on Nantucket," said girls tennis head coach Bill Rigali.
In first singles, Hunter Tomkins won her match 6-1, 6-0 and second singles player Cali Giglio bounced her opponent 6-0, 6-0. In doubles, Tessa Hammond and Andrea Morse won first doubles 6-2, 7-5 and Paige Anderson and Evelyn Brewer won second doubles 4-6, 6-1, 6-3.
With the top spot in their division secured, the girls will open the playoffs at home later this week or the beginning of the following week.
"We're excited to play in the playoffs," Coach Rigali said. "There will be a lot of good teams in there so it should be a great tournament and whoever comes through as champion will be a very good high school team."
The boys tennis team also took permanent ownership of the top spot in their division last week with a 4-1 home victory over Barnstable on Wednesday. The Vineyard boys swept the singles matches with Max Potter winning first singles 6-0, 6-0, Eric Reubens winning second singles 6-0, 6-0 and Jacob Riis winning third singles 7-6, 6-3. In doubles, Clyde Smith and Teagen Myers won first doubles 6-2, 6-3 for the Vineyard.
The team defeated Nantucket 4-1 to complete the regular season. With a spotless 10-0 record and first place in their division locked up, the boys will also have a home playoff game either later this week or next week.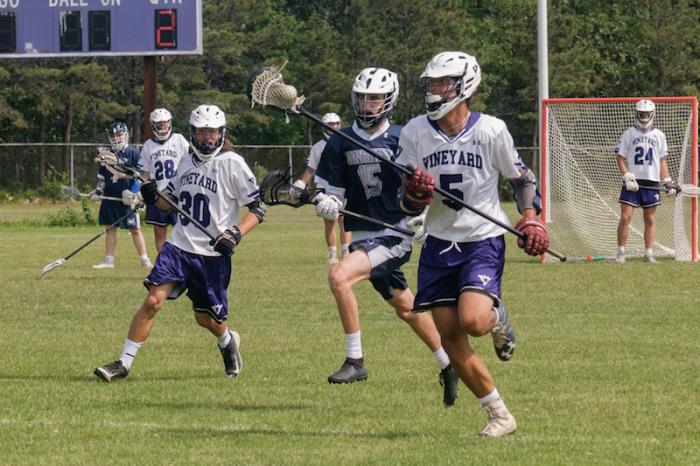 The girls lacrosse team finished up their regular season action last week with their second win of the season against Nauset on Tuesday. Ali Dyke, a sophomore who led the Vineyarders in goals this year, scored five times against the Warriors as purple and white traveled home with a 10-6 triumph. Nellie Long also scored three times for the Vineyard as Caroline Kelleher and Elena Giordano rounded out the scoring with a goal apiece.
In boys lacrosse, the Vineyarders began the week with a 15-11 home loss to Nauset last Tuesday and a 7-1 defeat in Falmouth last Thursday. On Friday, the boys turned it around with a hard-fought 11-6 win over Nantucket at home. Zander Amaral and Eli Gundersen each scored hat tricks to lead the Vineyard in scoring and Hunter Meader and Oliver Lively each netted two goals respectively. Aiden Marek had the other Vineyard goal as Graham Stearns made 16 saves in net. The boys finish the regular season against Monomoy Monday afternoon before beginning the playoffs.
On Wednesday last week, the baseball team won a thrilling 10-inning battle against Barnstable 4-3 at home on a Nick Cranston walk-off single. Cranston went 2-5 at the plate with two RBIs and Leo Neville pitched seven strong innings with four strikeouts, one earned run and went 1-3 at the plate with a run scored.
"Barnstable was an incredible game," said Vineyard head coach Kyle Crossland. "Leo has been amazing this year, he's so consistent and such a smart baseball player. He knows how to control the pace of the game."
Coach Crossland said one of the things that doomed his team the last time they played Barnstable was their opponent's ability to exploit weaknesses in the Vineyard's defense with double steals. In their second meeting, the coach said Neville's ability to control the game was a key to their success.
"Leo really did a great job keeping runners close to the base and checking them and it really neutralized their base running attack. I think that was a big part of us being able to beat those guys," Coach Crossland said.
The boys finish their regular season schedule with a home game against Nantucket Tuesday. The first pitch is set for 1 p.m.