For the current Martha's Vineyard Arts Association student show at the Old Sculpin Gallery, three young artists and scholarship winners were each given an entire gallery room to exhibit their work. The opportunity gave digital artist Max Dankert something she never expected to see: her art on a wall in front of her.
"It feels very surreal... because my plan in the future is to be a concept artist for video games, I never expected that my work would be printed out and displayed physically in an area," she said. "So I feel it's strange, but I love it."
The exhibit includes work from student scholarship winners Max Dankert and Summer Riordon, and alternative recipient Margaret Sykes. The exhibit continues through Friday with an artists' reception on Thursday, June 17 from 5 to 7 p.m.
For Summer, also a digital artist, the exhibit allowed her to conceptualize her art in a different way.
"I usually see it on screen because it's digital media," she said. "So just printing it out made a really big difference and seeing it as big as it is, I feel like it gives me a greater appreciation for it. I feel like, wow, this actually looks really good."
Margaret described the procedure of arranging her photography as a process of "trial and error." She hoped that her room reflected her skill.
"I just want to capture what I can do," she said. "I want to capture both beauty and emotions."
She said her interest in photography came from a family connection.
"I was always inspired by my brother, Tom," she said. "He did photography in his sophomore year and I decided, you know what, I'm going to follow in his footsteps and I'm going to do it as well."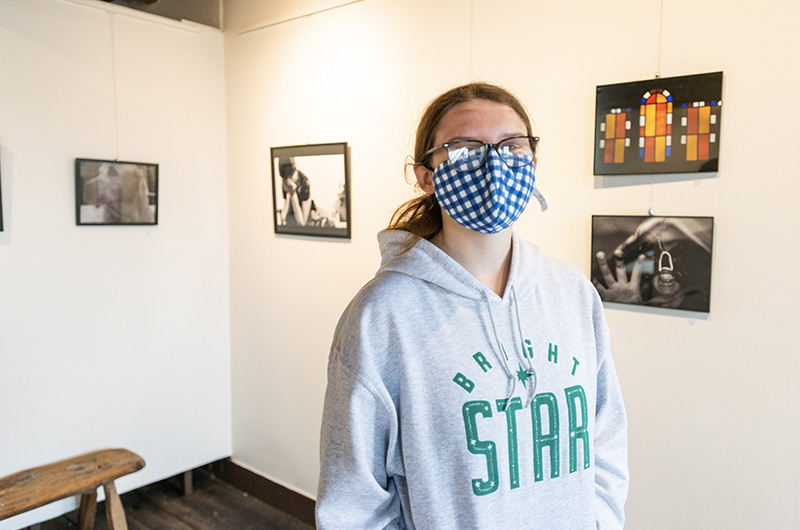 Max was drawn to digital media because the medium granted her freedom to refine her work that other traditional methods did not.
"[Digital art] allowed me to make mistakes," she said. "I'm very much a perfectionist, so if I [made] one little graphite mark that wasn't where I wanted it, I would completely scrap the entire thing. But digital art allowed me to be able to go back and really perfect my vision."
Digital media gave Summer the ability to mix and polish works from a wide range of mediums like "block print charcoal, oil paint, and pencil acrylic paint," she said. One visual motif appears in all of her work. Since starting to draw, Summer said she has been fascinated by drawing eyes and continues to focus on them today.
"In all the pieces that you look at, there's such a struggle and focus on trying to make eyes a focal point and in every single work you'll see them," she said.
The young artists all plan to continue creating art in college. Max will attend Montserrat College of Art, Summer will attend the University of Rhode Island and Margaret will attend Hofstra University.
To Max, the show meant both a chance to recognize the strength of her art and an opportunity to improve.
"It's a good way to critique myself for the future. But the way I see it is like a stamp of approval," she said. "This is such validation that I am a good artist, and that I am capable of doing so many things with art."
The Old Sculpin Gallery is located at 58 Dock street, Edgartown.