Passengers aboard the 10:45 ferry from Woods Hole Sunday morning heard an unusual announcement over the public address system.
"Summer 2021, Camp Jabberwocky is back! Woohooo!" rang the amplified voice of Kristen "Sully" St. Amour, director of the camp's first summer session since 2019, as the ferry made its way out of port.
Smiles were wide and spirits buoyant among the 12 returning campers and 14 volunteer counselors on board, on their way toward a long-awaited week on Island after a year of no activity at the venerable Vineyard camp for people with disabilities.
A costumed, singing welcome party met the boat in Vineyard Haven, where camp volunteers in fairy wings, feathered hats and boas belted out Whitney Houston's I Wanna Dance with Somebody at the foot of the passenger gangway, with a crowd assembling to amplify the fun.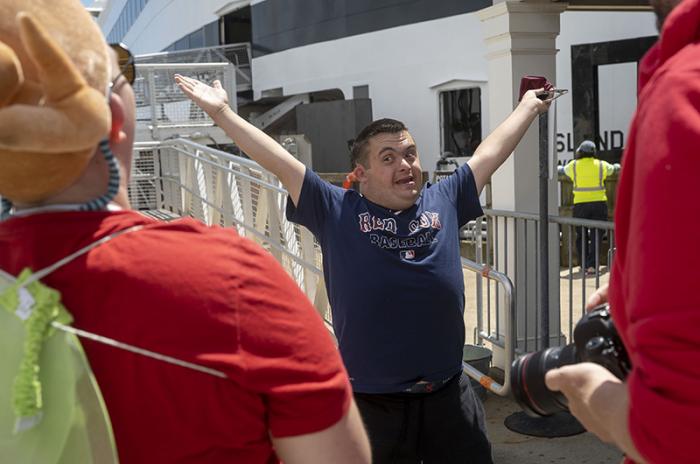 The Jabberwocky contingent emerged onto the gangway, where camper Matt Casavant paused for a Rocky moment of glory, raising his arms like the pope's in benediction as cheers resounded from below.
Sunday's celebration marked the revival of a summer tradition that fell by the wayside in 2020, when Camp Jabberwocky's entire season was canceled due to the coronovirus pandemic.
As Jabberwocky reclaims its mission as an intentional community of people with and without disabilities, the two-week sessions of pre-pandemic times are being scaled back and group sizes limited to fewer than half their former numbers, with Covid-19 vaccinations strictly required.
The shorter sessions mean there will be eight more joyous arrivals in Vineyard Haven, on eight coming Sundays through August 22.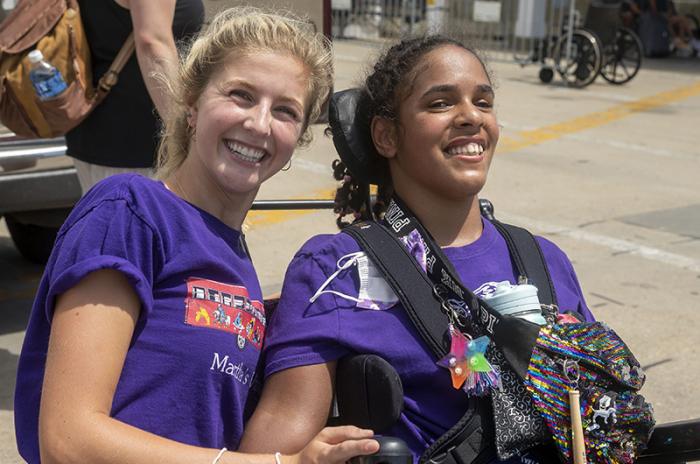 Weather permitting, the grand welcome usually includes a promenade from the Steamship Authority terminal to Jabberwocky's Greenwood avenue campus for members who want to get there by foot or wheelchair, while others ride up in the camp van.
But the campus itself will not be open to the public this summer, a pandemic precaution Jabberwocky leaders say they hope will be short-lived.
"Next year our parade and our play will be bigger than ever," Ms. St. Amour said.
One change made in 2020 will remain permanent: Camp Jabberwocky is now tuition-free, following the second phase of its inagural capital campaign.
The first phase of the campaign funded a sweeping renovation of the campus, from the main cabin to the grounds, by South Mountain Co., while the second established an endowment for tuition.
More information about Camp Jabberwocky is at campjabberwocky.org.