It began in the back yard, a regular repartee between an Edgartown summer resident, Steve Rusckowski, and his trusty landscaper, Michael Donaroma.
"It's pretty hard to get a Covid test on Martha's Vineyard, eh?" said one to the other.
Mr. Rusckowski, the CEO of Quest Diagnostics, said it didn't have to be.
One month later, and TestMV (as it would later become known) was born, a unique, free asymptomatic test site located in the regional high school parking lot and open to anyone on Martha's Vineyard.
Last week, health agents reported no cases of Covid-19 on the Island for the first time in 15 months, a welcome relief for the hundreds of health and medical workers who have spent much of the past year battling a ferocious virus that refused to relent.
During that time, TestMV has been there almost every swab of the way, from backyard to parking lot, performing 39,000 tests, answering 29,000 calls and identifying 375 asymptomatic Covid-19 patients who otherwise would not have known that they could have been a vector for the disease in grocery stores, baseball fields and book talks.
TestMV moved from the high school to the West Tisbury School in early June — and has not detected a positive Covid-19 patient in close to a month. It is set to continue testing through the summer. "It's an incredible thing that we accomplished in this community," said Cynthia Mitchell, executive director of Island Health Care, which was an essential cog in the unique public-private partnership that made TestMV possible. "There's no doubt [it saved lives]," added Edgartown health agent Matt Poole.
A look back at TestMV just over a year after it got up and running reveals a story that goes far beyond the remarkable Covid-19 testing numbers, and the fact that there have been no Covid deaths on Martha's Vineyard.
What started as a simple seed of an idea — planted by a landscaper no less — quickly bloomed into an unprecedented effort requiring the money, time and ingenuity of hundreds of Islanders, from retirees to CEOs. To date it has required a dozen paid staff who worked more than 13,000 hours, 118 unpaid volunteers (48 clinical), and more than 400 hours of work by Island health agents.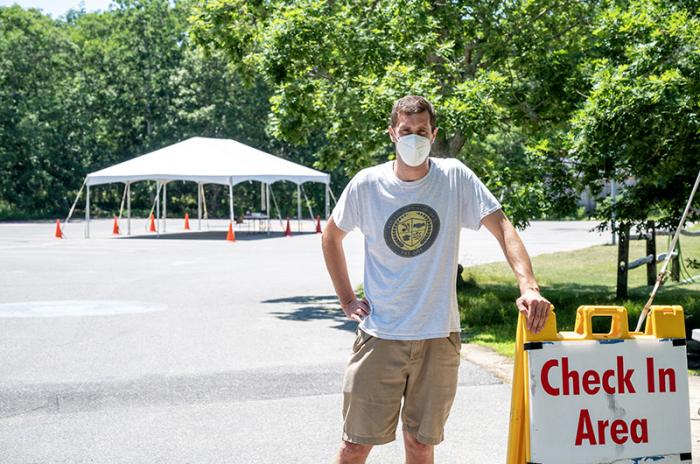 The effort remains ongoing.
"If you look at the origins of this, it's a great example of how good things can start small," said Mr. Rusckowski, who with his wife Deb, spearheaded the effort in its early stages. "There are a lot of people who could have said no . . . But remarkably, people lined up and said this is a good thing to do. And they all did. And it worked."
But it wasn't simple. In May 2020 the virus was raging across the country and the prospect of a lost summer on Martha's Vineyard loomed. The Martha's Vineyard Hospital, the Island's only official Covid-19 test site, had strict rules on who could get tested, essentially limiting availability to severely symptomatic patients or close contacts.
Mr. Donaroma and the Rusckowskis wanted to change that. They brought in Ron Rappaport, a well-known Island attorney and town counsel to five of the six towns, who coordinated the initial planning phases with Island health agents, including Mr. Poole and Maura Valley. The idea was to provide asymptomatic testing on the Vineyard at no charge. Quest Diagnostics could provide the tests and an elite project team, but they needed someone to administer and coordinate the program. That's where Island Health Care came in. A federally qualified community health center, IHC set up the facility, organized a public information campaign and provided staff, both on Island and through a call center, to handle demand. The regional high school provided space. Soon, tents and traffic cones went up in the Performing Arts Center parking lot. A grand opening was held. A mass asymptomatic testing site had been built from scratch in less than a month.
Regionally, it was a first.
"There was absolutely no precedent," said Owen Burns, a recent college graduate in engineering who ran the site in its early days. "It was basically all the people who ran it, doing their best with the limited knowledge they had. It's a testament to IHC, the health agents, the volunteers, everybody who came to work to make the Island a better place, to make the test site better for the Island."
There were problems early on. What began as about 40 cars per day quickly became hundreds. Demand overwhelmed the call center. There were traffic jams in the parking lot. Tents and signups were re-jiggered. Quest decided to use the facility as a beta site for its online signup application. It took about six weeks of round-the-clock adaptation, but it worked. In the process it allowed Quest to help work out the bugs in a program that was later rolled out nationally.
By August, Dukes County had the second highest per-capita testing rate in the country, according to Mr. Burns, pushing testing numbers to about 1,200 per week. When the virus spiked on the Island in the fall, so did testing numbers, peaking at 1,700 per week in November and 438 tests in one day. People from 36 different states received tests between Memorial Day and Thanksgiving. The irony was that the site had only planned to be open until Labor Day.
"The demand turned out to be spectacularly high. It was one of the largest health center sponsored test sites in the region," said Ms. Mitchell. "So it was all hands on deck to get it running." She said staff, from senior managers to administrative assistants, worked around the clock for the first three months. "But we took the position that this was a gift, in some ways, because it fit our mission perfectly . . . it's what health centers do. They rise to the need," Ms. Mitchell said.
None of it would have been possible without an Islandwide collaboration of volunteers and philanthropy. Martha's Vineyard Bank donated $100,000 to cover all uninsured test patients. Another $150,000 for outreach and technology came from a group of private donors. The rest of the money came in the form of federal Covid-relief funds available to community health centers. A total of nearly $1 million in private and public funds was dedicated to keep the site running. And that's not including thousands of unpaid hours by volunteers.
Carol Bardwell, a registered nurse who had worked at the Martha's Vineyard Hospital for 41 years before retiring on March 13, 2020 (the day the governor declared a state of emergency) worked two to five shifts per week at TestMV for more than a year, often staying well past her scheduled hours.
"We went from 90 degrees sweating to 10 degrees freezing, and we were all out there in all of that," Ms. Bardwell said. "It got to the point where my husband got me motorcycle gloves with batteries in them."
When Ms. Bardwell broke her ankle, she figured out a way to continue on the job.
"I wasn't walking, but I could stand," she said.
The true miracle was that there were no insurance bills in mailboxes. Over months, Ms. Mitchell and IHC worked with Quest to ensure that the health center could receive reimbursements without billing patients for the asymptomatic tests. Although it was illegal for insurance companies to directly charge customers, there was no guarantee they would provide reimbursements to providers.
"We were the first in a wide region to launch asymptomatic testing, which was a risk because we did not know that insurance would cover it," Ms. Mitchell said. "It's ridiculous . . . how hard it is to navigate insurance without a pandemic. During, it was a huge lift. But we were able to do it."
The testing site has remained free throughout. It meant seasonal residents could travel to the Vineyard, bolstering Main Street businesses that were experiencing their toughest summer in decades.
"It kept the Island safe . . . but it was important to keep the local economy running too," Mr. Rusckowski said.
All involved said the impacts were far reaching.
"The site changed our lives here, there's no question," Mr. Poole said. "It just gave us this confidence . . . you had a sense what the risk level was. It allowed you to get a measure of something that you basically could not see, and could not estimate." He added:
"I cannot imagine doing this last summer without it."
But the Island could not have done it last winter either. As the virus spiked, the test site played a key role in helping catch cases early.
As the summer of 2021 arrives, much of the pandemic has abated. There are fewer cases, fewer tests even. But TestMV remains — albeit in a new location. Ms. Mitchell, Mr. Poole, Mr. Rusckowski and Mr. Burns all said it is still needed.
Ms. Bardwell worked a shift on Wednesday morning. She was asked to fill in because of demand.
"It was busy," she said. "The only thing I could think was there must be swab-stick wrappers in the front seat of every car on the Vineyard."