A 38-foot pleasure craft caught fire off East Chop late Monday afternoon, sending a massive plume of black smoke high above Vineyard Sound and prompting a mass mutual aid response.
All passengers were safely evacuated from the boat with the help of a good Samaritan, according to officials with the U.S. Coast Guard and Oak Bluffs fire department. The vessel was the only casualty.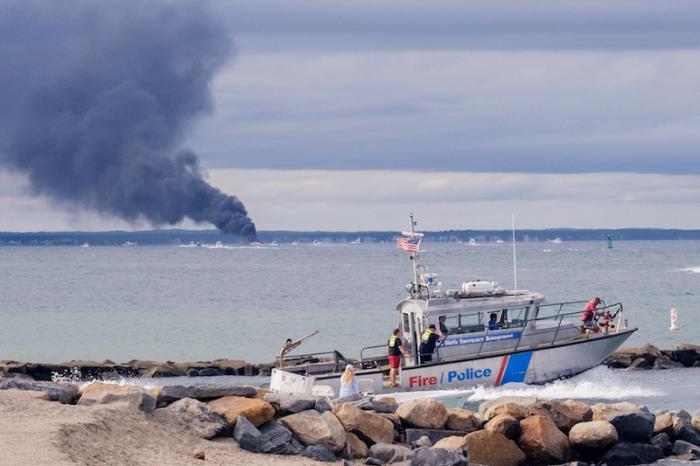 "It's done," said Oak Bluffs fire chief Nelson Wirtz, describing the condition of the boat. "This was its last day at sea."
According to an employee with Tow Boat US, Falmouth — the company that towed the vessel — the boat was based in Falmouth harbor and called Jinx.
The call came in just before 6 p.m., according to Chief Wirtz, with reports of a 38-foot vessel on fire one to two miles off East Chop. The Oak Bluffs department sent its M-567 fire vessel to respond; Coast Guard Station Woods Hole responded as well.
By the time public safety officials and emergency responders arrived, the passengers had been safely evacuated on a dinghy and had boarded a separate vessel, according to Coast Guard Petty Officer Justin Pago. Petty Officer Pago said there were seven or eight passengers on the boat.
"A good Sam came alongside and took them off. They had a dinghy," he said.
On Tuesday, Coast Guard command duty officer sector SE New England, Scott Backholm, said the good Samaritan boat was a 34-foot vessel called Dog Days.
The state environmental police are investigating the cause.
Chief Wirtz said Oak Bluffs had initially called in the Hyannis fire department to assist in the response, but called the aid off when they were able to get water on the vessel.
"There was an awful lot of fire," Chief Wirtz said. "A lot of dark black smoke. That's what happens when plastic and metal burn."
To avoid sinking, the boat was immediately towed to the Vineyard, Chief Wirtz said, where it will be dewatered. Neither the Coast Guard nor Oak Bluffs fire department knew the name of the boat or its owner, but confirmed that it was a recreational vessel. They did not know whether it was based on the Vineyard.
Mr. Wirtz said the boat began to break up when it got close to shore, and Petty Officer Pago said it would be salvaged before being towed to Woods Hole or Falmouth on Tuesday.
"I've had a lot of rescues . . . but this was my first boat fire in Oak Bluffs," Chief Wirtz said, who took over as department chief early this summer, moving to the Island from Chatham. "Good that everyone on the vessel got off, and there were no injuries."