If there's one thing Martha's Vineyard Sharks manager Jay Mendez stresses to his players and coaching staff it's that having each other's backs is essential if they want to be successful.
In his third season as manager of the team, it's evident that Coach Mendez's message resonated with this year's squad. Halfway through the season, the Sharks have 11 wins and are locked into a heated race for the top spot in the Southern division of the New England Collegiate Baseball League.
With reliable starting pitching, lights-out arms in the bullpen, patient and dangerous hitters at the plate and camaraderie that spreads throughout the Shark Tank, the 2021 Sharks are a team tailor-made for summer baseball.
From the first day of practice, Coach Mendez said he and his coaching staff set a tone of being there to work, to get better as a team and to help the players improve their game.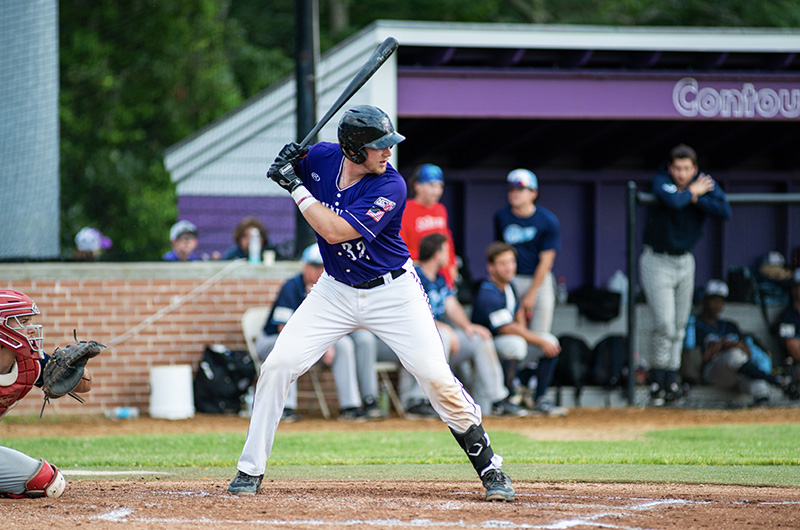 "I think the kids bought in from day one," he said. "I think the camaraderie the guys have has made a difference... our team gelled real early and that's not something we're used to seeing in the summer."
Coach Mendez said his players have the freedom to "just go out and do what they do best, which is playing baseball."
"We try to take the stress away from whatever it is they might be going through and just focus on baseball and however we can help them out and they seem to flourish with that," he continued.
The Sharks have been particularly impressive on the mound.
"Our biggest advantage, I would say, has been our pitchers. Early in the season, our pitchers carried us big time." Coach Mendez said.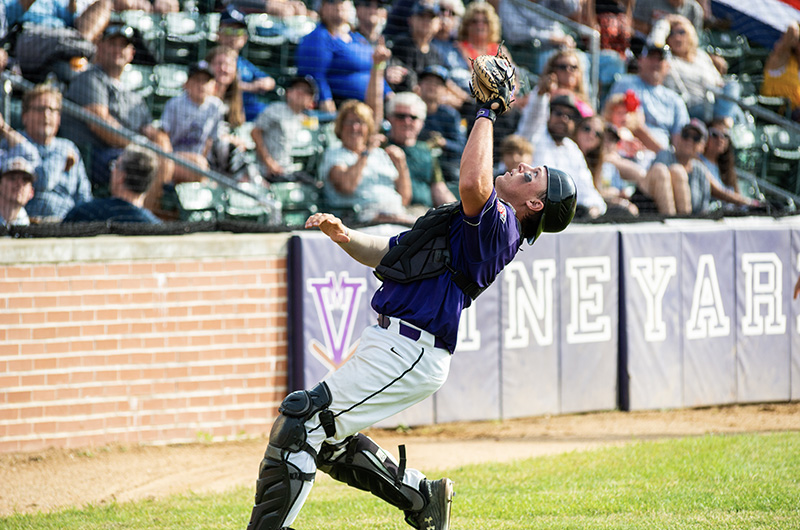 In particular, right handed hurler Jackson Nezuh has posted a 1.63 earned run average through three starts so far this season. The St. Cloud, Fla. native who plays college ball at Florida State University has struck out 15 batters and is yet to issue a walk.
Daniel Hegarty, one of three Sharks on the roster who were also members of the 2019 squad that lost in the championship to the Keene Swamp Bats, has also been a workhorse on the mound.
And like the 2019 team, when shortstop Nander De Sedas arrived halfway through the season, the 2021 team recently received a boost when Haydn McGeary, the Division II national player of the year, and Spencer Bramwell, McGeary's teammate from Colorado Mesa University, joined the team. So far McGeary and Bramwell have combined for three doubles, two home runs and six runs batted in over the past three games.
"I kind of have flashbacks to the 2019 team when close to halfway through the season we we're hitting a skid and [De Sedas] came from Florida State and we went on a 10-game win streak and it was smooth sailing from there. These guys have provided something like that. We just hope we can keep it going," Coach Mendez said.
Both McGeary and Bramwell are catchers but McGeary also plays first base and serves as the team's designated hitter. He received the Division II national player of the year recognition from the American Baseball Coaches Association, the Division II Conference Commissioners Association and the National Collegiate Baseball Writers Association. McGeary is a big guy with a big bat, standing at 6'5" and 235 pounds. Last season he led Division II in doubles and hits (26 and 88), and smashed 20 home runs.
When McGeary arrived on the Island last month, he admitted that he didn't know what to expect as it was his first time on the Vineyard. However, it didn't take long for the Arizona native to become infatuated with all the Island has to offer, in particular, the tranquility of West Tisbury.
"I love it. It's actually a lot different than I anticipated," he said. "There's a lot more greenery, a lot more forest. It's only a 10-minute drive to Oak Bluffs but you feel like you're in the middle of nowhere. It's kinda nice."
As far as the accolades he earned after last season, McGeary said his goal wasn't necessarily to be the best but to have the best season he could.
"I was trying to put up the best numbers I can, help the team as much as I could, and that I was able to do that and to do it on the level where I won those awards is nice. I didn't set out to be national player of the year but it's nice to be recognized," he said.
And now, with about a month left in the season, McGeary is looking forward to enjoying his time on the Island with his new teammates as they aim for another championship run.
"Everybody has been super cool. We're all kind of the same college baseball guys, 19, 20, 21 years old so it's been pretty easy fitting in and having a good time out on the baseball field," he said.
The Sharks have three upcoming home games before hitting the road next week. On Wednesday, they take on the Danbury Westerners at 7 p.m. and then play a doubleheader Friday against the Valley Blue Sox at 4:30 p.m. and 7 p.m.