The Harbor Homes of Martha's Vineyard art sale benefit at the Grange Hall in West Tisbury began at 2 p.m. on Tuesday. As soon as the doors opened the art began to sell.
"So many people were super eager to help out," said Jennifer Joanou, board member of Harbor Homes and participating artist. "People started buying art right at 2 p.m., right when we opened. Everyone is just so excited to buy art and support the organization."
The event raised close to $50,000 for the organization.
Harbor Homes aims to combat homelessness on the Island by providing safe and secure housing for low-income residents. In 2020, it opened its first home for men, and in 2021, it purchased its first home for women. Additionally, it operates a winter shelter and warming station.
The art sale was held Tuesday and Wednesday and featured work by artists such as Allen Whiting, Wendy Weldon, Rez Williams, Kara Taylor, Billy Hoff, Marjorie Mason, Colin Ruel, Jeanne Staples, Richard Erickson, Jennifer Joanou, Ruth Kirchmeier and Cindy Kane.
Marjorie Mason, participating artist and former treasurer of Harbor Homes, said that artists and volunteers had jumped at the chance to help the cause.
"Everybody just kept saying yes," Ms. Mason said.
Ms. Joanou and Ms. Mason helped organize the event along with Tanya Augoustinos, director of the A Gallery. Artists donated work so that fifty per cent of all sales go to operating expenses for Harbor Homes. Ms. Frank noted that multiple artists agreed to donate 100 per cent of proceeds.
At a reception Tuesday evening, guests admired the art, sipped beer and wine donated by MV Wine and Spirits and slurped oysters donated by Spearpoint Oysters. David Stanwood played piano.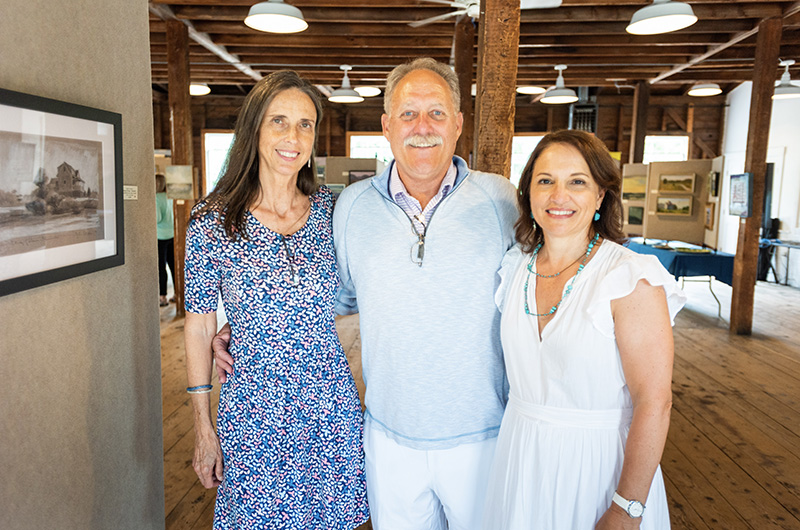 Karen Tewhey, Harbor Homes executive director, called the event a "major success" and a "community-wide effort." Standing among board members, volunteers, supporters and artists, she said how nice it felt to honor the cause collectively at what she described as "the first annual art sale."
Rev. Chip Seadale, president of the board of directors and the rector of St Andrew's Episcopal Church in Edgartown, addressed the gathering. He spoke of the organization's growth and evolution, praising in particular Ms. Tewhey's leadership.
"Now we're up and ready to take on these challenges that are facing people without housing, and [Ms. Tewhey] is finding ways to get money over here… [and] people who are sympathetic to the cause, and we've been able to put all kinds of things together," he said.
He thanked the crowd for supporting the effort and reminded everyone why they were here.
"Don't hold back — find a piece of art that somebody put their talents and capabilities into, and you can bring that home and say to yourself, I supported Harbor Homes of Martha's Vineyard," he said.
"Those people out there during those winter nights when we know it's so cold . . . you support them," he added.
For more information about Harbor Homes and ways to donate money, visit harborhomesmv.com.