The last remaining piece of Washington Post publisher Katharine Graham's grand Mohu estate on Martha's Vineyard's north shore goes on the market Friday for $39.5 million.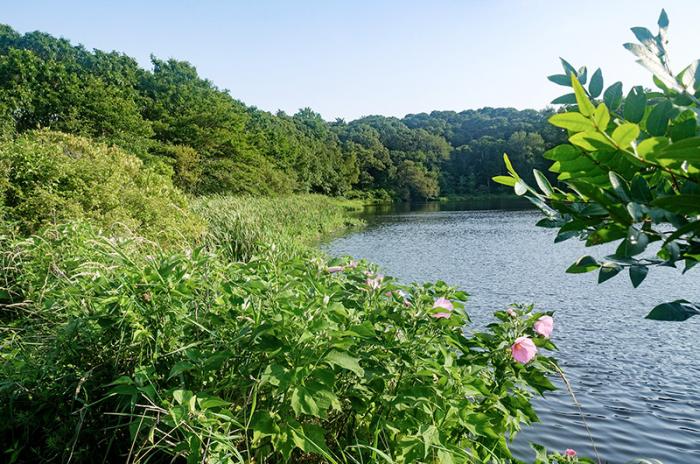 At the heart of the 50-acre parcel is the site of Mrs. Graham's former home overlooking Lambert's Cove, still marked by towering twin stone chimneys that were preserved when the house itself was dismantled in 2005. Trails weave down through woods and carefully tended meadows to a stretch of white sandy beach. James Pond borders the property on the east side, and a smaller pond is nestled in the middle.
The Graham estate once spread out over 236 acres, but the majority of it was put up for sale for the benefit of two unnamed charitable organizations following the death in late 2017 of Mrs. Graham's son William, a Los Angeles lawyer and investor. A year later, the 186 acres were purchased for $32.5 million by a trust created by neighboring homeowners Brian L. Roberts and Dirk Ziff, who have pledged to keep the land undeveloped.
The remaining 50 acres was retained by the Graham family, who ultimately decided to sell.
In a statement emailed Wednesday to the Gazette, the family said: "We have loved this land. For several reasons, including geography, we're not able to take care of it and use it in the way we would wish. After a lot of deliberation we've therefore decided it is time to sell it."
A stunningly beautiful mix of hills, shoreline, wetlands, woods and pastures bounded by stone walls, the estate was pieced together by William M. Butler, a Massachusetts lawyer and legislator, who made a series of strategic land purchases between 1910 and 1920. He dubbed it Mohu, after an Algonquin chief.
Senator Butler, who was chairman of the Republican National Committee and served in the state Senate and briefly as an interim U.S. senator, began a long tradition carried on in later years by Mrs. Graham of entertaining dignitaries at his 22-room hilltop home. Calvin Coolidge, a Massachusetts governor who later became president, was a frequent visitor.
The property was sold in 1964 to William and Elizabeth McFarlane, their son and daughter in law, who had plans to divide it into 15 exclusive home sites. The project never got off the ground, and in 1972, Katharine Graham was persuaded by Vineyard Gazette publisher Henry Beetle Hough to purchase Mohu to keep it out of the hands of developers. She paid $1.46 million for 217 acres.
"The transfer means that Mohu will continue as one of the Island's special glories, its hills, ponds, declivities and beach preserved from the 'development' that had threatened a scenic heritage tracing from long ago when the glacial ice sheet cut into the coastline," the Gazette wrote at the time.
Every summer for most of three decades, Mrs. Graham presided over a stream of famous guests, ranging from Henry Kissinger to Oprah Winfrey, hosting dinner parties and tennis games and establishing Mohu as the Island's foremost salon.
After her death in 2001, the property passed to Bill Graham, who preferred a quieter life. He deconstructed the house and removed the tennis courts, focusing instead on the fields, trails and landscapes, which he meticulously maintained.
The 50 acres now being sold includes a porched bungalow built in 1930 and once used as the tennis house, a small stone caretaker's cottage and a boathouse fronting 860 feet of beachfront.
Tom LeClair and Gerret Conover of LandVest Martha's Vineyard are the exclusive brokers for the property.
"It's rare to find a place that is has so many distinct and different ecosystems — woods, meadows, beach, pondfront, marshland," Mr. LeClair said. "It is amazingly unique and difficult to describe without walking it and experiencing it."
The property is assessed by the town of West Tisbury at $16.3 million. Mr. LeClair said the asking price takes into account the "incredible privacy" of the property, which is surrounded by the 186 acres that was sold previously. It is also a reflection of the overall real estate market on the Island, which he said has appreciated by 20 to 25 per cent over the past two years.
"It's a generational property, an asset somebody is going to buy and hold to for generations," Mr. LeClair said.
Updated to correct the asking price for the property, which is $39.5 million, not $38.5 million.