Fall sports got underway in a big way this past weekend, with home and away fields full of action. All across the board the Vineyarders faced tough competition but everyone agreed, win or lose, it was good to be playing again after last season was canceled due to Covid.
Teams on Saturday opened their games with a moment of silence to remember 9/11 followed by the national anthem, with players bowing their heads and linking arms.
On the boys soccer pitch, the team had looked to capitalize on a great pre-season start, winning the Nauset tournament, but the Norwell Clippers proved too much, winning 2-0.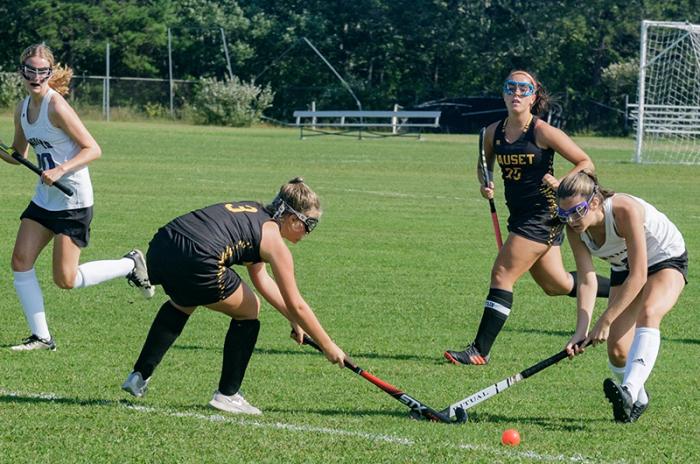 The first half of the game saw Norwell attacking with the Vineyarders playing solid defense. Senior goalkeeper Rhay Rodrigues made eight saves in the first half.
But the constant attacks by the Clippers eventually proved too much. The Clippers scored their first goal by senior Mischa Spasic in the second half of the game and quickly followed up with another goal by senior Matt McKenna two minutes later.
The Vineyarders did have a few opportunities in the second half, including a break-away shot by senior Andrew DaSilva, but couldn't convert. The Clippers remained solid on defense, blocking the Vineyarder's passing lanes.
Boys soccer next takes on Dennis-Yarmouth on Sept. 14.
Girls soccer is currently 0-2 but looks to turn the tide against Dennis-Yarmouth on Sept. 14. The golf team is 1-1 and takes on Nauset at Farm Neck Golf Club on Tuesday.
Field Hockey is currently 0-2 with losses to Nauset and Norwell. They play next on Wednesday at Barnstable.
The football team lost its opening game of the season Friday against Seekonk, 27-6. They have an away game against Bristol-Plymouth Tech this Friday.
For full schedules and results, visit arbiterlive.com.