Cheers rang out on the Martha's Vineyard Public Charter School campus Friday morning, as the school community celebrated its 25th anniversary with a larger-than-usual assembly under a tent on the rain-soaked playing field.
Nothing was easy about pulling off the gathering on such a stormy morning, school director Pete Steedman said, welcoming a crowd that brought together former teachers and some of the Island parents who founded the school a quarter-century ago, along with current students and staff.
"That's probably how you felt 25 years ago, when you got this school started — nothing was easy," Mr. Steedman continued, as charter school founders including Paul Karasik, Sidney Morris and Nelia Decker beamed behind their masks.
"Looking at our guests here today... we certainly stand on the shoulders of giants," Mr. Steedman said, thanking the founders for their courage in starting a different kind of public school despite the challenges.
"Here we are, the results of what you did 25 years ago," he said, to boisterous applause.
There were also cheers for long-serving staff members such as Jonah Maidoff, who has taught at the charter school for its entire 25-year history, and many others who have spent their careers there.
"People who have been here, who really established this foundation... they've given their lives to the charter school," Mr. Steedman said.
The loudest, longest and most enthusiastic ovation of all went to the meeting's keynote speaker, beloved former mathematics teacher Deborah Cutrer, who retired in June, 2020 after 18 years at the charter school.
"I don't know if I can do this without crying, but I'm gonna work real hard to, because this is the first time I've been back among the population as a community since I retired," said Ms. Cutrer, who was known universally as D.C. on the first-name-friendly charter school campus.
"It's just lovely to be with family again, so thank you for bringing me here today," she said, before turning to the founders seated nearby.
"These are the people I hold in glory, right here," Ms. Cutrer said, her voice nearly breaking as she continued. "They had the idea to go up against what we know on the Island as a very solid school system, and said, 'We need something else," Ms. Cutrer said. "They are the bravest and boldest people I know."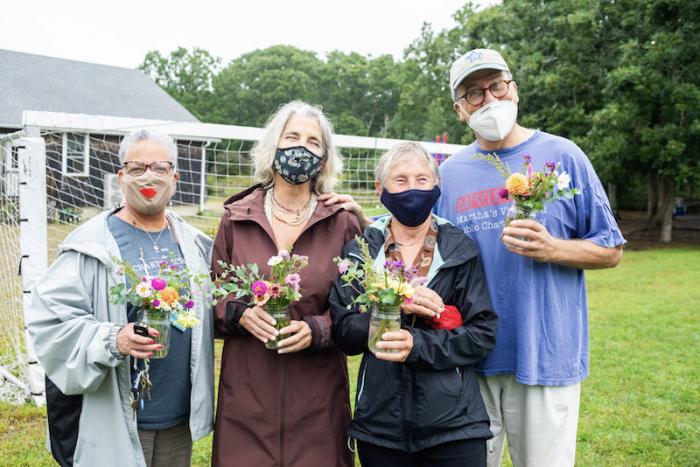 Current charter school senior Brendan Donnelly also took a turn at the microphone to talk about the student experience.
"I want to say thank you to all the teachers for celebrating the individual," Mr. Donnelly said. "Everyone finds their own favorite teacher, but they all kind of guide your life in a very singular way. They keep their core values — of themselves, of the school — and they instill them into you every day, whether it's consciously or subconsciously."
"You sit in your classroom, you watch them and you follow their lead, and I don't think that can be found anywhere else," he added, to applause.
Friday's celebratory meeting concluded with a song, led by former 10-year charter school music instructor Roberta Kirn. Students, staffers, founders and returning teachers spread out across the still-soggy field, the voices of young children mixing with those of senior citizens as they sang "Joyfully, joyfully, we are all entwined."