In a disappointing Friday night under the lights, the Vineyard football team fell to the Sharon Eagles at home in overtime, 15-7.
Both teams were 0-4 for the season going into the game and were itching to win. And but for mistakes on the field, it could have been anyone's game. Both teams struggled to convert and capitalize on opportunities to score.
In the first half it was a back-and-forth battle with multiple sacks by the Vineyard, including one from senior captain Kaleb Hatt that forced Sharon to punt. Sharon had an opportunity in the second quarter, but sophomore Anthony Piron was stopped in his tracks by the Vineyard. As the sun set over the football field at the half, the game was scoreless.
Then in the third the Vineyard team fired up the crowd with significant gains by senior running back Ty Mathew, followed by senior captain Jayden Coyle. Mathew scored first, followed by a field goal from senior Hiaggo Goncalves. The Vineyard was up 7-0, and cheers from the crowd echoed around the field.
"Small bites, that's what I say to my kids," fan Leslie Frizzell said. "Let's focus on some small stuff where we can have some successes."
The third quarter proved to be the Vineyard's best, with 70 yards gained in 13 attempts at rushing the ball. A punt was blocked by Sharon in Vineyard territory but quickly picked up by Coyle, who ran it back to the 50-yard line for a better field position.
But the Eagles wouldn't let up, and in the fourth sophomore running back Gabe Korn scored a 35-yard touchdown, with an extra point by junior Jace Mccarron to tie the game at 7-7 with 7:52 left on the clock. Both teams battled for the ball, with the Vineyard blocking Sharon's 32-yard field goal attempt. Both also had their share of holding, false starts and illegal formations.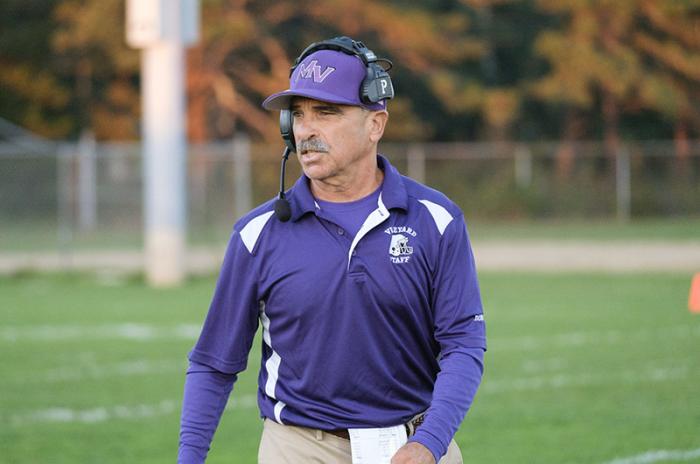 The game went into overtime and Sharon got the ball first. On the first play Korn scored another touchdown and followed up with a two-point conversion. The Vineyard got the ball back and almost answered with another touchdown by Mathew, but were called back to the 20-yard line on a holding call.
After the game, longtime coach Donald Herman made no attempt to hide his frustration. He acknowledged that his team played hard, but said he was baffled by the mistakes.
"I am at a loss for words. We are finding and creating ways to lose football games," Coach Herman said.
But already he was looking ahead to next Friday's game against Nauset.
"We go to work on Sunday and look at the film and try to evaluate what things are working for us and find out what went wrong," the coach said.