More parking, a slightly scaled-backed building and a slew of unfinished details were on the table for more discussion when the developer who wants to expand the former Edu Comp building in Vineyard Haven presented a revised plan to the Martha's Vineyard Commission late last week.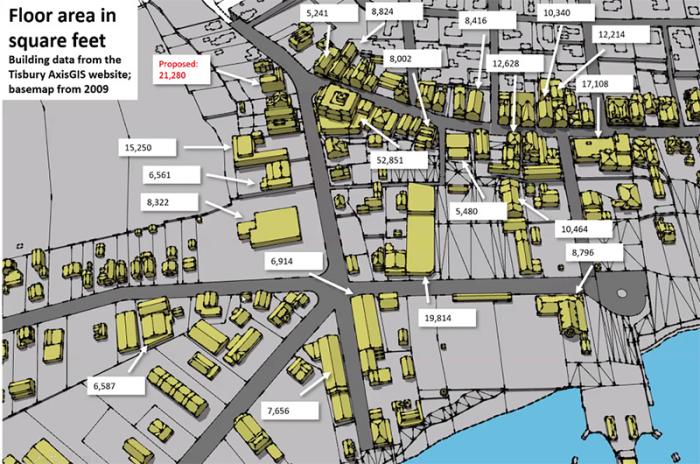 Xerxes Agassi has an option to buy the red brick building at the head of Main street with a plan to convert it to residential condominiums and office space. The first version of the plan unveiled at a public hearing last month included a ground floor arcade with retail space, but that part of the plan has now been eliminated, replaced by four commercial office spaces. A real estate office, interior design firm and his own property management company are among the firms that would occupy the space, Mr. Agassi told commissioners at a second hearing Thursday night. Parking has been increased from 17 to 21 spaces.
But the bulk of the proposed expansion, which would nearly triple the size of the building and make it the second largest building in downtown Vineyard Haven, would be for residential housing, most of it high end.
The revised plan presented Thursday night reduced the total square footage of the building to 21,280 square feet and cut the number of units from 15 to 14. One unit is pegged as affordable (previously there were two) and four as workforce housing. The latter term has been used broadly in recent years, with no clear definition.
Mr. Agassi said his firm Delano and Co. owns and manages some 30 properties on the Vineyard — most of them geared toward workforce housing for Island businesses. For this project, he said the goal is to create rental housing for visiting doctors at the Martha's Vineyard Hospital.
"We have a nice relationship with the hospital, and we know how desperate the situation is with housing on the Island," he said. He continued:
"Doctors who come to the Island have a certain expectation of housing . . . we need all types of housing. This type of housing is geared toward that type of professional . . . this is going to be done at an extremely high level."
Commissioner Doug Sederholm asked Mr. Agassi to clarify. "What makes it workforce housing? What are the income limits? " he said.
"That's an issue," Mr. Agassi replied, describing a plan for long-term leases with deed restrictions. "If the hospital decides not to use it, then it would go back into a pool . . . making sure they are used by the workforce," he said.
New renderings were shown, but no elevations have been provided yet, drawing pointed remarks from commissioners.
"I appreciate what you were trying to do with the renderings, but we really need to see the true elevations of the building to evaluate of what's being built," commissioner Fred Hancock said.
"If I could get a general sense from the commissioners as to what some of the likes and dislikes are . . . we could do a serious [set of] renderings," Mr. Agassi replied.
Mr. Sederholm corrected him. "We try not to do the design ourselves," he said. "I think what you have to do is decide what you want to build and provide us with elevations. We need to see the elevations."
A major unresolved issue centers on a shared easement with abutting property owners on both sides for use of the horseshoe-shaped driveway that encircles the Ed Comp building.
The easement and the actual driveway are not aligned. At the first hearing abutters described a longstanding informal arrangement they had with the late owners of Edu Comp for shared use of the driveway. Both the abutters and Mr. Agassi said they had begun talks to resolve the issue.
But on Thursday tensions between abutters and the developer flared briefly.
"I'm an open person, I've tried to reach out to the abutters . . . I've basically gotten very little back until the last few days," Mr. Agassi said. "It's a give-and-take process and it really takes engagement on both sides."
But abutter Joe Grillo said the new plan shows a driveway configuration he had previously not seen.
"This plan is not the plan we have been working on and previously agreed on," Mr. Grillo said. He continued: "I will say that Xerxses and I, we do continue to talk, but this new driveway . . . is a total blindside to me I didn't get [a copy of the plan] until today. The assertion that we've been uncooperative is just not true."
Abutter Erik Hammarlund reiterated his position that the proposed new building is too large.
"I did find the presentation . . . with all due respect a bit mildly disingenuous," he said. "If you start with an enormous project [and] you reduce it, it doesn't mean it's small. It means the original was far too large."
Mr. Sederholm advised all parties to try to work out their differences.
The hearing was continued to Dec. 2. MVC chairman Joan Malkin listed the many loose ends still associated with the project.
"It seems to me there are a lot of issues to be solved," she said.