Santa came early to the Island this weekend, but with a twist: no sleigh or reindeer, just 40 men and women on motorcycles. And old St. Nick himself led the pack.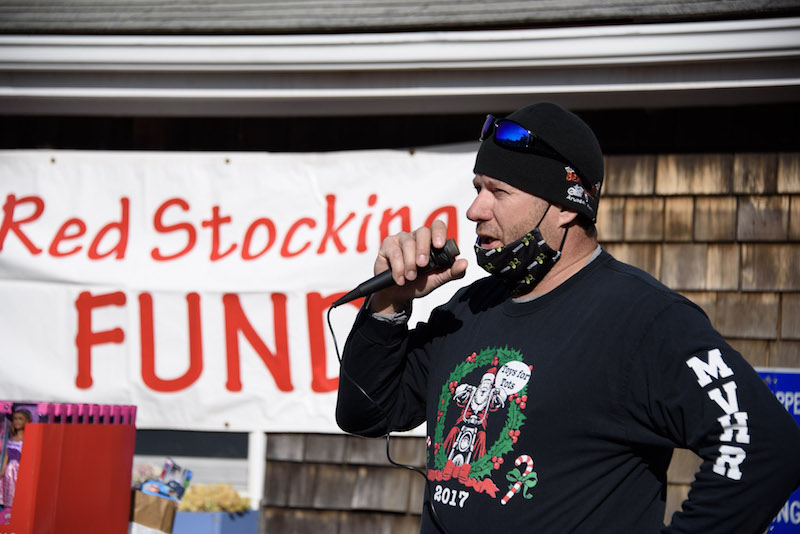 "On the way over here, people give you weird looks because it's not even Thanksgiving yet," said Mike (Panhead) Fuss, dressed as Santa at the Portuguese American Club in Oak Bluffs Sunday morning.
The group was gathered for the annual Red Stocking Fund run, a motorcycle ride put on every year by the Martha's Vineyard Harley Riders club. Red Stocking has been providing new toys and warm clothing for needy Island children at Chritsmastime for going on a century.
Harley riders came from various parts of the Island as well as the mainland, with some traveling from Cape Cod and at least one person from Rhode Island. Some in the group looked like Santa's rough-and-tumble cousins with their snow white facial hair and leather biker jackets.
"So what does it take to make this happen? Community participation," said Phillip Levesque, president of the Harley Riders. "It's not just Martha's Vineyard Harley Riders here, there's all kinds of independent riders. The community comes together to make this happen."
Mr. Fuss, aka Santa, led the group in prayer before the ride.
"Really glad to see you all here," he told the crowd. "I'm my alter ego St. Nick today and these days . . . I'm a motorcycle minister and so I'd like to say a blessing over this run."
The riders then revved their engines and took off, leaving a faint smell of gasoline in their wake. The group wound its way from Katama to Menemsha to the Lagoon Pond drawbridge, stopping along the way to take in views of the water.
"All the windy spots," Mr. Levesque quipped.
The group solicited donations along the way, and the ride ended where it started, at the PA club, where a lunch of fettuccine alfredo, salad and garlic bread awaited.
The Harley Riders and Red Stocking Fund have been putting on the event for 35 years, Red Stocking co-chairman Susie Wallo said. This year the ride raised $12,127, on top of toy donations. Toys gathered at donation bins in front of businesses like Cronig's and Shirley's were stacked high on a table in front of the club.
"Every year we just get blown away by how much [the Harley Riders] do," Ms. Wallo said. "We all need to figure out how to take care of our own, and because of everything you do, we're going to be able to take care of some extra kids this year."
But fundraising just the beginning, Mr. Levesque said, praising the many Red Stocking volunteers who go to work every year, organizing, wrapping and distributing gifts to hundreds of Island families.
"This kind of is the easy part. Doing the motorcycle thing, grabbing some donations," he said. "They have to still put all the gifts together and make sure who it goes to and they really have the larger end of the deal. We're very thankful and fortunate to be able to work with them."
The Harley riders promote the event, but they don't have to do much because so many people love to participate, Mr. Levesque said.
"Everybody looks forward to it every year," he said. "They're always asking, when's the Red Stocking Fund run? Everyone knows it's coming up and everyone loves to participate."
Rene Mathieu, who has been participating for 27 years, had a simple reason for why he keeps coming back.
"The kids," he said.