At the Island Food Pantry, operations manager Sharon Brown teaches people how to stretch 15 cents to create a dollar's worth of food in a meal. That's what she did as a nine-year old child making spaghetti and meatballs for six family members. And it's how she got by as a pantry client before joining the staff in 2020.
"That's who I am. I help people. I make sure they're eating healthy and taking care of their minds, bodies and souls," she said in a recent interview with the Gazette. "If they're not eating healthy, they're not going to be okay."
Every week, the pantry provides free food for up to 500 people a week. Vegan, vegetarian and gluten-free options are available — and Ms. Brown stretches the budget to include items such as hummus and guacamole. What's offered is not just cans on a shelf. Pet food, women's sanitary products and access to organizations such as Martha's Vineyard Community Services, Imperative Health and various treatment centers are all part of the offerings.
In 2020 the food pantry merged with Island Grown Initiative to work together on food insecurity issues on the Vineyard. It relocated its base of operations to the Portuguese American Club in Oak Bluffs and is open on Monday, Wednesday and Saturday each week for anyone unable to afford groceries. A "take as much or as little as you need" policy is in place and shoppers browse the shelves rather than being handed a bag of goods. No identification is required though a registration form is requested on the first visit.
Taking care of people has been Ms. Brown's life's work. She grew up in the Bedford Stuyvesant neighborhood of Brooklyn, N.Y. The crack cocaine epidemic of the 1990s hit her family hard — her parents and eight aunts struggled with addiction. Her grandmother raised Ms. Brown, her younger sister and cousins with a lot of love. But with her grandmother working 12 hours a day, Ms. Brown ended up parenting the other children.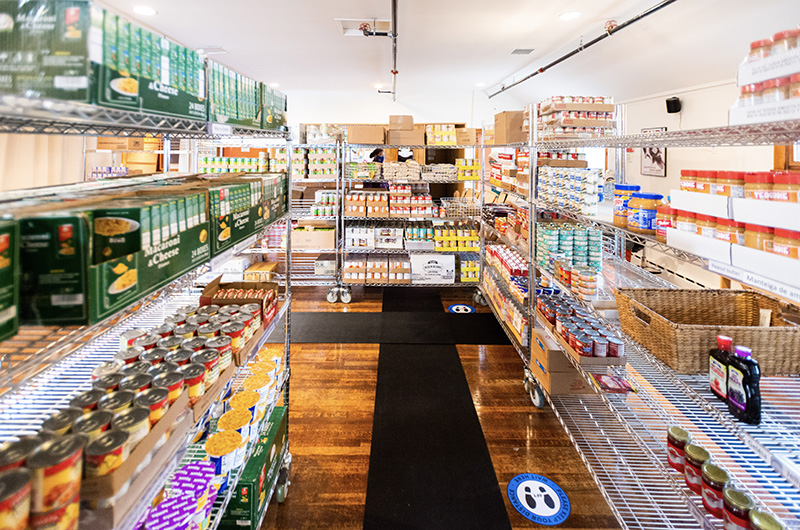 "Someone had to do it and there was no one else," she said.
Her care for others continued as she earned a college degree and grappled with hardships including the deaths of family members and financial difficulties. She worked as a counselor at mental health facilities and prisons before cooking and catering, auditing food services and offering nutrition counseling. Simultaneously, she raised her sister's children and three of her own.
Her friend Patrese Peterson would eventually introduce her to the Vineyard. Ms. Brown laughs when she remembers that she thought she was being invited to the Island for a vacation in 2018. Instead, Mr. Peterson pulled her into the Martha's Vineyard Vegan Society. She quickly became its events manager. She commuted from Delaware every couple of weeks and, with her own money, paid for produce to give away to Islanders who couldn't afford it themselves.
She knew right away that the Island was the place for her.
"Everything happens for a reason," she said with a laugh. "The first time I came here, even when I was just on the boat, I felt like I was coming home. I felt the Island calling me."
Within a year, she and her children moved to the Island. She found work cooking at the Charlotte Inn and some local bars. When the pandemic hit in 2020 and she was out of work, she moved off-Island and began another job. She's glad the food pantry job provided the opportunity to return.
But achieving a sense of belonging hasn't always been easy. It's been hard to make friends, even if people are friendly, she said.
"I don't think people realize how difficult it is to be black on Martha's Vineyard," she said. "Race is a problem. Especially for a woman with black dreads. People come into the pantry and act like I'm not there. Because I'm black, they don't believe I run the food pantry."
She is grateful that the Island Grown Initiative staff and pantry volunteers have become friends and family.
But like so many year-round residents, she struggles with housing. In four years, she and her children have moved six times. She hopes to find a year-round rental soon. Many pantry clients struggle with the issues she has encountered during her lifetime of service: chronic health issues, aging, substance abuse, psychological disorders, mobility and homelessness.
"When you see someone come to the pantry, they don't just need food," she said. "Something else brought them here. It's never just food."
"A lot of people don't believe that a food pantry should exist on Martha's Vineyard," she added. "When I tell people what I do, they think it's a little hole in the wall. Or that people on Martha's Vineyard just go to the beach all the time. I want people outside the Island, the people who come here for vacation, to know that people on Martha's Vineyard need help."
The Island Food Pantry is located at 137 Vineyard avenue, Oak Bluffs; open Mondays 2-4 p.m., Wednesdays 1-6 p.m. and Saturdays 10 a.m. to 1 p.m. For more information call 508-693-4764 or email info@islandfoodpantry.org.