I walked the perimeter of Martha's Vineyard last October over four consecutive days. I walked six to seven hours a day, covering 12 to 15 miles at a stretch. The second day coincided with my 60th birthday.
There were both physical and emotional challenges along the way. My family has a long history on the Island, and the walk brought up memories. Step by step, some stretches more contemplative than others, the past walked into the present.
Day one, Oct. 4: Lake Tashmoo to Menemsha. Rainy, rocky and slippery. My Uber driver offered words of encouragement when she dropped me off in the pouring rain at the end of Chappaquonsett Road.
I found surer footing in spongy clumps of seaweed. I saw dozens of washed-ashore lobster traps and colorful rope. For a time I counted birds: cormorants, terns, gulls, a few crows and one egret.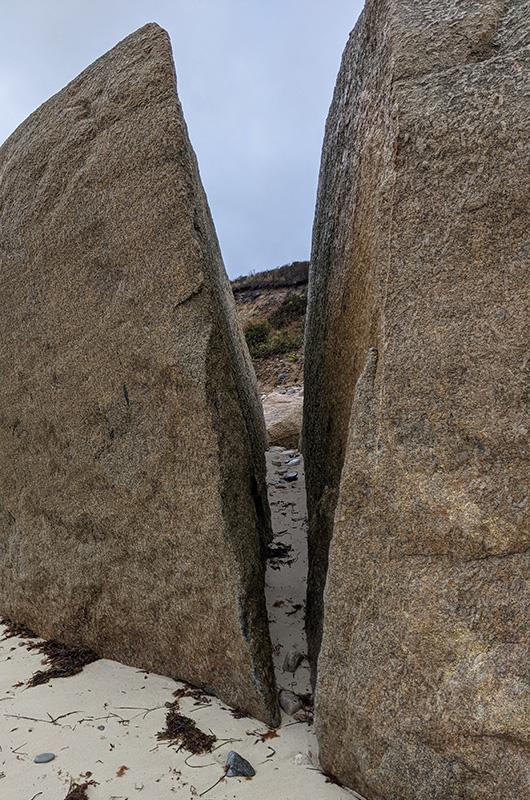 I started thinking about where I was. On a gorgeous coast of a beautiful Island, alone and walking. A speck on the planet.
When I arrived in Menemsha a woman was on the beach with her dog. I told her I had just walked for more than seven hours. "Oh, don't you love being on the beach on rainy gray days?" she said. I laughed and thought of the rocks, driving rain, my sore muscles and feet.
Day two: Menemsha to Stonewall Beach. I woke up so stiff I couldn't stretch my arms past my knees. Happy 60th birthday!
There were fewer stretches of rocks, until near the end approaching Squibnocket. I settled into a nice rhythm. I took in magnificent boulders, studied visual patterns, smiled at the intermittent sunshine, and sang as I walked.
The Gay Head Light become my morning beacon, and I read the tide chart correctly to get around the point without swimming. At one point I stopped and bandaged a problem toenail and blister.
I thought about my siblings. I'm the youngest of nine kids. My family history includes a sister's suicide, another's accidental death, multiple mental illnesses and substance abuse. I recalled my brother tossing a suitcase off the ferry into the harbor while manically rambling. I thought about my sister in a tiny Circuit avenue apartment, holed up and paranoid.
Walking created space for reflection on the whole kaleidoscope, my own substance abuse and sadness included. I got sober 16 years ago. I don't think I would have done the walk if I hadn't.
At the end of the day, I sat in the parking lot of Stonewall Beach. I couldn't reach Uber, so I walked to the road and stuck out my thumb. Eventually a woman named Paulette stopped and gave me a ride. We laughed and enjoyed each other's company for the length of the ride. She reminded me of my mother. After time spent thinking about my family, here was a spirit like my mom's to take me safely back to my temporary nest.
Day three: Chilmark to Katama. A long march across the southern shore. Nothing but sand in front of me and the Atlantic to my right for 14-plus miles. I reached the cut between Chilmark Pond and the Atlantic. It looked like a mile across, but probably was about 15 yards.
I paused briefly then wrapped my phone in a plastic bag and decided to start wading. If it got to my chest, I would turn around.
The current was stronger than it looked. Halfway across, the water rose just above my waist. Three-quarters of the way across, I slipped. I instinctively threw my left leg forward and didn't go under. I was wet to the chest but scrambled to land.
Safely on the sand, I started laughing and yelling.
I grew tired as I covered the remaining miles to Katama. Finally, I arrived at the parking lot off Atlantic Drive. I returned to my place, ready to collapse.
Day four: Katama to Oak Bluffs.
The morning broke bright and clear. I felt like a tiny speck in the universe, but connected to all of it.
As I headed toward Wasque Point, my family history once again dominated my heart and mind. I listened to a recording of interviews I did with three of my siblings about their lives.
They expressed a mix of emotions as I asked them about growing up. My family was included in a National Institute of Mental Health study investigating familial clustering of serious mental illnesses.
Eventually a shift occurred. The emotions dissipated, no doubt a combination of exhaustion and hours of mindful walking. Somehow the past became less urgent. I didn't need to question it.
The day felt triumphant. I reached the Dike Bridge, turned down the Chappaquiddick Road and took the ferry to Edgartown. I walked along State Beach to Oak Bluffs.
It had been four days of rock, sand, sky, water, and self. Today I had a more peaceful view of the past. How did I get there? I walked.
Luke Frazier lives in Cleveland, Ohio.