Shaking off the doldrums of a two-year pandemic, the Yard is about to open its 50th season with a lively program of dance concerts, works in progress, DJ parties and public classes for all ages.
"We are entering the summer ready to celebrate, and excited about the amount of joy that these companies bring to our Island with their work," said Yard executive director Chloe Jones, speaking with the Gazette by phone.
Since 1973, when choreographer Patricia N. Nanon founded the Yard as an incubator for new work in modern dance, the Chilmark nonprofit has hosted creative residencies with performers on the leading edge of movement arts. Over the years, the Yard has added workshops with the visiting artists as well as regular classes for all ages.
"Dance has amazing lessons … to do with empathy and pursuing collective transformation and community," Ms. Jones said. "We really want them to be accessible to all levels and all ages."
This year's Yard residencies are a mix of returning artists, including Urban Bush Women, Ronald K. Brown/Evidence and Ephrat Asharie, and intriguing newcomers such as Brownbody, a New York-based ice-skating dance company with the motto "Skate truth to power."
While the overall tone of this year's season is celebratory, Ms. Jones said, some of the works in progress also share a common thread of healing. Larissa Velez-Jackson, who is in residence now with her LVJ Performance Co., has survived multiple myeloma and incorporates her cancer experience into her work.
"Building on her personal experience, she's investigating how art-making and integrated body-mind practice can be healing and transformational," Ms. Jones said.
Ms. Velez-Jackson and her company perform June 7 at 7 p.m. at the Yard's Patricia N. Nanon Theatre — two years after they were originally scheduled to come to the Vineyard. With the 2020 season canceled due to Covid-19 and a diminished program in 2021, Ms. Jones said, only now is the Yard seeing some of the artists who were first invited long before the pandemic.
"We're finally getting to welcome and work with some of these companies we've been in conversation with for two, three, even four years," she said.
Arriving in early June, Chicago's Lucky Plush Productions will perform a work called Rink Life at the theatre June 11 and June 12.
"It's an amazing dance theatre piece that looks into the roller rink culture of the 1970s," Ms. Jones said.
And, as increasingly is the case with Yard artists, there's a lot more than dance taking place on the stage.
"Not only are they dancing and acting — they sing the soundtrack to Rink Life themselves," Ms. Jones said.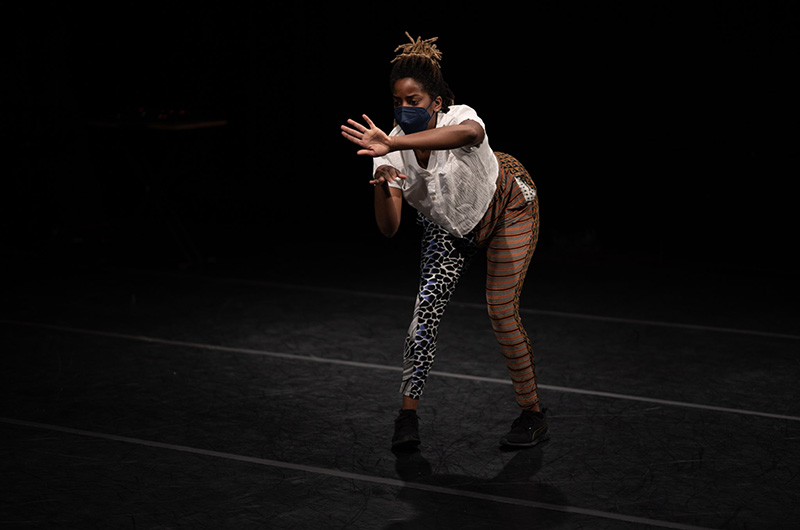 Following the public performances, Lucky Plush will stay on Island for another week of residency as, for the first time, the company's members bring together the work they've been developing solo or in small groups during the pandemic, Ms. Jones said.
There's no set date yet for appearances by Urban Bush Women, the acclaimed African-American women's dance company from Brooklyn, but Ms. Jones said they are likely to take place in the Island community. The group is deeply into creating a work, Haint Blu, that has brought them to the Island twice over the past year, she said.
"There's a kind of almost co-creation that's happening between Urban Bush Women and individuals and communities here on the Vineyard," Ms. Jones said. The term "haint blue," originating in Gullah, refers to the blue color painted on Southern porch roofs in a tradition that later spread North. The work by
Urban Bush Women exists in a concert version, Ms. Jones said, but the company also is creating specific versions for communities including Martha's Vineyard.
"This is definitely a very multi-dimensional work," she said. "It is really rooted in our Island context."
The company will return to the Vineyard in the summer of 2023 to finish Haint Blu, Ms. Jones said.
"It's a multi-year, really involved project that really speaks to what we at the Yard hope to be doing more," she said.
Community engagement will also be part of the program when Adele Myers and Dancers return to the Yard in July. Based in Miami, the high-energy troupe centers itself in female solidarity, Ms. Jones said.
"[Ms. Myers] describes her cast as 'female athletes of the heart,'" Ms. Jones said. "They are truly high performance athletes."
In addition to performing their piece T.W.I.S.T. (These Women in Space and Time) at the Yard on July 15 and July 16, the company will host two "T.W.I.S.T. Talks," still to be scheduled, Ms. Jones said.
"These are gatherings for femme-identifying individuals to come together and as Adele says, 'twist against disempowering ways we move through the world in our daily choreographies,'" she said.
The action shifts to the Martha's Vineyard Performing Arts Center in Oak Bluffs July 23 for a one-night show by Ronald K. Brown/EVIDENCE, one of the Yard's biggest draws in seasons past. The evening of repertory will also include the company's newest piece, just after making its debut at the top-tier Jacob's Pillow festival in Becket, Mass. Titled, The Equality of Night and Day, the new work uses text by Angela Davis, visuals by Deborah Willis and music by Jason Moran as it expresses through dance the history and dilemmas facing young people, women and people of color in our society.
"It will be a full evening of unbelievable, fierce dancing," Ms. Jones said.
Another multi-year collaboration in the works at the Yard involves Boston-based Danza Orgánica, which returns for a second residency with members of the Wampanoag tribe in late July.
"They were with us last summer [and] there was a work in progress showing at the Yard," Ms. Jones said. "Our plan is to have culminating performances this fall."
On August 11 and August 12, the Yard returns to the ice arena at the YMCA of MV, where audiences were thrilled and astonished by Montreal-based gliding troupe Le Patin Libre in 2016, 2017 and 2018. This time, the artists on skates are from the Minneapolis company Brownbody, a female-led company that incorporates modern dance, ice skating and theatre from the perspective of the African diaspora.
"They're looking at how elements of ring shout [a worship tradition dating to the early enslavement of Africans in the New World] continue to serve as a pathway to healing among a lot of black spaces," Ms. Jones said.
Capping the Yard's 50th season of performances, Ephrat Asharie returns to the Patricia Nanon Theatre August 26 and 27.
"She is a super talented B girl," said Ms. Jones, using the phrase in its late 20th-to-21st-century connotation of a skilled female break dancer.
Ms. Asharie's company at the Yard will include special guests from the New York city underground scene, celebrating hip-hop, vogue, house and break dance styles in her newest work Underscored, Ms. Jones said.
Along with dance concerts, the Yard has a full summer of classes and other community events, Ms. Jones said. Yoga classes and all-ages movement classes are returning, she said, and ecstatic dance sessions with D.J. Flavia have been added to the season as well as a Wednesdays with the Artist workshop series.
"There will be multiple opportunities to come and groove out with us," Ms. Jones said.
A Pride dance party is in the works for June, she added, potentially involving Lucky Plush Productions.
"It's beautiful to see how Pride on Martha's Vineyard continues to grow," Ms. Jones said. "The Yard wants to continue to be part of that celebration."
For tickets, information and schedule updates, visit dancetheyard.org.