The Martha's Vineyard Regional High School class of 2022 was lauded for its depth of character, hard work and perseverance Sunday afternoon as families and friends crowded beneath the soaring roof of the Tabernacle in Oak Bluffs to celebrate graduation.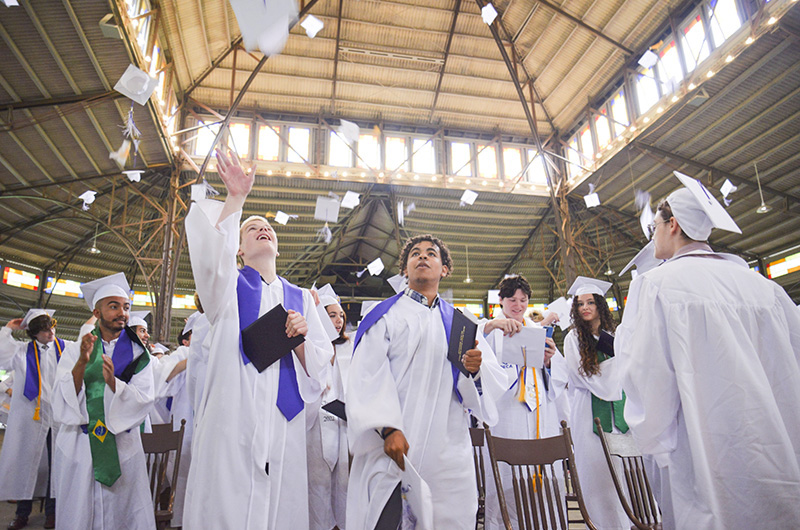 The bilingual commencement exercises took on special significance this year, as it was the first time the event had returned to Trinity Park since the pandemic began.
As the 141 members of graduating class began marching to their seats, and the screams and cheers of the community mingled with the familiar tones of Pomp and Circumstance, it was evident that the Island community was ready for the return of traditions like this one.
"No matter what your future has in store, I urge you to choose what will challenge you," class essayist Henry D'Andrea told his classmates, emphasizing the importance of overcoming adversity. Sharing his own experiences learning how to fly planes, D'Andrea said it was in the moments he felt most overwhelmed, such as flying upside down or having to land in bad weather, that he learned the most important lessons.
Seniors Kaleb Hatt and Marina Pessoni were masters of ceremony, facilitating their introduction in English and Portuguese. Afterward, Pessoni delivered a heartfelt thank you to her family, who brought her to the Island from Brazil when she was eleven. She delivered the speech in Portuguese, with Hatt reading aloud an English translation after.
The entire ceremony was available in Portuguese via live translation, to ensure the inclusion of approximately 30 families of the graduating class who primarily speak Portuguese at home.
In remarks following the Pledge of Allegiance, class salutatorian Harding Eville spoke warmly about the Island community that helped raise him. Among other things he cited his time working at The Covington restaurant as a microcosm of the diversity and welcoming nature of the Vineyard.
"Each day we are on Martha's Vineyard, we are surrounded by a community that cares about us," Eville said. "I wanted to acknowledge what [it has] meant to me."
Vineyard schools superintendent Dr. Matthew D'Andrea presented the superintendent's outstanding student award to class valedictorian Ingrid Moore, underscoring the values of temperance and hard work. He urged graduating students to avoid instant gratification and prioritize foresight.
"We can make a deal with the future," Mr. D'Andrea said. "[You can] exchange time and comfort in the present to empower yourself in the future."
In her speech, Moore reminded her classmates that it was their actions that had defined their high school experience, not the pandemic.
"What's more important than what happened is what we did," she said.
After a moving performance of Like A River in My Soul by the Minnesingers, principal Sara Dingledy handed out a few final student awards. The Vineyarder award went to Mekhi Jones and Crystal Zheng, while the principal's leadership award was given to Alison Custer and Benjamin Mulvey.
Mulvey, who is senior class president, addressed the crowd directly afterward, praising the perseverance exhibited by his fellow classmates.
"We did an amazing job dealing with a tough time," Mulvey said. "We were adaptable . . . we were patient, we were thoughtful and we wore our masks"
Ms. Dingledy similarly commended the class for their strength of their character, before asking seniors to rise and get ready for their final procession.
Smiles abounded as the 141 students walked across the stage, one by one collecting their diplomas and shaking the hands of the principal and superintendent, as the crowd went wild behind them.
Finally, the class song, Congratulations by Post Malone played as the newly-minted graduates threw their caps into the air, a traditional salute to a memorable four years.