On Friday the regional high school celebrated its inaugural Day of Dialogue hosting a series of events centered around social justice.
Ena Thulin, a history teacher who helped organize the event, said it was nice to bring the school together after multiple years of pandemic-induced separation.
"After the couple of years we've had, it just felt like a community," Ms. Thulin said.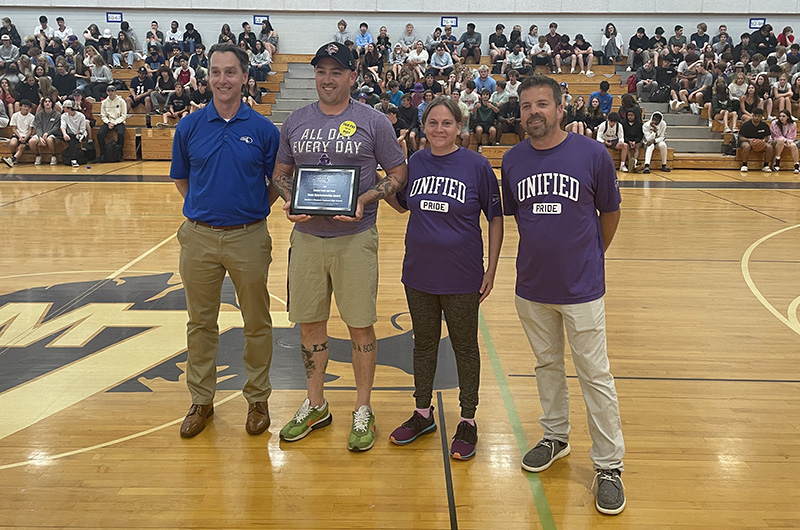 The day began with speeches from Wampanoag tribe member David Vanderhoop and Kyle Williams, a seasonal resident of Oak Bluffs and teacher from Washington DC whose work focuses on anti-racism. Students then broke out into 40 workshops focusing on topics such as mental health, women's rights and racial equity. After lunch there was an open mic event where students sang and read essays as well as poetry.
"It was really powerful," Ms. Thulin said of the open mic portion. "Teachers are saying there wasn't a dry eye in the house."
For the final event of the day, students packed the gym to cheer on their classmates playing on the Unified Athletics basketball team.
The Unified Athletics program brings Vineyard students with and without disabilities together for a true team experience. The league includes a basketball team in the fall and a track and field team in the spring.
The high school is one of 16 schools across the state to qualify as a Unified Champion School because of the size of the program, leadership opportunities it gives the athletes and engagement it has with the broader school.
"You should all be really proud that we are one of only 16 schools in Massachusetts that's a Unified Champion School," coach Kevin McGrath said to the students.
The track team had a banner year this season, Mr. McGratch said. For the first time three athletes qualified for the state championship meet, which was held in Natick in May. Matt Fontaine and Andre Sanchez-Roa took first place in their divisions for shot-put. Connor McGrath finished in fourth, also for shot-put.
"I knew that the track and field team had just had such success, so we wanted to make sure we honored that program as well," Ms. Thulin said.
The 20-minute game resulted in a 27-25 win for the white team over the purple team. The players were generous with their teammates, often passing up open shots so others could have a turn. The students in the crowd cheered their classmates on, getting particularly loud when someone scored for the first time.
The game was also a cause for celebration. Pete Smith, a representative from the Massachusetts Interscholastic Athletic Association, was there to present the team with a sportsmanship award.
"This award is promoted just like the state championship award would be because the things that you do on and off the court to treat others with respect carry you so far in life," Mr. Smith said.