This weekend, students at the Martha's Vineyard Charter School debuted Peter Pan and the Quest to Save Neverland, a reinvention of J. M. Barrie's classic play that will travel next summer to Edinburgh's Fringe Festival, the largest arts festival in the world.
Friends, families, and community members gathered on couches and armchairs at the Grange Hall theatre to witness the opening of a play that will soon take the world stage.
The school had last put on a production of Peter Pan nine years ago. But re-staging the show after such a span of time would require an entirely new vision.
"Peter Pan needs a new version," charter school drama teacher Heather Capece said. "It's a great story. It's a fabulous story. But there are things in it that are not great right now."
The charter school's updated script abandons any reference to Native American tropes, and changes "lost boys" to "lost souls." The casting, too, is untraditional: Peter Pan and all three of the Darling children are played by young women. In roles like Wendy and Captain Hook, charter school seniors share the stage with students as young as third grade, who swim and stomp across the stage as Neverland's mermaids and pirates.
Ms. Capece's daughter Nicola, a rising freshman at the charter school, spearheaded the rewriting process. She had fond memories of the original show, which she appeared in as kindergartner, and didn't think that outdated tropes and "racist concepts" lay at the heart of Barrie's story. Instead, Nicola explained, Peter Pan was really about the freedom of childhood.
"It's actually quite sad how stuck [Peter] is on not wanting to grow up. So I think there's a bigger message about not growing up and wanting to be young and… free," Nicola said.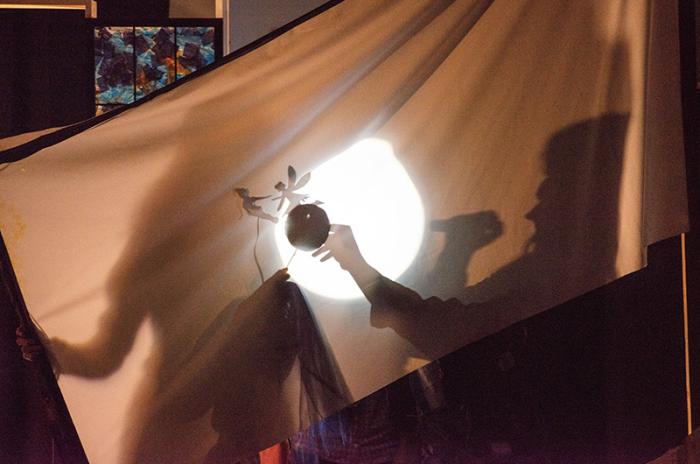 Peter Pan and the Quest to Save Neverland puts student creativity on full display even beyond the writers' room. With a flashlight behind it, the sail of Hook's pirate ship transforms into the stage for shadow-puppet shows. And throughout the play the many dance routines which actors and crew members helped choreograph are just as important as the dialogue.
As Ms. Capece and her students worked to rewrite and stage their version of Peter Pan, they received exciting news: Ms. Capece had been selected as one of a handful of American high school directors who would have the chance to take their student productions to the Edinburgh Fringe Festival in the summer of 2023, as part of the American High School Theatre Festival (AHSTF).
"It was probably the biggest thing that's ever happened to me professionally — to be accepted as a director," Ms. Capece said.
The high school festival has been running at the Fringe for 27 years and describes itself as "the premiere performing arts festival for high school theatre."
Each participating high school has the opportunity to perform four shows at a professional venue in Edinburgh. The AHSTF also sets each production up with a professional theatre workshop, takes students sightseeing across the United Kingdom, and provides college preparatory credits.
But the real appeal of the program, according Ms. Capece and her students, is the opportunity to bond with their cast-mates and connect with like-minded students or "theatre kids" from across the United States.
"The fact that I now have this opportunity [to go] overseas with all these people that have become like a family to me is such a big deal, and it means a lot to me," said Peter Pan cast member Zora Morais.
"I think being a theater kid is its own energy," Nicola said. "Being able to take that across seas and meet other theater kids.… It's just a great experience and we can all be closer at the end."
The cast and crew of Peter Pan and the Quest to Save Neverland plan to have a booth this summer at the Agricultural Fair where they will fundraise for their trip.
"We're going to have to fundraise a lot of money," Ms. Capece said. "But I think we can do that. I think if the community knows this is a great opportunity, it will happen."