The old John Deere tractor at Island Grown Initiative hauled an eye-catching new piece of equipment into the Thimble Farm fields recently: a custom-designed, postmodern wooden shade structure, with benches for seating and space for cold water and lunch storage.
Noli Taylor, IGI's senior director of programs, said the shade trailer will provide sun protection and a place to rest for not only farm workers, but gleaners and even school groups visiting the farm.
"We're going to use it all the time," Ms. Taylor told the Gazette.
The airy, wood-slatted shelter was designed and built behind the Thimble Farm greenhouse over a seven-day period, finishing Sunday, by a team of 10 current or recent university students and a handful of instructors led by Cambridge-based architects Keith Moskow and Robert Linn as part of their Studio North summer workshop on the Island.
IGI regenerative farming consultant Andrew Woodruff also pitched in, using part of the greenhouse as a metalworking shop to fabricate the heavy iron brackets that hold the structure's platform to the trailer.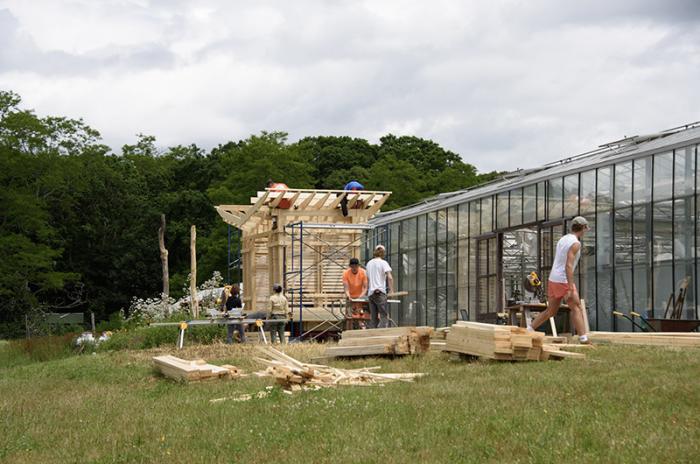 Both Mr. Woodruff and Mr. Moskow have histories with Thimble Farm that predate IGI, which purchased the property in 2013. Mr. Woodruff was the last private farmer to work the 40-acre farm before it changed hands to the nonprofit, while its previous owner was Mr. Moskow's cousin Bud, who established a commercial berry farm there in the 1980s, building the greenhouses and running the operation for more than 20 years.
"He got his pilot's license at 60-something, so he could fly raspberries to Boston," Mr. Moskow said of his cousin, who died in 2016.
The mobile shade structure is the latest creation by Studio North, a hands-on workshop in which students take a simple building project from concept to finished construction in one week. Past Studio North projects have included an elegant chicken coop, a rolling pig pen and a mobile sauna, all built in Vermont. In 2021, Mr. Moskow brought the session to his family's home in Chilmark to build Contem.plate, a Thoreau-inspired woodland cabin decorated with vintage license plates from around the world.
Mr. Moskow and Mr. Linn were drumming up possibilities for this year's project when Island builder John Abrams of South Mountain Company suggested contacting IGI, Ms. Taylor said.
"Of course we had a hundred ideas, but the mobile shade structure was the perfect one," she said.
Along with providing respite for the field and gleaning crews, Ms. Taylor said, the shade shed could also be a refuge for visiting children who may have sensory sensitivities.
"We really want them to be comfortable," she said.
This year's Studio North group, which included college students, graduate students and recent graduates as well as workshop alumni, spent Monday getting to know each other and sketching designs on graph paper. Mr. Linn and Mr. Moskow then spent the evening developing the design with the aid of computer software to create a simple building plan.
Using wood and fasteners donated by Cottle's and an army of tools and equipment brought or borrowed by Mr. Moskow, the team began building on Tuesday.
"We bring down two truckloads of tools," Mr. Moskow said.
It would be another day or two before the group established a working rhythm, Mr. Moskow said, particularly because architecture and design students rarely get to work on an actual building.
"The first two days, it's exceptionally disorganized," he said.
But by Saturday, the young women and men were working and helping one another with the assurance of pros, even clambering onto the shade shed's cantilevered roof with power tools in hand.
"On day one, two and three, this never would have happened," Mr. Moskow said proudly.
It's the roof, with its two winglike sections, that serves as Mr. Moskow's signature on the wooden structure, said Studio North alumnus-turned-instructor Kyle Neumann.
"It doesn't need to be this elaborate, but this is Keith Moskow," said Mr. Neumann, a 2021 graduate of Syracuse University who works for a Newburyport company partly owned by Mr. Moskow.
Another of the architect's hallmarks is the exposed structure, Mr. Neumann continued.
"The inside is the space of sanctuary," he said. "The exterior highlights how it was designed and developed.
Visiting the work site Saturday afternoon, Mr. Abrams said architects need practical experience in the field as well as the design skills they learn in school.
"Our architects, when they're hired, go out on job sites just to understand what's going on down there that they're designing for," he said.
Mr. Moskow also teaches more fundamental lessons at Studio North.
"We continually stress safety," he said.
In more than a decade of workshops, he said, there have been no serious injuries (though one student discovered she was pregnant).
"We do get lots of splinters, but we have the technology to get them out," Mr. Moskow added.
The students in this year's workshop have come from as far away as China and Morocco to study architecture at schools including Rensselaer Polytechnic Institute and Columbia University.
"I had the book smarts … of buildings; I wanted the street smarts," said recent RPI grad Jordan Jackson, of Palo Alto, Calif. explaining why she signed up for Studio North. With a degree in building sciences, Ms. Jackson wants to work in environmentally sustainable design, she said.
"A lot of sustainability … comes down to the execution and construction of things," she said.
One thing Ms. Jackson hadn't considered, she said, was the aesthetic aspect of building design. Working with the architects showed her the value of balancing function with expression, she said.
Tage Colberg, a Tufts undergraduate from Lyme, N.H. studying human factors engineering (also known as ergonomics) also found himself reassessing the balance of function and form after working with Studio North.
"I've learned to leave a little room for creativity," Mr. Colberg said.