Clear skies and fair seas but not much wind met the 66 sailing teams that set out Saturday in the Edgartown Yacht Club's annual 'Round-the-Island race, a Vineyard tradition since 1938.
Only five vessels from the competition's two fastest classes completed a full Island circumnavigation, with race officials deciding late Saturday afternoon to call the race for smaller classes at virtual gates along the south and west shores of the Island.
The weekend's highest prize, the Venona Trophy, awarded to the PHRF-certified spinnaker with the lowest corrected time for a full, 55-nautical-mile Vineyard circumnavigation, went to the Tripp 41 Africa out of Marblehead. The ship, owned and skippered by Bump Wilcox and Jud Smith, sailed to a corrected time of 12 hours, 21 minutes and 46 seconds — 14 minutes faster than Newport, R.I.'s Irie 2, the day's second-place finisher.
Like most yacht races, the Edgartown Race Weekend uses handicaps determined by each boat's make and model to convert raw "elapsed times" into "corrected times" that more accurately indicate the on-board skill of skippers and crews.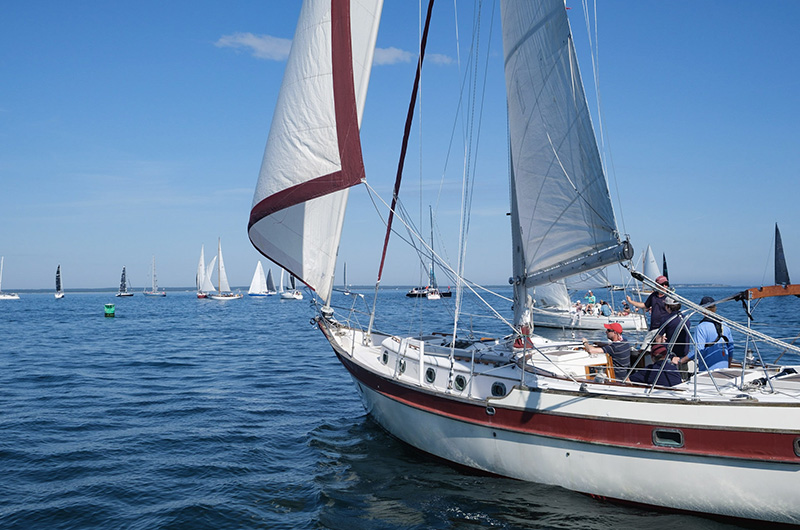 Saturday was a tough day for sailors, Bob Hurst, the principal race officer for the 'Round-the-Island competition, told the Gazette.
"There were times the winds were down to three knots and there were times it was up to eight knots. I'm not sure anybody ever saw 10," Mr. Hurst said.
The start of the race was particularly slow. "We actually got a first class started then the wind completely died down for the next half hour. So we had a postponement, and then started rolling through the remaining 10 classes," Mr. Hurst said.
By the late afternoon, finish lines for the small and mid-sized vessels were adjusted to GPS-monitored virtual gates off South Beach and Gay Head respectively, shortening the course to 20 and 34 nautical miles.
Marc Bucklen of Hingham, sailing the C&C 37 Alquemie, said it would have taken him until midnight to complete the entire course.
This year heralded a number of changes for Edgartown Race Weekend. The first was a shift from July to June, hoping to capitalize on late spring breezes that this year failed to materialize.
In another change, Thursday and Friday saw the inaugural long-distance 'Round-the-Sound races, which took a smaller fleet of sailors out towards Nantucket and Hyannisport. In past years, short-distance races preceded the main event.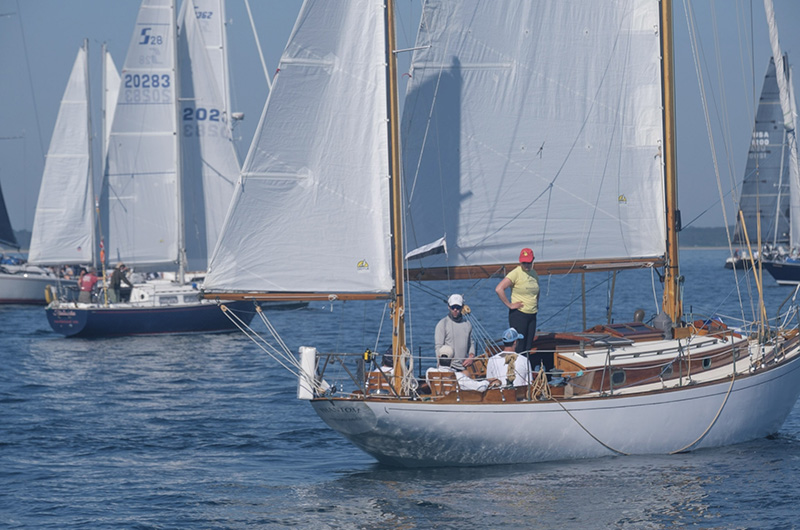 "We're trying to appeal more towards the… long-distance or offshore-type sailors," said Alex Nugent, the weekend's race chair. "So we said alright, let's lengthen these races so people can really stretch their legs."
Hearty winds and flawless skies greeted the long-distance competitors on Thursday's 19 nautical mile course, but by midday Friday the breeze had collapsed. Gentle southerlies managed to carry the Club Swan 42 Tio Loco of Northeast Harbor, Me. to a first-place finish Friday which, joined with the vessel's second-place finish Thursday, meant overall victory in the 'Round-the-Sound event.
"It was two amazing days…couldn't be better," Tio Loco co-skipper Steve Madeira told the Edgartown Yacht Club.
'Round-the-Island winner Africa took home 'Round-the-Sound's second-place award.
Even after a difficult few days of sailing, Edgartown Race Weekend is sure to remain a favorite among East Coast sailors, Mr. Nugent said.
"A lot of people have done this event for a long time. A lot of people make this a top priority for their summer racing schedule, and they really, really love to be here," he said.
And one thing that the weekend never lacks, said Mr, Bucklen of Hingham, is comradery and good spirits.
"Conditions were a little bit light, weather was nice, company was great," Mr. Bucklen said.