The Edgartown Fourth of July parade roared back Monday after a two-year hiatus, with Island institutions turning out in the historic Vineyard tradition.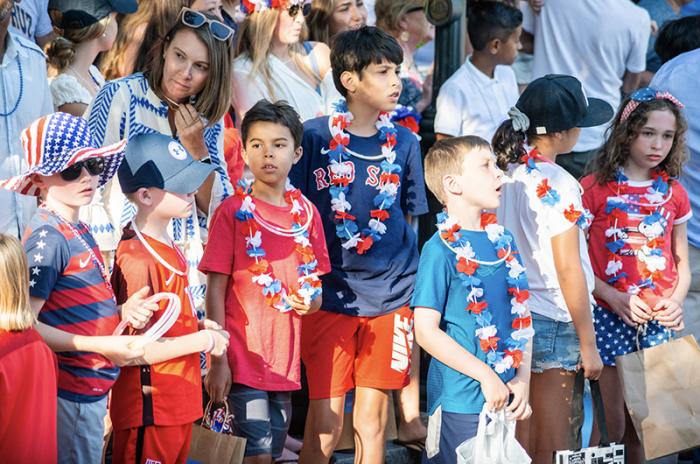 Erin Slossberg, a West Tisbury resident and teacher at the Martha's Vineyard Regional High School, said the parade "beckons of time gone by."
"This parade is always surreal. I wouldn't miss it for the world," she said.
Stepping off from the Edgartown School at 5 p.m. sharp, the parade wove down the West Tisbury Road and Main Street, cutting across to Fuller street toward the Harbor View, then making the turn back toward downtown, as bags of candy ran low and the afternoon heat settled in.
"If Disney put together a Fourth of July Parade, it wouldn't beat this one," said Chris Dolan, a San Francisco native who summers on the Vineyard every July.
Perhaps that unbeatable character comes from the sheer variety that the often eclectic parade offers. Between antique cars, alpacas strutted and preened. Coming up behind, cue the music! The Scottish Society of Martha's Vineyard delighted crowds with the ever-popular sound of bagpipes. Fan-favorite Camp Jabberwocky took to the streets with a 60s-themed message of peace and love, while a life-size model of the shark from Jaws loomed menacingly behind.
"The parade is a great way to get a little taste of everything on the Island," said Carina Cataloni of Edgartown.
The annual tradition has been a mainstay of Vineyard life for long as even the oldest parade-goers can remember.
"I've been coming here for over 50 years and I would never miss it," said Sam Sutro of Edgartown. "I love it all."
Over the years, the parade has grown in size and spectacle, said Shelly Passias of Edgartown. She's been coming to the Island's Independence Day celebration since the 1970s.
"[The parade] has developed a lot since I was a kid, but it has the same small-town Fourth of July feeling," Ms. Passias said. "Now we all bring our kids."
For the pint-sized patriots in the crowd, the parade offered the opportunity for face paint, sparklers, and saltwater taffy wrapped in the red, white, and blue. From the backseat of an antique convertible, two young participants in the parade, Shaelyn and Jocelyn, said their favorite traditions include waving to friends and tossing out handfuls of treats.
This parade marked the first full-fledged Independence Day celebration since the pandemic began. For many on the Island, it was a profound symbol of a community restoring its interrupted traditions.
"It's nice that the community is back," parade-goer Thom Jones said. "It's a big deal, a big milestone."
With that, Island summer is officially in full effect.