The Martha's Vineyard Sharks are headed to the NECBL championship after consecutive shellackings of the Bristol Blues on Tuesday and Wednesday night.
After a 10-3 win Tuesday at Muzzy Field in Bristol, the Sharks didn't make it home until well after midnight. However, no matter how little sleep they got, the Vineyard bats would not hit snooze as they coasted to a 13-4 victory Wednesday night at the Shark Tank.
"We got home at three o'clock on the dot," said Sharks left fielder Thomas Bramley. "It was great, we had a nice boat ride coming back in."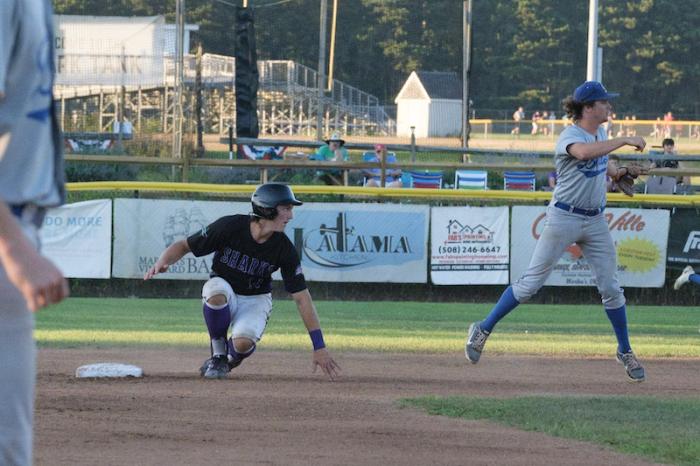 The Elizabethtown, Pa. native was surgical in his approach at the plate Wednesday as he went 2-2 with a home run, double, three walks and four RBIs. For his homer, a solo shot in the third, he smashed a breaking ball an estimated 356 feet, towering over the adirondack chairs in right field.
"I saw a couple pitches and with two strikes I like to see the ball deep and I trust in my approach and it worked, I just wanted to put a good swing on the ball," said Bramley.
The following inning, Bramley's double scored two more runs to make it 6-0 as the Sharks continued to roll towards glory.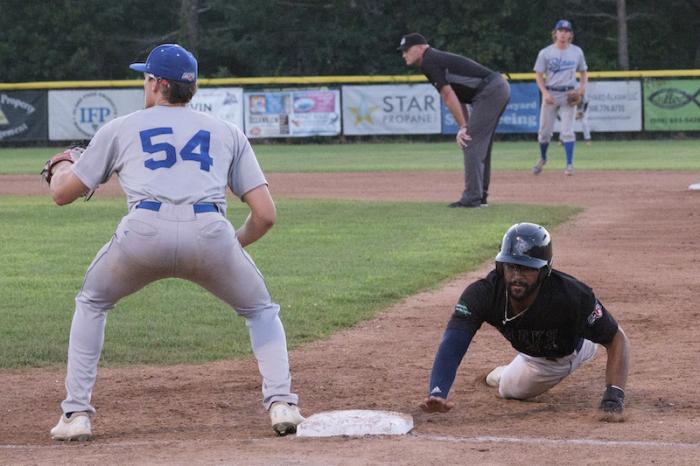 "We're a tight group here and we really enjoy each other, we love each other," Bramley said.
"Our chemistry is off the charts and it's just great to be part of this team," he continued. "We've got a great group of guys and we just bounce off each other. It's been a fun summer and hopefully we can keep it going."
After winning the wild card game in dramatic fashion Monday, the momentum carrying the Sharks is evident and their energy in the dugout radiates throughout the ballpark.
"Honestly, I think coming into it, that play-in game was huge for us," said Sharks manager Jay Mendez after the game.
"If you look at that team on the other side, they had to sit for two days, so I think that helped us out offensively," Mendez continued.
Mendez also praised the efforts of his pitching staff after the series win, who in two games against the Blues struck out a collective 24 batters. Tuesday's starter Case Matter had a season-high 10 punch outs in four innings of work. Relievers JD McCracken and Jack Beauchesne were also lights out, together only allowing three hits in just over six innings between both games.
"On the mound we were just awesome," Mendez said. "Like I said from the get-go, if our pitching is carrying us and they keep doing that, all we need to do is put up a couple runs."
With their championship opponent still unknown, the Sharks are off Thursday and will play again Friday either hosting the Sanford Mainers or traveling to Montpelier, Vt. to take on the top-seeded Mountaineers.
"It's one of those teams where they don't want to leave," Mendez said. "It's like they just want to keep playing, and can you blame them?"