It seems as if almost everybody wants to talk with Charlayne Hunter-Gault about her new book, My People: Five Decades of Writing About Black Lives, which officially comes out Oct. 11.
An interview with Christiane Amanpour of CNN is coming up. MSNBC, The New York Times, the Atlanta Journal-Constitution, Ms. Magazine, The Root and other old and new media are featuring Ms. Hunter-Gault's book, and it's already beginning to appear on year-end reading lists.
One outlet that hasn't contacted the Emmy-winning journalist yet is Fox News, which was screening quietly in the sitting room of Ms. Hunter-Gault's Oak Bluffs home as she welcomed a Gazette reporter this week.
The conservative cable channel may get a call from her, instead.
"I want to go on Fox," Ms. Hunter-Gault said, with a dead-serious smile. "I want to be able to talk to people who may not think the way I do, or who may not have the information that I have," she said.
If Ms. Hunter-Gault does appear on Fox News it will be the latest of countless times she has transcended traditional barriers. Following a court order in 1961, Charlayne Hunter (her maiden name) became one of the first two Black students at the University of Georgia, which had been segregated for nearly 200 years.
As a young journalist, she was the first Black reporter for The New Yorker magazine's Talk of the Town.
At The New York Times, she founded the paper's Harlem bureau, reporting from inside a vital community that had only made mainstream headlines when things were going wrong.
"There weren't a lot of positive pieces, or any pieces for that matter, about Black people," Ms. Hunter-Gault said.
"You don't puff it up but you do what nobody else is doing, or very few are doing."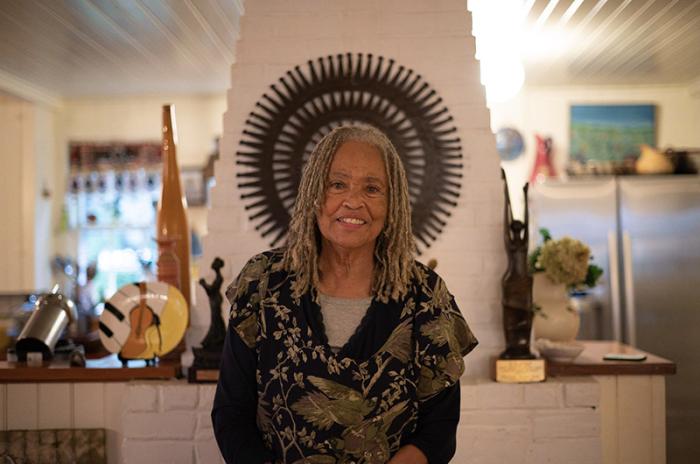 An example of this approach — with an Oak Bluffs dateline — appears in one of the earliest pieces in Ms. Hunter-Gault's new book, a collection of written reporting and broadcast transcripts from a host of media. Published in The New York Times on Labor Day, 1970, the article is headlined More Negroes Vacation as Barriers Fall. It includes interviews with a television actress, the co-owner of a prosperous supermarket chain and a dentist who piloted his own plane, all with summer homes in Oak Bluffs.
The vacation story is collected in the first of the new book's six sections — Toward Justice and Equality, Then and Now — and highlights Ms. Hunter-Gault's even-handed reporting on racial differences.
For instance, while noting that the Vineyard's NAACP membership — about 75 people in 1970 — was mostly white, Ms. Hunter-Gault also quoted a Black professional who was pessimistic about integration beyond simple coexistence.
"[I]f it hasn't happened in 30 years, it won't," the summer resident told her.
Beginning in 1985, Ms. Hunter-Gault also reported from South Africa during apartheid's convulsive final years and crisscrossed the continent to chronicle lives, politics and conflicts in several African nations well into the 21st century.
From the start, she said, she steered clear of what she calls the "four d's" of African reporting: death, disease, disaster and despair.
"You can't always ignore the bad, but you can't go in with a mindset to always look for the bad," she said. "It has to be balanced."
She found and reported unsettling stories that had gone untold, including the repression of lesbians (Violated Hopes, New Yorker, 2012) and fellow reporters (Ethiopia: Journalists Live in Fear of "Terror" Law, All Africa, 2012).
Ms. Hunter-Gault's African reporting is collected in the section titled A Single Garment of Destiny, a reference to historical struggles for Black equality in both South Africa and the United States.
The book's other four parts are: My Sisters, Community and Culture, The Road Less Traveled and Honoring the Ancestors. Each one compiles a non-chronological selection of Ms. Hunter-Gault's work.
And while the stories and transcripts are centered in Black life, Ms. Hunter-Gault is anything but a separatist.
"From early childhood to this day, I don't like generalizations about race," she said. "Not all Black people think alike, either. I never take the position [that] we're a perfect race."
People of all racial groups will need to collaborate for the good of the country, she continued, as when Black and white activists fought segregation together in the 1960s.
Reaching across ideological lines is also important, she said. The new book has an introduction by Black scholar Nikole Hannah-Jones, but its epilogue is a 2020 NewsHour interview with the show's conservative commentator, New York Times columnist David Brooks.
Titled Reasons for Hope Amid America's Racial Unrest, Ms. Hunter-Gault asks Mr. Brooks how to prolong the sense of national unity inspired by the pandemic that struck that year.
"We have to learn from each other and talk to each other," Mr. Brooks replies.
That's exactly what Ms. Hunter-Gault wants to do with her new book, she said.
"I'd like to talk to people who might have issues with Black history, because I think that I can make them understand," she said.
My People: Five Decades of Writing About Black Lives, by Charlayne Hunter-Gault, is published by Harper and will be available Tuesday from Island, off-Island and online bookshops and libraries.