The girls soccer team has been building an identity since the two-a-day practices of summer. It's an identity that head coach Matt Malowski calls small soccer, putting the good of the team above all.
So far this season small soccer has been a resounding success.
At 8-3-1, the Vineyarders are an offensive juggernaut and defensively one of the top teams in their division. It's been a quick turnaround for the program as Mr. Malowski carves out his vision in his first season at the helm, having served as assistant coach in recent years.
"I think it's all on them," Mr. Malowski said recently on the practice field. "They have just trusted me with that concept and they've really committed to it... They've just been working so hard on and off the field, all of them, and I think that attributes to who they are as players."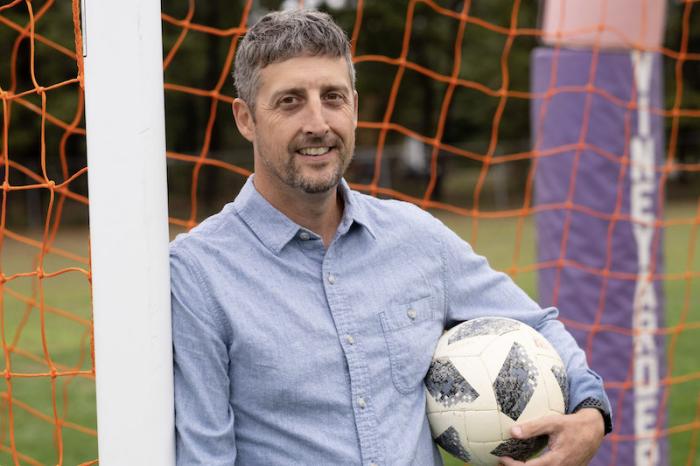 For the head coach, who has been playing soccer since he was a kid growing up in Herkimer, N.Y., the creativity of the game has always been what has drawn him to it.
"I liked that there weren't set plays and there is this flow to the game," Mr. Malowski said. "You really have to think out there and read what's happening in the moment."
Mr. Malowski moved to the Vineyard in 2001 and soon after started coaching a travel girls U16 team. He took some time off the soccer field when his daughters were young but when they got a little older and interested in the game, he went back to coaching and has been at it ever since.
This year his two daughters, Paige and Reese, are both integral parts of the varsity squad. When he's not on the field, Mr. Malowski works in the guidance department at the regional high school as an adjustment counselor.
"I really loved playing but I think I enjoy coaching more than I liked playing," he said.
Many of the juniors and seniors on the team have been under his wing since they were in fourth and fifth grade. He said having that rapport with the girls creates a level of trust that has helped everybody understand what they need to do to be successful.
Senior captains Josie Welch and CJ Walsh both agreed.
"Most of the seniors and juniors all started playing together one of the first years there was a girls travel team," Welch said. "I feel like that's really brought the whole team together."
"It's a good senior gift to have him back because he totally did influence us all the way from when we were in fifth grade to eighth grade," Walsh added.
Mr. Malowski said the girls' experience in youth soccer has been a major factor in their success at the varsity level.
"Nurturing these kids at a young age and fostering that love of the game has been invaluable. There is no varsity program without that," he said.
He added that the need for volunteers in today's youth program is critical to sustaining success at the high school level.
"The current players that we have is because of the parents who made the commitment to take their kids to tournaments... by the time they get up here, you can still teach them but a lot of the fundamentals happen at a younger age," he said.
One of the aspects of coaching Mr. Malowski has enjoyed the most this year is the camaraderie his team shares.
"The cheering on the sidelines, the sacrifices they are making around playing time, they are really truly there for each other," he said. "And just watching them making Tik Toks together or going to team dinners... that's probably the highlight, watching them come together as a team, that's been a huge part of the success."
Next up for the team is a home game Tuesday against Dennis-Yarmouth High School, beginning at 3 p.m.