The fin of a porbeagle shark spotted in the Vineyard Haven harbor drew a crowd of amazed onlookers Friday afternoon, who watched with wonder as the large marine animal circled in shallow water for more than an hour.
Photos and videos of the animal showed that it appeared to be about eight to 10 feet long, with both a dorsal and tail fin.
Greg Skomal, a marine biologist and shark expert, confirmed the animal was a porbeagle shark after watching a video of it taken close to shore.
A species of mackerel shark widely distributed in the cold waters of the North Atlantic, porbeagles grow to about eight feet in length and are closely related to salmon sharks. Mr. Skomal said its presence in Vineyard waters was not particularly unusual, especially at this time of year.
The identification came after significant speculation, rubbernecking and gapers' traffic on Beach Road near the drawbridge Friday, as about 50 people pulled over to watch the animal swim in the harbor from about 3:45 until sunset.
Jennifer Broddle was about to catch a ferry back to the Cape when she saw the fin while driving into Vineyard Haven, prompting her to stop and peer over the seawall.
"It doesn't look very big for a great white," she said, wondering out loud what the rest of the crowd was merely thinking.
Others speculated that it might be a sunfish, a large dogfish, or a small shark species.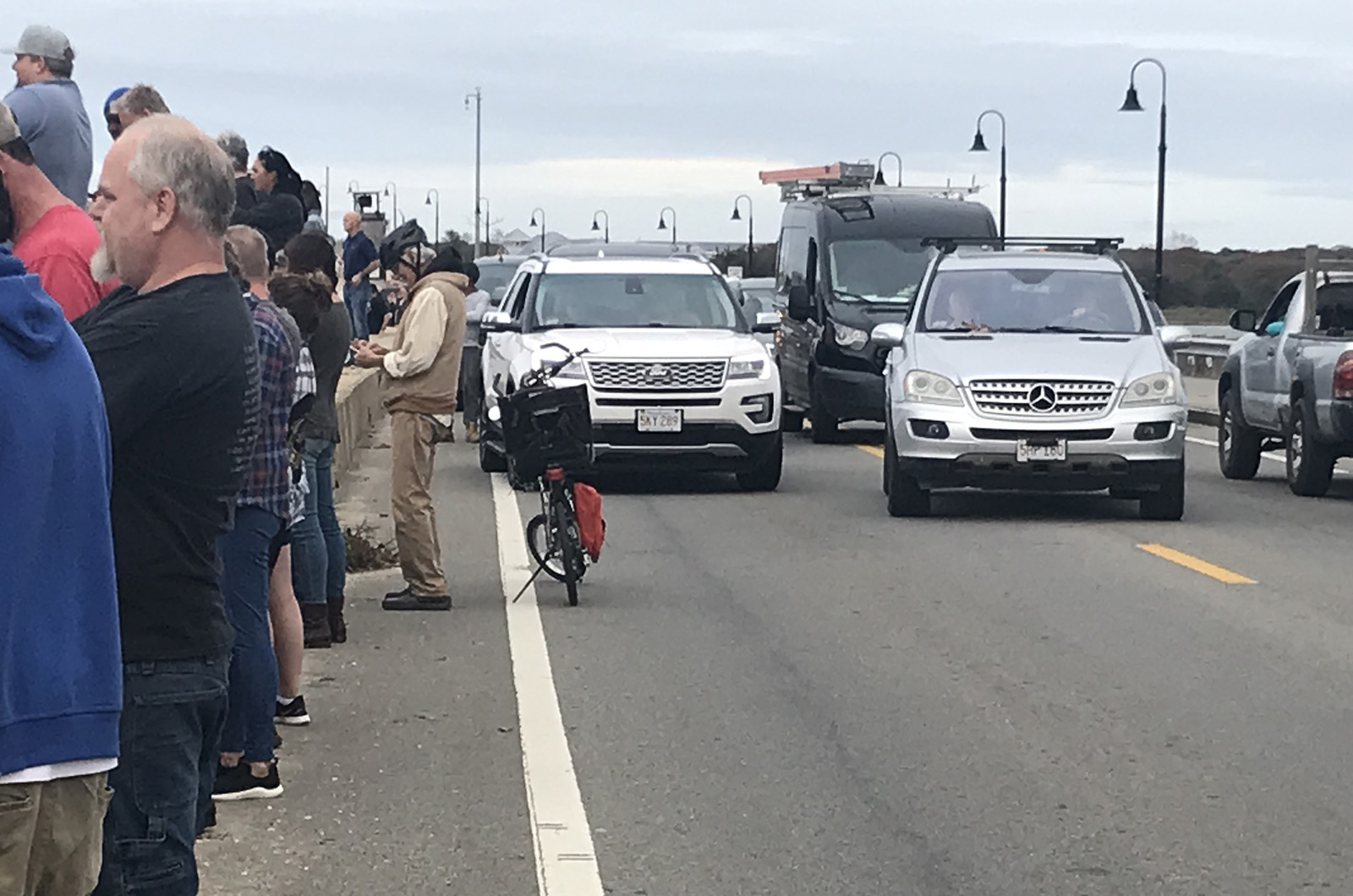 Amanda (Scotty) Borland said she was walking her dog and searching for sea glass on Beach Road across from Winds Up around 2 p.m. Friday afternoon when she looked down and saw what she thought was a dolphin.
"Then I looked more and I thought, that is a big dolphin," she said. "And then, all of a sudden, it whipped back around and this guy was driving over the bridge and he said, 'I saw the shark coming for you.' It happened so fast. I honestly couldn't believe it. It came right up on the shoreline."
Ms. Borland's video shows a large marine animal swim very close to shore, get stuck in the shallow sand, and then retreat to sea.
"It was like being face-to-face with a shark," she said. "I thought I was in the middle of Jaws."
She thought that the animal might have been injured, with what appeared to be damage to its back and eye.
"Something didn't look quite right," Ms. Borland said.
The animal circled the harbor for about an hour, even having what appeared to be a standoff with a seal, according to James Moreis, of Oak Bluffs.
"The seal seems to be watching that every time he pops his head out," Mr. Morris said.
Tisbury police directed traffic on Beach Road as crowds gathered to get a look at the animal, which was even visible from the Steamship Authority ferry. It later cozied up to a trio of sailors, who circled it briefly, driving it underwater.
Mr. Skomal said the animal might have been struggling physically, but wasn't sure why it had come so close to shore.
"Most likely some kind of infection," he said in a text message to the Gazette. "I've seen these sharks sometimes beach themselves. We are not sure exactly why, but it's worth seeing what happens with this animal."
The shark remained in the harbor as the sun set on the Island.
Ms. Borland was still in shock, happy that her dog Hamish made it out of the water just in time.
"I'm shaken," she said. "What a day."
Elizabeth Bennett contributed reporting.