Pleading for better communication from the town of Tisbury, shop and property owners on Vineyard Haven's Main street say they had no advance notice of street and sidewalk work that's now underway in front of their stores.
"It would have been helpful to have had some forewarning," said Elizabeth Sinnett of Seven Sisters at 19 Main street, one of several downtown merchants who brought their concerns to the Tisbury select board Wednesday of last week.
She recently had to cancel scheduled contractors who arrived to find her business blocked off, said Ms. Sinnett, who also complained that the town sidewalk project is encroaching on her family's private land.
"The construction has moved inside of my mother's property, and has also removed a lot of the courtyard I had set up — not on town property, our property," Ms. Sinnett told the board.
Landowner Benjamin Hall said unauthorized demolition has also taken place on his Main street holdings, which include the closed Capawock Theatre and its barnlike, long-vacant neighboring structure once home to Bowl and Board and later the Bunch of Grapes.
"The town is trespassing on our properties and digging up our sidewalks and our walkways and our rampways," an angry Mr. Hall told the select board.
"It's really infuriating and disrespectful to private property rights," he said.
Mr. Hall further complained that the construction project was blocking off parking places, which he called the lifeblood of downtown businesses.
Town administrator John (Jay) Grande pledged to follow up with the project engineer and property owners who said their land was being taken.
"That's a serious matter … that's not something we can overlook," Mr. Grande said.
"If there's been any encroachments, even temporary encroachments, those require approval an actual [temporary] construction easement," he said.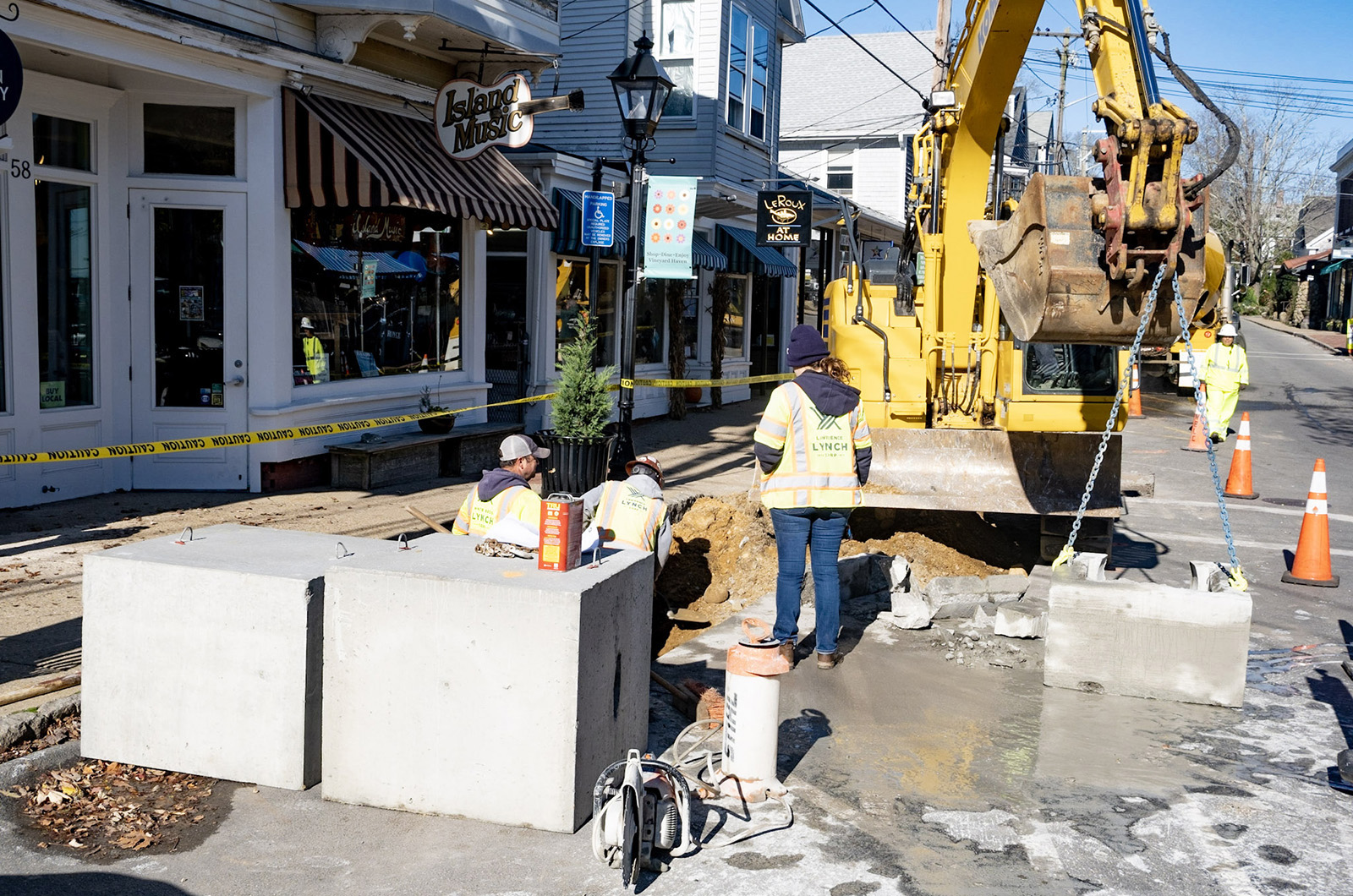 Green Room owner Elaine Barse, vice-president of the Vineyard Haven Business Association, called on the town to give merchants a heads-up before they're affected by project work during the critical holiday season.
"This is thousands of dollars they are losing in revenue," Ms. Barse said.
"The sidewalks are getting torn up. People are getting confused," she said.
The project began suddenly because of an unexpected opening in the paving contractor's schedule, town administrator Jay Grande told the select board.
"Kirk [Metell, Tisbury department of public works director] took advantage of that opening," Mr. Grande said.
The project itself has been in the planning stages since 2018, when town voters approved design work to provide parking and sidewalks that are accessible to people with disabilities.
"It's been looked at by the business community, the chamber of commerce [and] several different selectmen's meetings," Mr. Grande said.
"These plans have been around for a while. It's just taken this long to get up and running."
Acknowledging the complaints, Mr. Grande said Mr. Metell has been juggling town projects but that the public works director will keep Main street merchants better informed from now on.
"Kirk will fill in the communication gaps going forward. I'm confident of that," Mr. Grande said. "He's very approachable."
Contractors began pouring concrete in front of Seven Sisters on Monday and also will pour in front of Mr. Hall's property next week, said Mr. Metell, adding that the concrete should be safe to walk on within a day or two of pouring.
With curbing ordered for delivery in January, street disruptions should be minimal during the holidays, Mr. Metell said.
"We're not planning do a whole lot of construction work at all in the whole month of December," he said.
"We'll be setting up the Christmas trees and holiday decorations before Black Friday … and in January we'll hit the ground running," Mr. Metell said.
The streetscape upgrade will remove barriers to accessibility that have been cited by the state and flagged by visitors, Mr. Grande said.
"We have received complaints from visitors to the Island as recently as this summer," he said.
"This is a real issue, a real problem that needs to be addressed," Mr. Grande said.
The improvements will also create areas where pedestrians can gather without blocking traffic, he said.
Speaking for the business association, Ms. Barse urged town officials to use her office as a conduit for informing downtown businesses while the project continues.
"Keep the communication open and flowing, because otherwise we're going to get pretty resentful," she said.
In other business, the select board voted to declare each of two three-year-old dachshunds a dangerous dog after a series of bloody raids on neighbors' backyard coops in August and October left nearly a dozen chickens dead and others maimed.
"Clearly this is an example of owners who did not understand the breed and what they were capable of," said the dogs' owner Howard Marlin, who told officials during the scheduled hearing that he's working with a professional who has already found two potential homes for the pets he and his wife had raised from puppies.
Until they are rehomed, the dogs, named Chickpea and June Bug, will be clipped to a metal run whenever they go into the fenced yard they've learned to escape by digging. They'll also be visually supervised, Mr. Marlin said.
The dangerous-dog designation will follow the pets to their new homes, Tisbury animal control officer Heather Maciel told the board.
Also Wednesday, the select board voted to opt out of mail-in voting for the upcoming special election on Jan. 24, in which Tisbury voters will choose a third select board member to replace Larry Gomez for the few remaining months of his term. Mr. Gomez stepped down at the end of September after suffering a stroke.
Absentee voting will still be available, town clerk Hillary Conklin said.