Film producer Jon Mone had a homecoming of sorts on Saturday night, remotely joining a special screening of the new Will Smith drama, Emancipation, at the Martha's Vineyard Film Center.
Mr. Mone, who was born and grew up on the Island, is president and head of motion pictures for Westbrook, Inc., the entertainment company founded in 2019 by Mr. Smith and his wife, actress Jada Pinkett-Smith.
It was Mr. Mone's job to get Emancipation made, by linking Mr. Smith and director Antoine Fuqua with a studio to tell the gripping and often brutal Civil War story of an enslaved man's escape to freedom.
"We ended up having almost every studio in town bidding for it," Mr. Mone said, appearing by Zoom with executive producer Heather Washington to answer audience questions after the free, invitation-only screening.
The bidding war was won by Apple Studios, which released Emancipation online Dec. 9 — making the Vineyard audience one of a select few, including the Congressional Black Caucus in Washington, D.C., to see it in a theatre this year.
Inspired by the famous 1863 photo of an escaped enslaved man known as Peter, his back covered with grievous scars from near-fatal whippings, Emancipation imagines his odyssey from cotton plantation to Confederate labor camp, his desperate escape through the Louisiana swamps and his determination to fight for freedom and rejoin his family.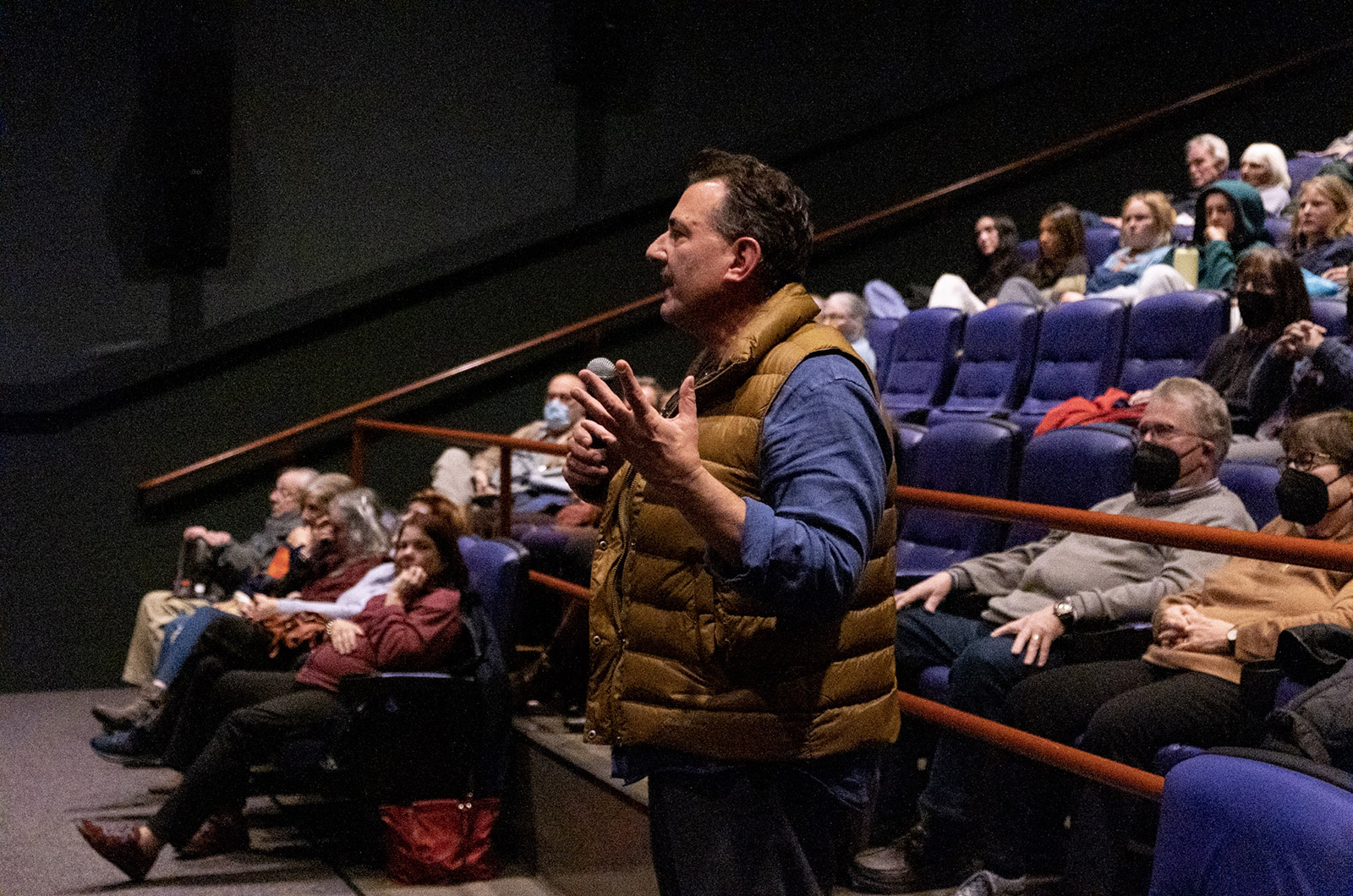 The film stars Mr. Smith, who plays Peter as a man of strong Christian faith who nonetheless refuses to turn the other cheek or submit to his masters, as instructed by their scriptures and laws. After almost unimaginable suffering and the dogged pursuit of sadistic slave-catchers, he joins the all-black Union troops of the Louisiana Native Guard in battle against the Confederate army.
Directed by Antoine Fuqua, Emancipation originally began production in Georgia before that state passed a restrictive voting law in the spring of 2021.
"It was important to us to make it in a state where people of color were being respected," Ms. Washington told the audience, which included about 10 students from the high school's new advanced placement (AP) African American studies class.
The switch from Georgia to Louisiana cost millions of dollars and delayed filming to high summer, Mr. Mone said.
"We knew better than to do that, but we didn't have a choice," he said, adding that intravenous fluids were available on set to help people withstand the 120-degree days.
Then Hurricane Ida hit the production, demolishing its Baton Rouge sets, Mr. Mone said.
"It all converged on us," he said.
The largely Black cast and crew also had to contend with the emotions raised by scenes of slavery, intimidation, violent oppression and outright war.
"It felt very real, in a horrific kind of way," Ms. Washington said.
The production established a therapy hot line for those who felt overwhelmed, Mr. Mone said.
Mr. Smith himself maintained a subdued demeanor between takes, Ms. Washington said.
"Rarely did you see him joking around and being his usual funny self," she said.
The actor playing the racist slave-catcher took an even stricter approach, Mr. Mone said.
"Ben Foster never broke character," he said. "His commitment was the most extreme."
Asked what films Mr. Smith will be making next, Mr. Mone demurred.
"I'm not allowed to say," he said, noting that Westbrook has 50 titles in various stages of development with 25 of them involving Mr. Smith.
Mr. Mone joined the Smiths' company after several years at Universal, where he oversaw films including Straight Outta Compton and Ted 2. He was the executive producer for Westbrook's well-received 2021 biopic King Richard, in which Mr. Smith plays the father of tennis stars Venus and Serena Williams.