Vineyarders woke up to a surprise winter wonderland Saturday morning, as more than six inches of snow blanketed the Island just in time for Christmas.
The National Weather Service station in Norton reported approximately 6.5 inches of snowfall in Edgartown as of 10 a.m., according to meteorologist Bill Leatham — the most the Vineyard has received on Christmas Eve going back to 1946.
A winter storm warning has been in effect for Dukes County throughout the day, as Friday's extremely high winds and rain gave way to frosty temperatures and intense snowfall by early Saturday morning.
The quantity of snow was its own, small Christmas miracle, according to meteorologists, who said that an intense band of precipitation unexpectedly hovered over the Island, dumping the light, fluffy snow.
Mr. Leatham likened the weather pattern to "lake effect" snow, saying that the timing and persistence with which the snow fell was rare in both Dukes County and over the ocean more broadly.
The cold weather explained the fluffiness, he said.
"We just don't tend to get bands of that intensity across the Islands," Mr. Leatham said. "The amount is higher than what we were anticipating."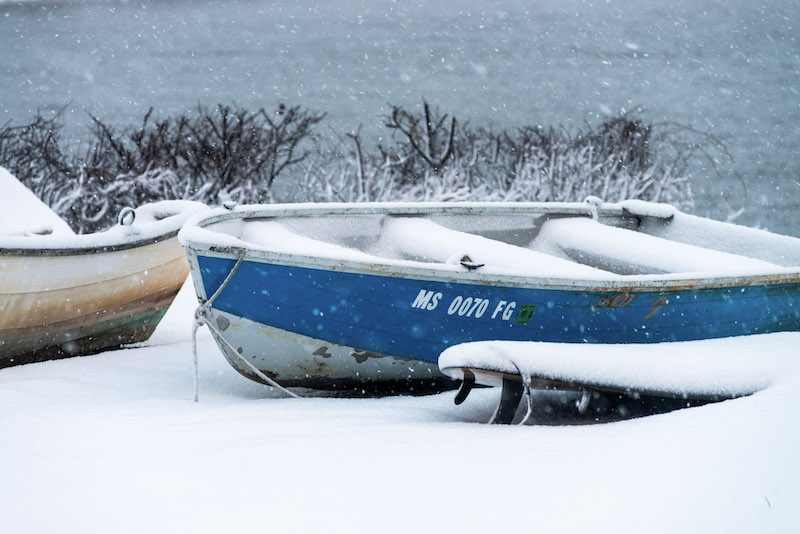 While Nantucket reported approximately two to three inches of snow, most areas of the mainland and Cape Cod saw very little precipitation.
"It was a persistent band of snowfall," Mr. Leatham said. "This is the first time we've seen anything this intense."
The flakes continued to fall into Saturday afternoon, with high winds churning the Island into a Christmas snowglobe.
Light snow could continue into the evening, Mr. Leatham said. But it will decrease in intensity by Christmas morning, relenting enough to accommodate travel by ferry — and, maybe, by sleigh.