In a garage-top office near the Tisbury School, as a small group of tradesmen prepared their morning coffee, Alan P. Fortes reflected on a lifetime in the plumbing business.
"I started when my dad told me I had to go to work," said Mr. Fortes, who is 61. That was 46 years ago, when he was a teenager.
Much has changed since those early days. Mr. Fortes pulled out his father's trusty old plumbing codebook from the 1960s. Bound in dark leather with a brass nameplate, the book is about the size of a mass-market paperback.
Then he hauled out the most recent state plumbing code, a hefty binder at least four times the size, dog-eared and highlight-laden from the most recent round of licensing examinations.
It is a far cry from the MacGyver-style Island plumbing he practiced in the 1970s. "A lot of things were done by hand those days," he said. "And there were no suppliers on-Island . . . now systems have become a lot more complex."
He spent the first few decades on the front lines of pipe installation and repair before starting his own company in 1993. Now he has taken a step back from the hands-on work, instead focusing on managing jobs and making bids.
Asked if he missed that aspect of the work, Mr. Fortes gave an emphatic "Nope."
"I purposefully don't fit in a crawl space anymore," he said with a chuckle. Now he leaves that work to his employees.
"I always say, you hire people first and skills second . . . with these guys I got both," said Mr. Fortes of his Tuesday morning crew, Eli Boyd and Mike Scarbrough.
Mr. Scarborough and Mr. Fortes met at the beginning of his plumbing journey, when Mr. Fortes was his teacher at the Cape Cod plumbing school.
"I was always the guy at the front of the class," said Mr. Scarborough, who worked on his own for about four years before he joined Mr. Fortes's company. "There's a lot of politics that come along when you have your own business . . . people are very demanding," he said.
While Mr. Scarborough specializes in plumbing systems, Mr. Boyd focuses on heating — oil, gas and electric — a trade he first learned in high school. The two complement each other's skills.
"There ain't no silence when we're working," said Mr. Boyd. "I even sing to Mike a little bit."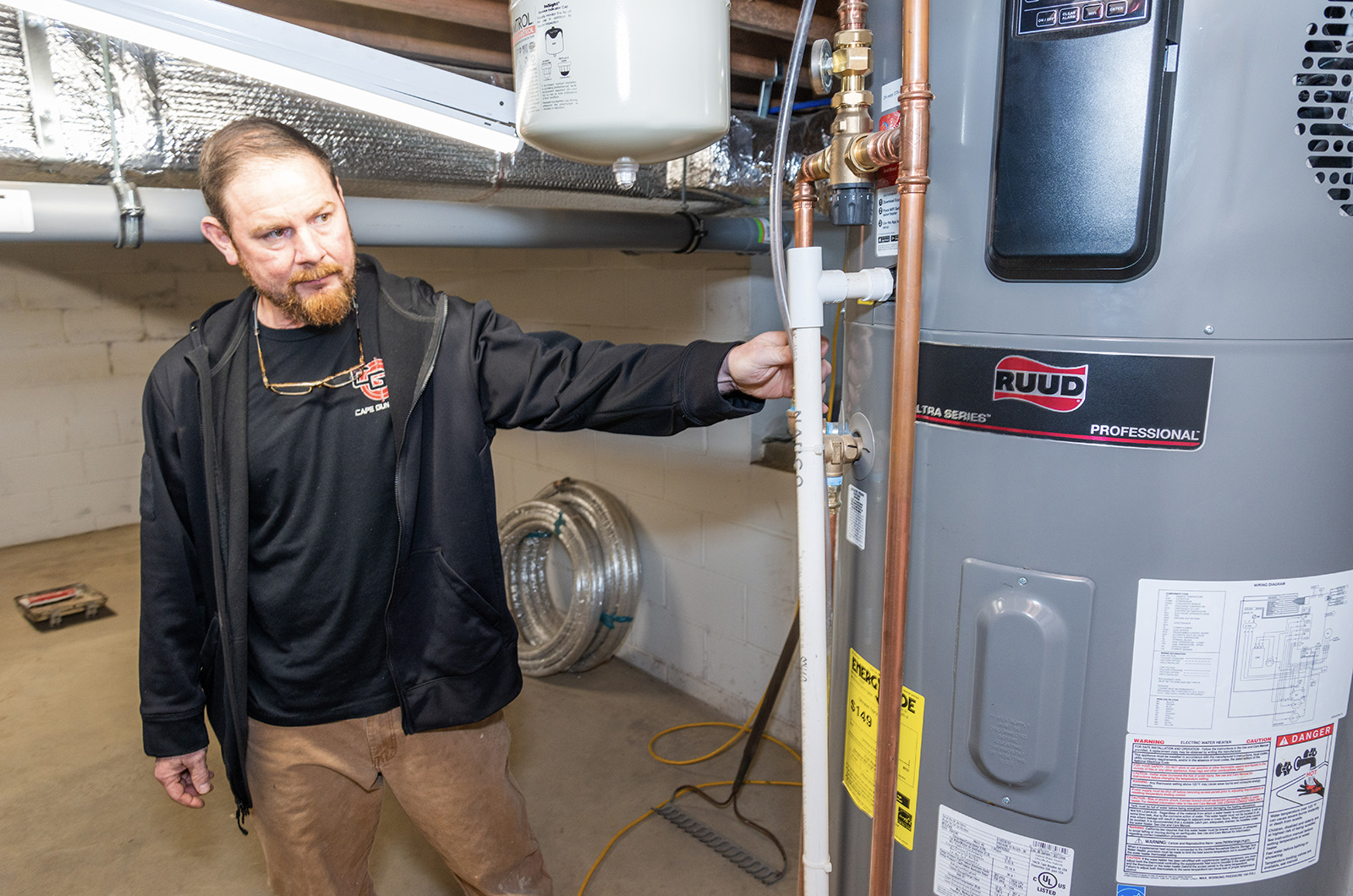 The group added that Barbara Fortes, Alan's wife, is critical to the business side of the operation, in addition to the excellent meals she brings into the office.
Before the team can get even to a job site, there is the issue of state licensing to contend with, and an ever-growing compendium of plumbing codes and cutting-edge technologies.
"It's quite a lot to remember," said Mr. Fortes.
"Every new rule in the code is from when someone did something stupid," Mr. Scarborough added.
Massachusetts has one of the strictest plumbing codes in the country, the plumbers said. Given the standards, Mr. Fortes said his team is now rarely called for repairs to more recent systems.
"We try to put in things that we won't be called back on," said Mr. Boyd during a walk-through of a sprawling matrix of copper and PVC pipes in Chilmark. The highlight of the tour for Mr. Boyd was the oil boiler, a dark cyan Buderus model.
"I'm a big fan of the Buderus boilers . . . I told [the owner] that I would put one in my own house," he said.
Though he also does work on gas and electric heating systems, he confesses he will always have a soft spot for oil boilers.
"I like oil, it's what I learned to work on originally and I stand by it," he said.
Mr. Scarbrough takes pride in the attention to detail at the project. Each nozzle cap, label, backboard and fitting has been thought through.
"Take a look down the pipe and you'll see it's completely straight," he said, facing down a tube of gently slanting PVC. Its straightness, Mr. Scarborough said, was laser-guided.
But the crew doesn't limit itself to residential projects.
In a closet beside the kitchen at the West Tisbury School, as the smell of chicken enchiladas wafted through the air, Mr. Fortes showed off one of his more innovative installations.
"This is the way that these buildings should be done," he said, describing the wall mounted, chromed unit as a point-of-use water heater.
Instead of heating all the water at a central location, the systems focus the heating closer to the areas which use the most of it, a more efficient system.
"These things are the future," he said.
Despite that prediction Mr. Fortes said he can never truly be sure what the future holds — the customer is simply too unpredictable.
"We spent hundreds of years trying to get plumbing indoors, and yet now every wants outdoor showers," he said.